On Tradingview, a few hours ago, a trader reported that it could be the best "Buy Signal" for the Bitcoin (BTC) cryptocurrency.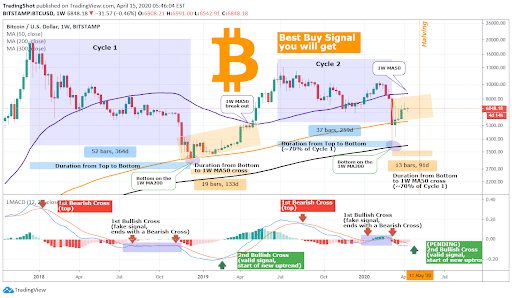 "Based on this chart it is obvious that the upcoming LMACD Bullish Cross is one of the strongest (if not the strongest) Buy Signal we can get moving forward and a similar opportunity may not present itself. There should be little doubt in our minds that ahead of the May Halving (3rd in BTCUSD history) the Bottom is in (unless of course the COVID pandemic proves to be much worse than we expect and markets crash worldwide)," he explained.
In the meantime, another trader on the platform also reported that the price of bitcoin could soon undergo a new upward phase, although this will be accompanied shortly afterwards by a new collapse.
The trader explains on Tradingview:
"We can see that bitcoin is still in an overall wake up-trend-rally with low volume on the weekly and daily chart, the volume is falling the last few days, this is normally a solid sign for a heavy dramatic price-move normally in the other direction! But as we are still in an up-trend I do not expect the dramatic pull-back to happen so soon, we can see a next bullish rally the next days before the dramatic and heavy pull-back develops''.
Ripple in the descending phase
As far as Ripple (XRP) is concerned, the downward triangle would be broken and therefore its market would currently be dominated by bears.
This is the explanation: 
"Here on XRP, trendlines were giving us 3 big warnings:
1) Rising wedge = bearish pattern
2) Horizontal resistance at $0.202, giving confluence with the wedge to find the top.
3) Descending triangle, another bearish pattern, which typically breaks to the downside".