In the third quarter of 2020, Binance recorded its highest-ever spot trading volume, which excludes derivatives. 
A recent analysis by The Block Research reveals that the quarter ended with over $300 billion in total transaction volume.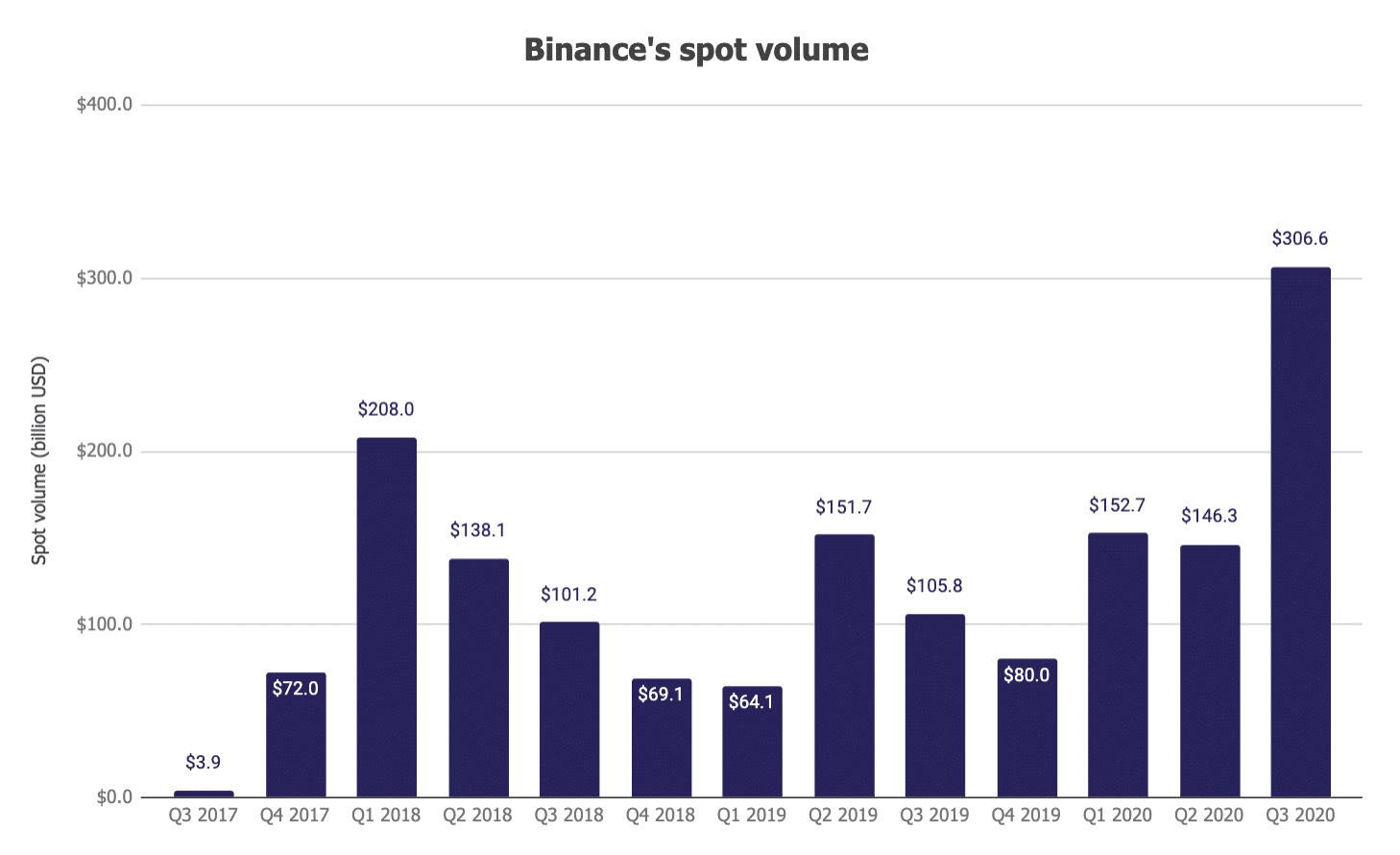 The previous quarterly record was set in the first quarter of 2018, in the middle of the speculative bubble, when the exchange was only six months old. 
At that time, the total volume was just over $200 billion in three months. 
In other words, the record in Q3 2020 was 50% higher than in Q1 2018. 
Binance broke the trading volume record of 2018
It is worth noting that, after the previous record, the $200 billion per quarter had never even been exceeded again, as the best quarterly performance after Q1 2018 was in Q1 2020, with just over 150 billion. 
The volumes of the quarter just ended are more than double those of the first quarter of the year, and 110% higher than the previous quarter, without including the derivatives trading volume. 
Taking bitcoin as an example, in the last 24 hours the volume of derivatives traded on the BTC/USD pair on Binance has been around $1.1 billion, compared to $0.3 billion on the spot BTC/USDT pair. 
Therefore, the trading volume of Binance derivatives now exceeds that of spot trading. 
In fact, the report also reveals that the Binance futures contracts trading platform generated a total volume of $483 billion in the third quarter of 2020, an increase of 43.5% over the previous quarter.
According to analysts, the growth in spot trading volume was mainly attributable to retail investors and traders, given the huge and sudden increase compared to previous quarters, and the fact that the increase in futures trading volumes was lower. 
This impressive growth also generated an increase in the exchange's revenues, resulting in Binance burning a record volume of BNB tokens during the quarter. In fact, in Q3 2020, as much as $68 million was spent to buy on the market and burn BNB tokens forever, 12.4% more than in the previous quarter.