Polkadot is currently the cryptocurrency with the highest overall value placed in staking. 
This was revealed by 10yrhodl.crypto on Twitter sharing a screenshot of a chart from The Block Research.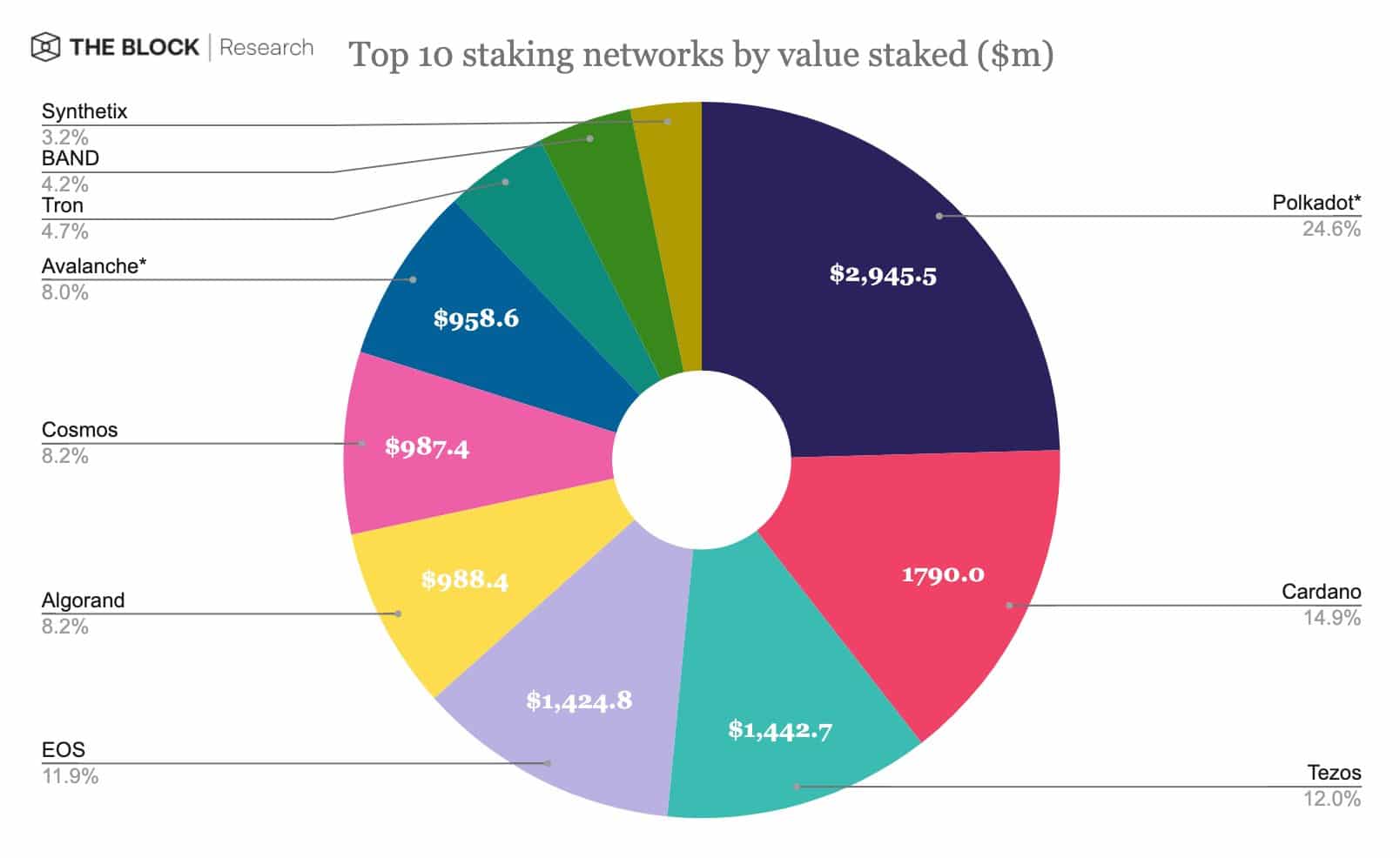 Comparing the Proof-of-Stake-based cryptocurrencies, and the total US dollar value of all tokens currently staked, the figure for DOT is close to $3 billion. 
It is worth noting that the total market capitalization of DOT is around $5 billion, so more than half of the DOT would be staked. This could also mean that the amount of DOT actually in circulation on the exchange markets is minimal, compared to the circulating supply, since the staked tokens are in fact locked. 
DOT made its debut on the crypto markets in August, at a price of around $3, rising to $6.3 after about a month. 
Afterwards, the price fell below $4 and then rose again in the last few days to over $5. 
Polkadot and others by value in staking
The second most staked cryptocurrency with the most funds is ADA (Cardano), with almost $1.8 billion, or more than half of its market capitalization. 
In third place, there is XTZ (Tezos), followed by EOS, with about 1.4 billion dollars. For Tezos the staked amount is more than 80% of the supply, while the percentage of EOS is in line with that of DOT and ADA. 
From fourth place onwards, however, the calculations do not add up. In fact, ALGO (Algorand) would have about 900 million dollars in staking, but its market capitalization is only $217 million. 
However, it has to be said that this is calculated starting from the 803 million ALGO tokens in circulation, while the total existing ALGO tokens are 10 billion, or twelve times more. 
In fact, it should be mentioned that not always all the existing tokens of a cryptocurrency are put into circulation, and it often happens that a part is retained by its creators, or by those who manage it, or locked in some smart contract that releases them slowly. These tokens can be used for staking even if they have not yet been put into free circulation.