The stock of Elon Musk's company, Tesla, are the ones in which most Swiss citizens want to invest, according to a recent research conducted by Invezz.
In fact, Tesla's stocks have been searched more than 17,000 times in Switzerland, followed by Amazon with 9,800 searches, perhaps also because it recently launched its own online pharmacy, and Apple with 7,150 searches.
In this Invezz study, there is also a strong desire to learn more about how investments in stocks work. In fact, 68% who have not yet invested explain that they have not done so for lack of adequate financial education.
Among the people who say they are undecided whether or not to invest in stocks – around 2000 people among those interviewed by Invezz – the reasons are also due to the risks and the fact that they prefer to delegate the management of their investments to a broker who takes care of them on their behalf.
Boeing, Facebook, Uber, Intel and Nestle are also among the most interesting stocks for Swiss citizens.
Beyond Tesla: Europe's favourite stock investments
However, Switzerland is not the only country examined by Invezz: in fact, the research analysed 26 European countries, where Tesla is still the most interesting stock to invest in.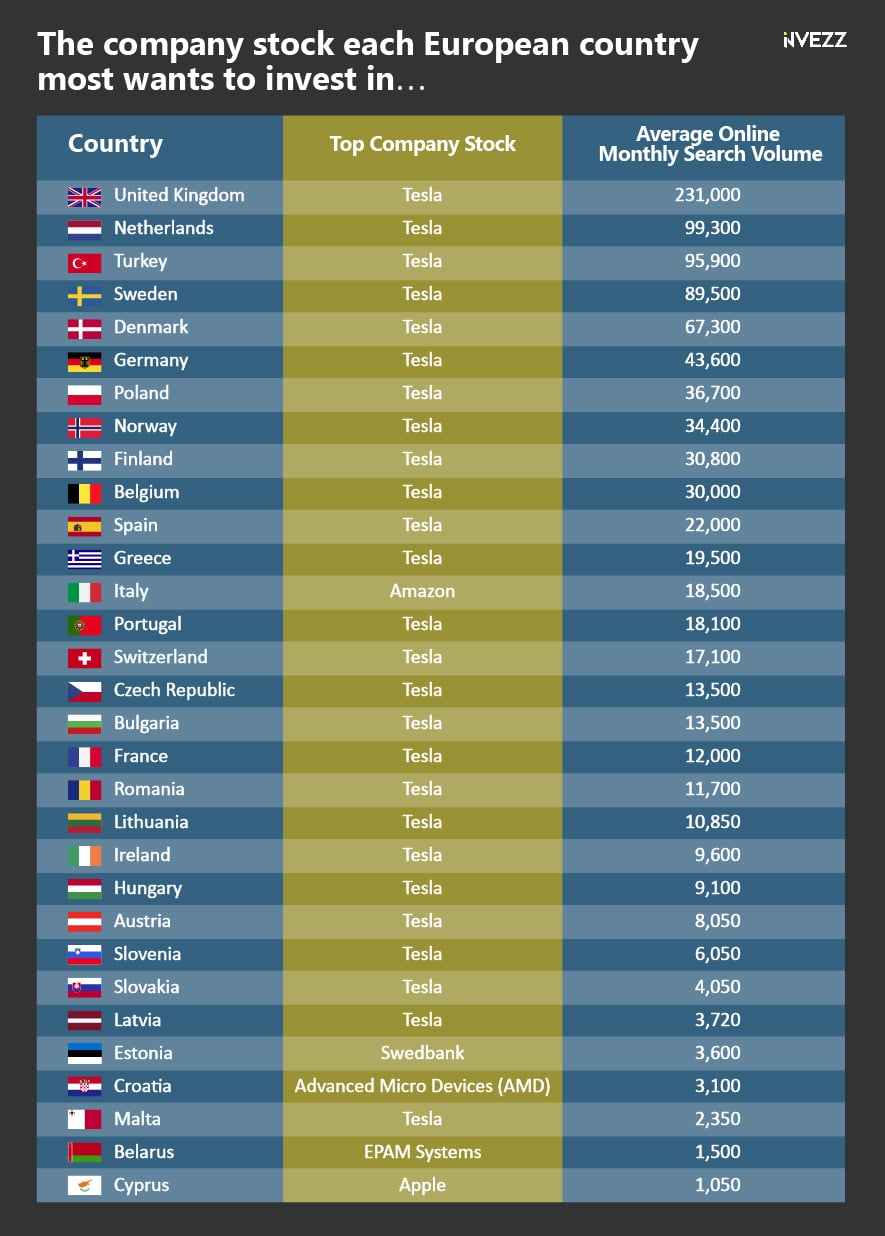 It is interesting to note that only in Italy the preferred stock is Amazon and not Tesla, with 18,500 searches carried out during the last month.
According to Revolut's data, in fact, Amazon is the place where the most money was spent in Italy during Black Friday, demonstrating how Italians prefer to shop on this ecommerce rather than elsewhere, and therefore realize how interesting Amazon can be as an investment.
No wonder that Jeff Bezos and Elon Musk are the two richest men in the world, also surpassing Bill Gates' empire.