Fundstrat recently published a comprehensive report on the Zilliqa (ZIL) project and its aim capture the ASEAN market.
To further explore this topic, yesterday, December 10th, there was a private event organized by Zilliqa together with Fundstrat, whose moderator was Tom Lee, managing partner and head of research at the investment firm.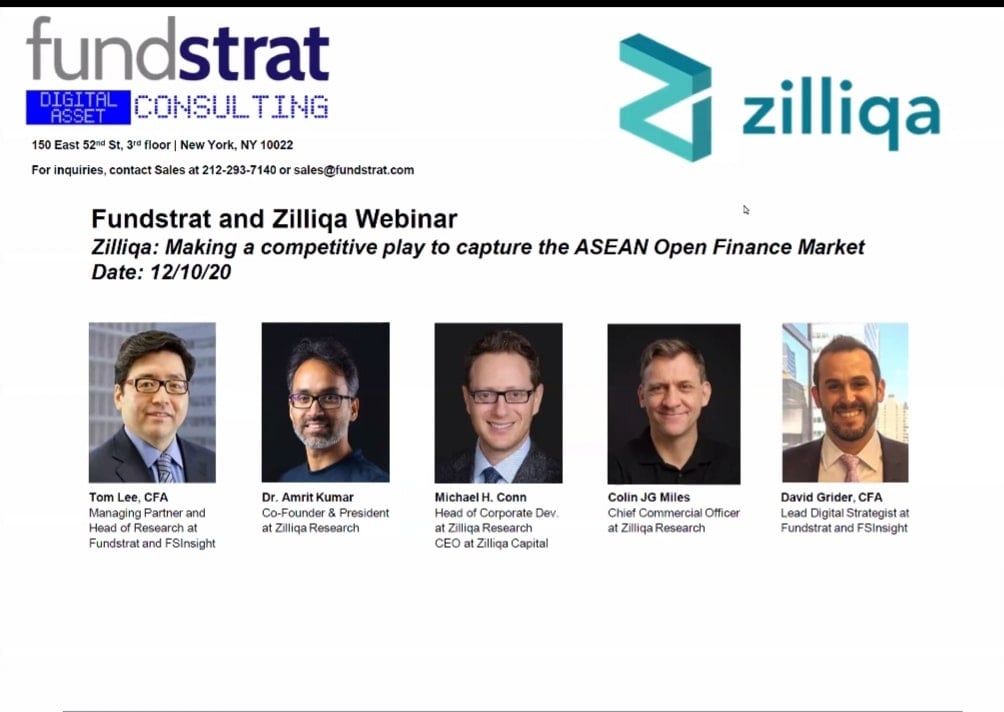 During the event, Tom Lee began by explaining the economic situation of this last period, between inflation and Covid-19.
The year 2020 is making it clear what are the problems of centralized governments and for that Bitcoin is the best asset to invest in according to Lee, also because it is the one with the best performance between 2019 and 2020. 
The value of gold, Lee explains, hasn't suffered too badly, but to really protect oneself one needs something decentralized like digital currencies.
Fundstrat, having written about and studied crypto since 2017, with one of the largest research teams, has done a lot of investigating in the crypto markets, which is why the company has also included Zilliqa in its reports.
For those who don't know it, Zilliqa is a blockchain as a service that supports dApps and is currently expanding into the DeFi sector. In fact, one of Zilliqa's goals is to monetize DLT (Distributed Ledger Technology) by helping companies use it and create partnerships and strategies in order to have a growing number of dApps based on their blockchain.
After Lee's speech, the Zilliqa team then took the floor, starting with co-founder Amrit Kumar who shared his story and how he entered the crypto world. Kumar explained that he had started studying Monero for its privacy when he approached the industry, but that Zilliqa was born mainly to solve the issue of blockchain scalability.
Zilliqa, coin and news about DeFi projects
As mentioned, Zilliqa is now also working in the DeFi world, for example with the Zilswap project, a sort of decentralized exchange similar to Uniswap but for tokens based on the Zilliqa blockchain of course.
In addition, for a few months now Zilliqa has also had its own stablecoin, XSGD, which has been pegged to the Singapore dollar. The reason for this choice lies in the fact that the team has targeted South East Asia (ASEAN), with a population growing by 1.1% every 5 years and the unbanked people reaching 50%.
This is precisely why Zilliqa has identified the ASEAN markets as a breeding ground for the adoption of crypto and Open Finance. Finally, Zilliqa offers fast transactions around 45-90 seconds and low fees, so it would be well suited for everyday use.