According to 2020 data from Google Trends, the most searched crypto of the year remains Bitcoin, as it has been in previous years, according to both worldwide and country searches.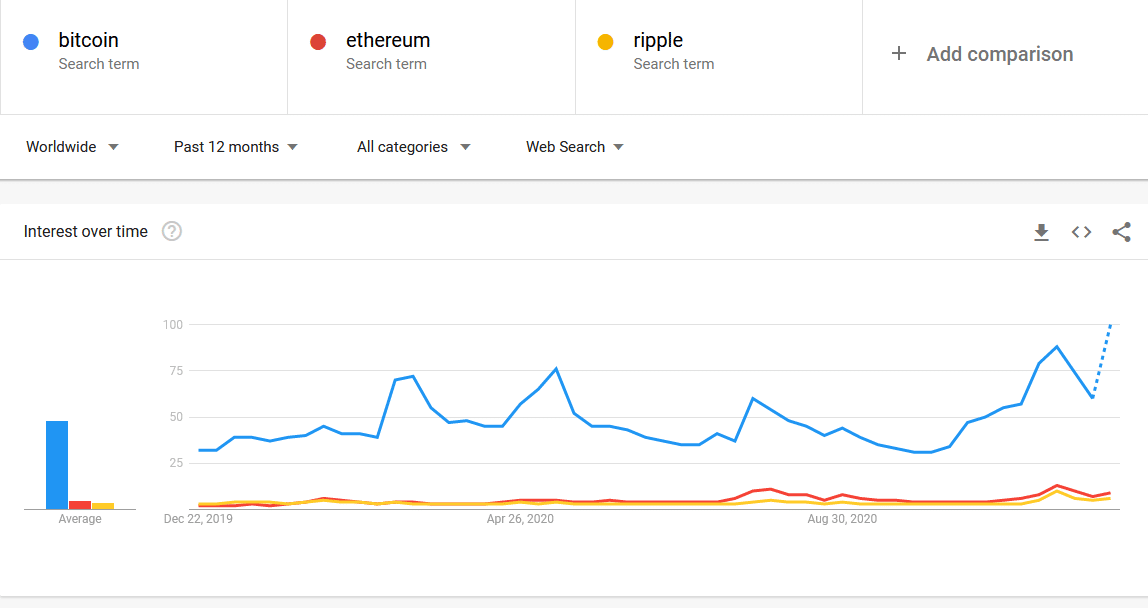 As can be seen in the graph above, Ethereum is in second place but far behind Bitcoin. In third place there is Ripple, again based on worldwide data for the last 12 months.
But it is from the third position onwards that things get more complicated and crypto searches on Google are no longer linked to their market cap.
For example, the chart above shows that Dogecoin had a big spike on July 5th, surpassing everyone, even Ethereum. This spike was due to a challenge on TikTok by user James Galante inviting everyone to invest in DOGE. At the time, the crypto's value went up 44%, prompting everyone to search for the crypto on Google to see what was going on.
As can be seen, Bitcoin Cash and Cardano also often reversed places, surpassing even Dogecoin at times. Moreover, even Ripple has sometimes outpaced Ethereum, as was the case in December 2019, and in March 2020, when the Financial Times talked about XRP and the price was around $0.20.
Bitcoin Cash, as one might expect, overtook the other altcoins during the period of its last fork in late 2020.
As for Tether, it followed more or less the same search figures as Cardano, so despite its huge market cap, perhaps its stable price did not result in its searches being particularly high.
Crypto searches on Google Trends in Italy
As far as Italy is concerned, the situation is different since, apart from Bitcoin which remains at the top of searches, Cardano seems to be the most searched crypto of all, even ahead of Ethereum, showing that the Italian crypto community is very attached to the project. Only at the end of the year did Ethereum manage to rise higher than Cardano, but only for a few days, between November 22nd and 28th, 2020, perhaps due to the great anticipation of Ethereum 2.0.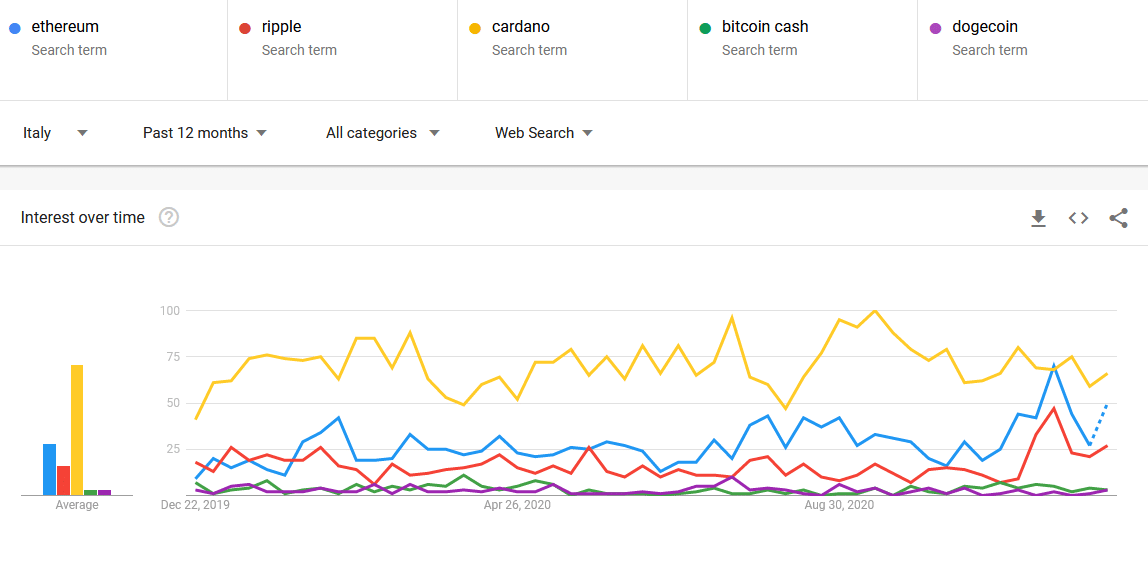 Ripple is in third place in Italy among the most searched crypto assets according to Google Trends, followed by Bitcoin Cash and Dogecoin, which do not show much hype.