While it is true that the price per single unit for Bitcoin is now almost at $40 thousand, it is also true that there are other cryptocurrencies that are performing at incredible levels and in higher percentage than BTC, as in the case of Dogecoin (DOGE) and Stellar (XLM), protagonists of a real bull run.
Looking at the data from CoinMetrics, we can see that it all started last November 21st.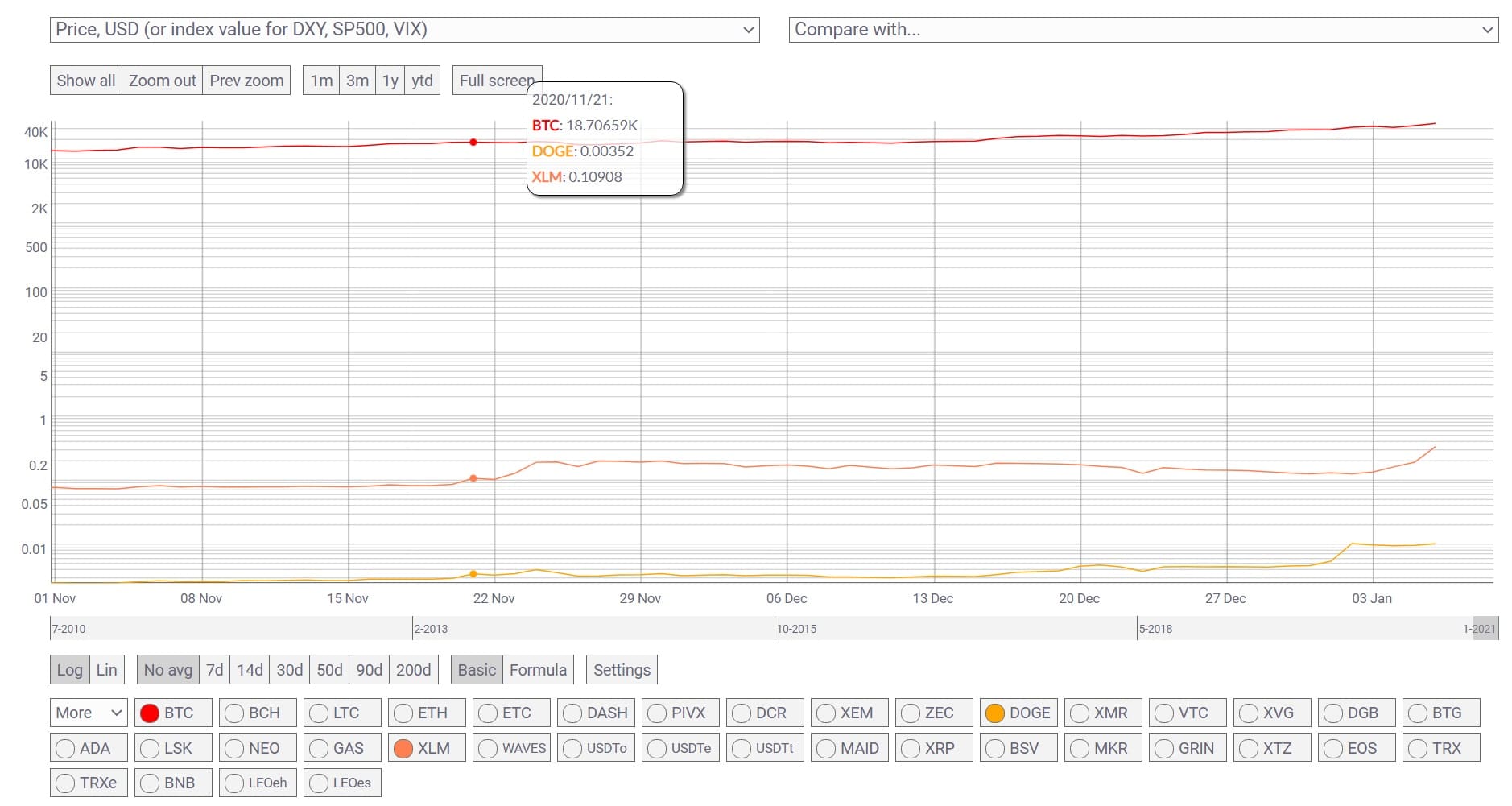 BTC was trading at $18,700, DOGE at $0.00352 and XLM at a staggering $0.1090, so definitely high figures if we take into consideration the whole 2020, and few would have predicted a trend of these numbers.
And if we move to the present day, so about 3 months later, we can see a rather incredible situation on all the cryptocurrencies mentioned.
The bull run of Stellar and Dogecoin
We can now see that the price of BTC has practically doubled making several records every time it increases even by only 1 dollar, while instead DOGE stands at 0.01 dollars and XLM marks 0.3397. 
They all seem to be increasing again, more than tripling their value from just 3 months ago.
Surely the positivity of Bitcoin and its recent records have pushed the other cryptocurrencies as well, but not for all of them and not uniformly, as some have performed better than Bitcoin itself.
From this data, we can see that some assets are more correlated to the Bitcoin price than others, and in this instance, both DOGE and XLM, have almost the same start and peak.
For example, ADA, NEO, MKR, EOS, ETH, XEM, XVG in these days are marking important figures and doubling their price with respect to 3 months ago.
In fact, it often happens that those who exit from Bitcoin decide to invest part of their earnings in other crypto assets because, as the data show, they have a good margin to double the capital invested, obtaining a higher profit.