A Bitcoin miner has decided to install a small mining farm in his BMW hybrid car. 
It's a BMW i8 hybrid with the "HODLER" logo and the miner's name is Simon Byrne.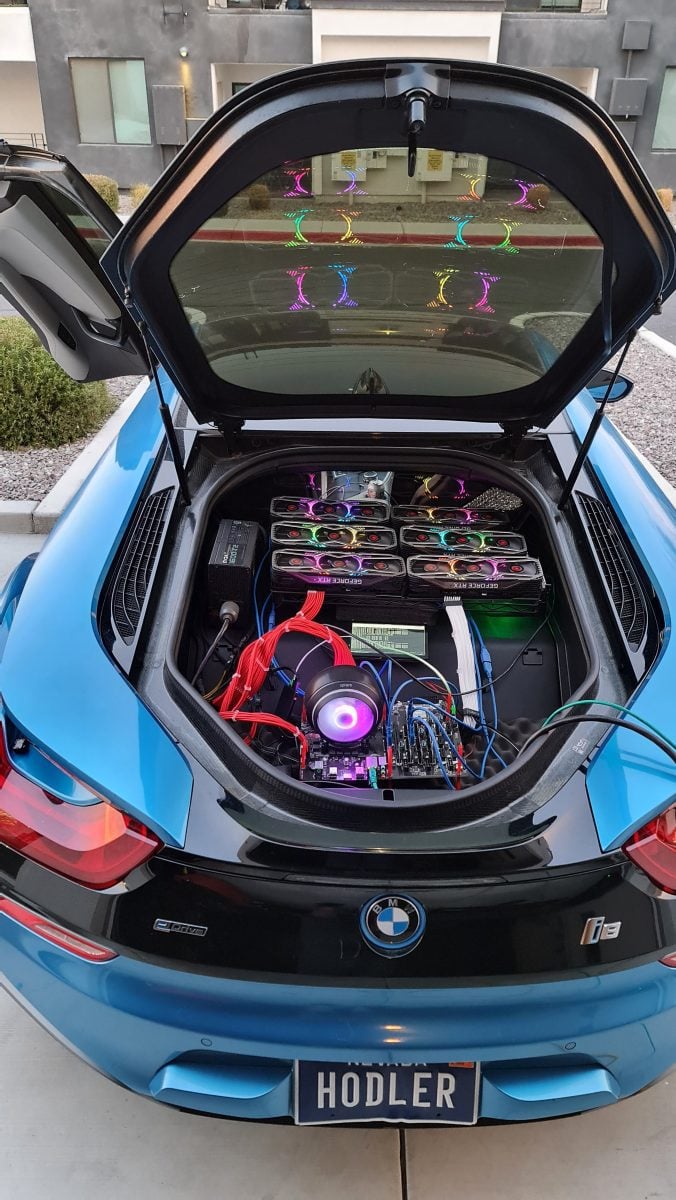 As reported by Hardware Times, Byrne bought the BMW i8 for almost $150,000, and put a small mining farm with six PNY GeForce RTX 3080 graphics cards, an ASUS B250 Mining Expert card and an EVGA SuperNOVA 1600 T2 power supply in its luggage compartment. 
According to Byrne, this system should allow him to earn money while driving, although in truth it is possible that the overall computing power of this system is too limited to allow him to earn much money. 
However, it is also true that some of the electricity used by this system could in fact be produced at no extra cost than that needed to drive the car, so it's a bit like Byrne is trying to mine for free, though not significantly, in order to reduce the running costs of his i8. 
Bitcoin miner using a BMW
When asked why he decided to do this he replied:
"Indeed, just to annoy gamers".
Byrne also revealed that the BMW i8 has enough power to power the small mining farm, as it can produce up to 3,500W, while the farm only consumes 1,500W. 
However, the limited space in the boot means he has to travel with the tailgate open, otherwise the mining rig will overheat. 
On top of that, he also expressed his opinion about the crypto world in general. He said that although cryptocurrencies are run by public, open source, trustless and decentralized code, what fuels their use is the community of enthusiasts, which is both altruistic and open source, meaning it is also made up of people who voluntarily invest their time and energy to help others without necessarily being forced to do so.
"I'm not in Crypto to make a fast buck, but I'll take the bonus; I'm in it because it's a vision of a utopian world where services are acquired through voluntary relationships". 
It is worth adding, however, that thanks to the recent surge in prices, cryptocurrency mining has temporarily become more profitable in recent weeks.