Ethereum price closed Monday -6.9% and has been in a free-fall with Bitcoin since BTC's support level of $47k broke late last week. 
Ethereum had been on an absolute scorcher over the last 90 days but has finally taken at least a brief reprieve from nearly constant positive momentum. ETH's selloff can in large part be attributed to sell pressure from BTC.
BTC still controls much of the macro price action but ETH has outperformed BTC recently and has even continued climbing at times when BTC has been in red figures for significant stretches.  
Monday's daily candle close for Ethereum was $3,281.07. The 24HR ETH LOW $3,128.10 and HIGH $3,567.88.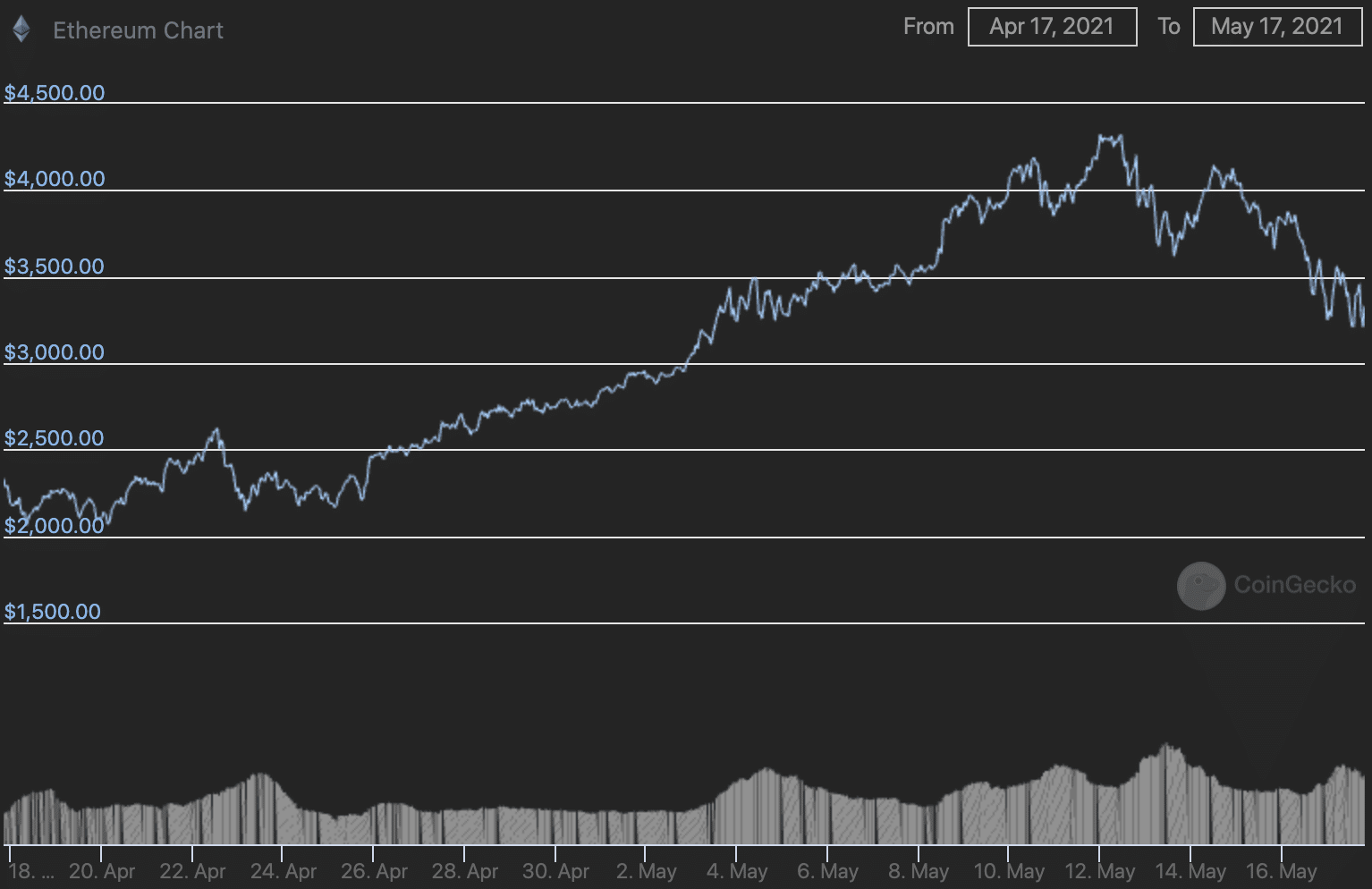 Beyond prices: the dominance of Bitcoin and Ethereum 
ETH has suffered from high gas fees and low transaction throughput over the last 12 months. The high fees and block congestion are really because ETH's been a victim of its own success. 
With a lot of development still occurring on the chain, ETH's first mover advantage is still shining bright. Even high fees haven't stopped the upward trajectory of the asset since launch way back in 2015. 
Over the past month BTC dominance has dropped significantly while ETH dominance has been steadily climbing with the price.
At the time of writing, 18.3% of all money in the cryptocurrency market is invested in ETH. BTC Dominance is 41.06%.
Ethereum has really set the pace for large cap cryptocurrency projects. Over the last year ETH has grown +1,486%. While BTC is up only +351% respectively.
The short term BTC price action really weighs heavily on how ETH responds in the near term. BTC's 200 day MA is $39,720 and if that is broken it could signal a longer term reversal is currently in motion. 
Good Press for ETH
While BTC has suffered from a negative energy narrative over the last week, Ethereum's managed the contrary with some good exposure.
Just last week, Ethereum's founder Vitalik Buterin gave away more than $1 billion in cryptos he'd been gifted by various meme coin communities. 
These sort of donations have been a really large part of the ethos of the crypto world since the onset of the blockchain space.
Ethereum Market Cap Chart
The Ethereum market cap came very close to reaching half a trillion dollars last week. It actually peaked at $485 billion a week ago today on May 11th. 
From the peak it has now fallen $102 billion to $383 billion. 
If the bull market is indeed still on and this recent pullback turns out to be just a little bump in a larger upward trend, ETH could potentially crack the $1 trillion market cap threshold sometime during this cycle.