The collapse of Bitcoin in recent days is shrouded in mystery: on the forum 4Chan, an "insider" had predicted everything. Or almost.
In recent days, in fact, an anonymous user left the following post: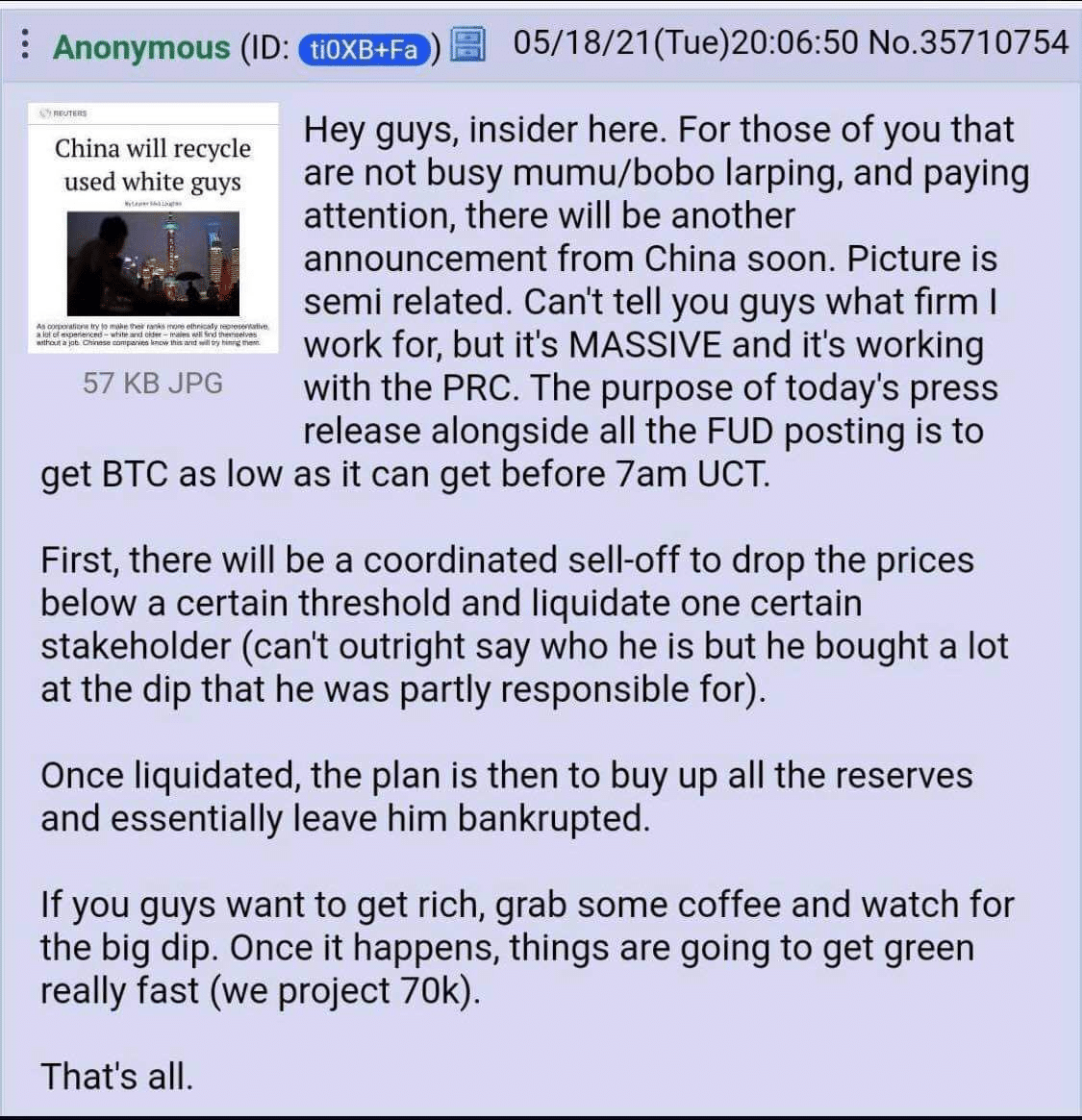 From what can be read, the person reports that he works for a large Chinese company, itself linked to the PRC, the ruling party.
Thus the press release is announced in which China issues a new ban on Bitcoin. The aim is to generate so-called FUD (Fear, Uncertainty, Doubt), to bring BTC down before 7 AM. In order to make this happen, the user announces coordinated mass sales precisely to drive prices down and thus liquidate an unspecified stakeholder who would have bought a lot of Bitcoin and would be responsible for the price trend.
The post concludes with another prophecy that goes something like this: don't panic, just watch and soon the price of Bitcoin will reach $70,000 again.
Why 4Chan insider's post on Bitcoin is to be considered with caution
This post which on the surface may seem accurate should actually be taken with great caution. Firstly, it talks about a Bitcoin price low at 7 AM UCT, a time of day that does not exist. There is in fact UTC. Assuming that this is a typo, and that the insider actually meant to say "7 AM UTC", then it should be noted that the low of $30,000 was recorded in the early afternoon.
But the post sounds almost like a conspiracy theory that could see an alleged stakeholder as responsible who would have benefited. Who is the stakeholder? Perhaps Elon Musk, other theories even claim that it is Justin Sun, who by the way has made no secret of having bought Bitcoin during the so-called dip. Justin Sun's theory passes, but it is clear to all that Elon Musk does not need conspiracies to move the price of Bitcoin.
Of course, now it will be curious to see if the last part of the post is also correct, i.e. if Bitcoin will reach a new historical record, quantified at $70,000.
Certainly, Bitcoin has once again proved to be strong, so much so that in just one day it was able to fall to $30,000 and then rise again to $40,000. Many liquidated their BTC in a panic sale (this was also predicted by 4Chan), but many took the opportunity to buy at lower prices. It remains to be seen if this wave of buying can take the price to unexplored horizons.