Listen this article
download
VanEck has launched a new multi-crypto fund that allows investments in six cryptocurrencies. 
VanEck's multi-crypto fund
It is an ETN that includes Bitcoin (BTC), Ethereum (ETH), Solana (SOL), Cardano (ADA), Polkadot (DOT) and Litecoin (LTC). 
The ETN allows investors to take positions in all six cryptocurrencies by purchasing a single asset. 
The fund is called VanEck Vectors Crypto Leaders, and is a fully collateralized exchange-traded fund backed by 100% tokens held in cold storage at a regulated cryptocurrency custodian.
The fund is tradable on Deutsche Börse, in euros, and on the Swiss SIX in dollars and francs, with ticker VT0P and ISIN code DE000A3GWEU3. 
The underlying index is the MVIS CryptoCompare Crypto Leaders VWAP Close Index (MVLEADV Index).
This is VanEck's first multi-token crypto fund.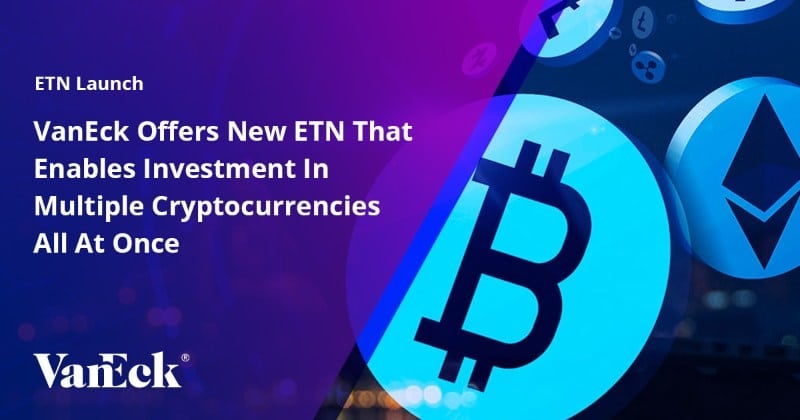 An ETN collateralized with tokens
VanEck was founded back in 1955, and has been present in the crypto markets since 2017. It is waiting to be able to launch a spot ETF on Bitcoin in the United States, although the SEC already rejected a similar request from it a few months ago. 
It is therefore no coincidence that two European exchanges, one German and one Swiss, were chosen for this spot ETN fully collateralized with the underlying tokens, precisely because this kind of fund in the US is not authorized yet. 
VanEck Europe co-head Gijs Koning said: 
"We were first to market in Europe with many of these exposures because we're believers in the transformative nature of the underlying technologies, and because providing exposure to transformative investments is at the core of our firm's DNA. In early 2017, we determined that digital assets could provide a store of value alternative to currencies and gold, as well as a host of technology solutions that could bring down costs in the payments and investing industries".