Listen this article
download
Spotify, the music streaming service, has launched its new island in the Roblox metaverse: 'a sound paradise' that aims to offer new interactive and virtual experiences for fans and artists. 
Spotify and its new island in Roblox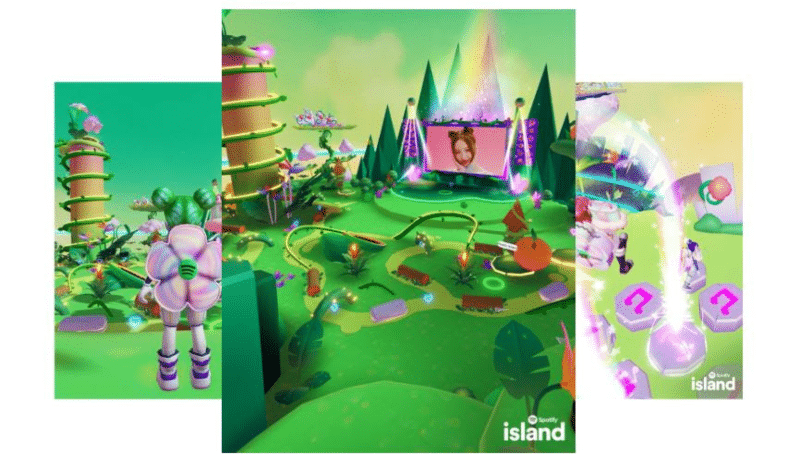 The streaming music giant is also diving into the world of the metaverse by launching Spotify Island on Roblox. In a series of tweets, Spotify showed off the different features that could attract users to the magical 'paradise of sound'.
Pack your bags! This is your invite to #SpotifyIsland 🏝️ Scroll down for a tour or jump right in on @Roblox now 👉 https://t.co/jrp6JawnSU pic.twitter.com/UBFYXf28BP

— Spotify (@Spotify) May 3, 2022
"Pack your bags! This is your invite to #SpotifyIsland. Scroll down for a tour or jump right in on @Roblox now."
Roblox users will be able to engage with artists, complete interactive missions and unlock exclusive content. Players will also be able to enjoy an immersive audio experience by creating music and exploring sounds in virtual beat-maker stations powered by Soundtrap. 
Not only that, for Spotify listeners there will also be a chance to collect the heart-shaped "Like" icon, which can be exchanged for merch. These things allow fans to interact with the brand in a whole new way.
Spotify, the first streaming music brand in the Roblox metaverse
According to reports, Spotify appears to be the first streaming music brand to be featured on Roblox. In this regard, here's how it describes its vision:
"Through this interactive world, we're creating a place where fans can link up and create new sounds together, hang out in digital spaces, and gain access to exclusive virtual merch. Spotify Island is an audio oasis that has it all."
Among the experiences described, the first is the K-Park-themed one as a tribute to all things K-Pop. In the spring, K-Park will give fans the chance to interact with superstar artists Stray Kids and SUNMI. 
Regarding exclusive merch, Spotify is creating an opportunity for artists to connect with fans and collaborate to create virtual merchandise in the game, receiving a portion of the proceeds from sales. 
Roblox among the most revolutionary companies of 2022
The Roblox MMO video game is part of the list of the 528 most revolutionary companies of 2022, pushing the boundaries of innovation and Web 3.0. The platform was published by Fast Company last March 2022. 
Roblox allows people to create their own virtual worlds where users can create and play games and share experiences with friends. 
In addition to today's Spotify news, Roblox also welcomes other big brands such as Nike, Ralph Lauren and Visa. 
In the case of Nike, for example, Roblox is home to Nikeland, the sportswear and footwear giant's first shop in the metaverse, which recorded nearly 7 million visits on its launch day alone. 
Nike itself, in collaboration with RTFKT, recently unveiled its first trainers for the metaverse: the Nike Cryptokicks. These are digital shoes in NFT format, which are available on OpenSea and traded for over 2.9 ETH, the equivalent of €8,500.