Listen this article
download
SPONSORED POST*
Key Takeaways
Bitcoin is crashing, and it's going to crash even further. And that's a

great thing for savvy traders

The Supertrend Indicator is a reliable long-term trend indicator that shows that BTC is

headed to $20,000 

During the most recent Bitcoin dive, the weekly 'Supertrend 5.5' gave us the exact

local bottom at $26,800

If you master it, you'll have unparalleled insight into long-term cryptocurrency price action you can use for

more intelligent investing and trading

Bearish markets are for trading NOT investing – but you need to learn how to do it properly. Bearish markets are brutal even for elite traders. Most traders get rekt

ProfitFarmers FREE platform provides trade signals, copy-trading, advanced automations, and free trading education so you can

safely profit even in choppy markets
Quick synopsis
NOTE: The market has been dumping hard since we shared this information with our community. Luckily for them, they saw this coming, took their profits, and are gearing up to start attacking the bear market. But even now this information is pure gold. Use it to learn how crypto markets behave long-term, how to analyze long-term trends, and how to trade/invest more intelligently.
We've been warning our community for months that BTC was most likely going to lose 50% of its value. At that time, BTC was ~$45,000.
Our trading room analyzed historical BTC, ETH, and traditional stock behavior to find the most likely bottom. Our analysis showed that BTC was most likely going to plunge to $20,000. 
We've been keeping our eyes on "The Supertrend Indicator" – a highly accurate and reliable predictor of long term trends – for months. It shows that BTC will likely find a bottom around $20,000, and that if it does, alts will most likely lose 99% of their value.
In short: DON'T INVEST. Trading is where all the money is.
In this article, we'll walk you through our historical analysis, show you proof that our analysis is accurate, and show you how to thrive in the bearish market that's coming in the next few months. 
Read our advice first: here's why you should not invest right now
Bitcoin recently hit an all-time high.

But this is crypto, and in crypto you know we can never have nice things.
History shows that after BTC hits an all-time high, it eventually plunges 50% or more in the other direction.
And when BTC craters, altcoins can lose up to 99% of their value. 
So here's the situation we're all in right now: 
"BTC broke down from key support and signs point to it bottoming at $20,000. However, if it reclaims $36,000, there's a clear path to quicker 'V-Shaped' recovery. So you're in an ideal spot right now to wait and see. If it breaks down, fine. You didn't invest at the wrong time. If it breaks out past $36,000, go wild knowing we're moonbound. It's far more likely that we'll find a bottom around the $20,000 level, though".
That's why you're in an ideal spot to TRADE. If you learn how to ninja through the choppiness, you can make a killing. Then, when BTC bottoms out, you'll have the money to load up that moonbag for the next bull run.
Before we get to how to trade, let's dive into some historical price data that proves our theory.
What is the supertrend indicator and why trust it?
The Supertrend indicator is a high-timeframe indicator that displays long-term pricing trends. 
It's a very reliable, accurate tool that clearly shows the difference between uptrends and downtrends. It helps you predict support and resistance levels and see which way the market is headed in the long run. With this clear picture, you can invest and trade intelligently instead of blindly throwing money around.
Time and time again this indicator has proven to be spot on. 2017 BTC crash, the 2017 – 2020 ETH rise – crash – and rise again, even the recent Tesla stock boom – it's been right over and over again. 
Let's revisit the 2017 Bitcoin crash…sorry to trigger your PTSD.
BTC hit an all-time high of ~$20,000 back in 2017 only to crash and burn, eventually settling in the $3,000 – $4,000 range. The Supertrend Indicator saw it coming…
Check it out: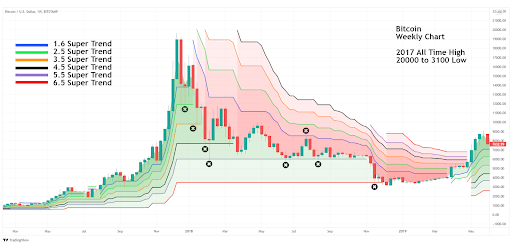 See those multi-colored lines on the chart? Those are the Supertrend indicator levels.
BTC prices hit every Supertrend Indicator level on the way down before bouncing back up, re-testing key resistance, and then breaking back down again.
Here's another example with Ethereum:
On the way down, ETH tested every Supertrend level before settling at the bottom level ~$100.
It behaved mostly the same on the way up.
Even assets outside of crypto tend to follow the Supertrend Indicator.
Let's look at Tesla's meteoric rise.
Notice how Tesla follows the same patterns during its "megamove" from 2013-2016:
Notice that it surges to a new all-time high just to settle at the bottom of the Supertrend Indicator.
This. Tool. Works.
What does the supertrend indicator say about BTC prices (it's not good)
At the time we made this chart, we were ranging between Supertrends at 34k and 48k, but history tells us the markets demand violence. Since then, the market plunged all the way down to the Supertrend 5.5 level. Exactly as we predicted! Don't believe us? Check out our blog for more.
And when BTC loses more than 50% of its value, altcoins almost always tank, sometimes losing 99% of their value. We've seen it time and time again.
This is a very realistic scenario based on data and market dynamics. We can't say when, how, or if it's 100% for sure – no one can. What we can say is that historical data shows that this is most likely to happen based on what we know now.
How to thrive during a long-term downtrend
Look –
We want to be 100% honest with you.
It's possible to make a killing in any market…IF you know what you're doing.
So you have two choices:
#1 – Become an expert trader who understand choppy markets perfectly
Once you master technical analysis (including the Supertrend Indicator), from there you'll have to understand risk management, risk-reward ratio, and the mechanics of a choppy market. You need uncanny instincts to feel out when trades may close early or bounce back up and return gains. Choppy action is violent at its best and merely brutal when you're lucky.
You could learn the proper trading strategies with some time, patience, and a big enough bankroll.
Or you can let our free platform do it for you.
#2 – Use ProfitFarmers free education, signals, copy-trading, and pro trade tools
Our free platform does all of that technical analysis, planning, and hard work for you. We're an all-in-one education, signals, and copy-trading platform that gives you AI trade plans and pro trading tools to help you execute trades on auto-pilot. It basically does half the work or more for you. 
It's great for pros, beginners, and anyone interested in trading. You can do as much or as little as you want. For beginners, we provide free analysis and education (that's usually spot on!), and we give you high-probability trade setups and simple tools to copy our AI trades. You just add the money and that's it. 
For pros, you get an Advanced Trading Terminal, full control of your trade plans, and market research tools like our Price Action Scanner to make more profitable trades easier and more streamlined.
Try ProfitFarmers for free today. Setup takes just a few minutes and it's 100% free to use including education, signals, copy-trading, and our pro trading tools.
And our Trade Guardian feature automatically exits trades when it senses danger. You can go to bed without worrying about choppy markets. It's exactly the tool you need to survive and thrive in brutal bear markets.
Even in choppy, brutal months like this recent dip, our members still get signals like these:
All of this is available 100% free including tools like a price action scanner, advanced trading terminal, and relative strength index scanner.
Sign up for ProfitFarmers today for FREE, and start trading like a pro no matter your experience level.
*This article has been paid. The Cryptonomist didn't write the article nor has tested the platform.