Fantasy soccer on blockchain is an increasingly established reality, and this was a day many fantasy coaches have been waiting for: the Open Beta of the World Super League has begun!
What is World Super League
WSL is a fantasy soccer game developed on blockchain in which it is possible to create a competitive roster to aspire for the many prizes up for grabs!
By logging on to https://worldsuperleague.noku.io and creating a new account you will receive a full set of cards to participate in the Open Beta Cup, a competition that will last two weeks and lead to the World Super League, the most coveted trophy!
Exactly like the Closed Beta, this tournament will have a trophy and numerous prizes to be won, as can be seen in the image below: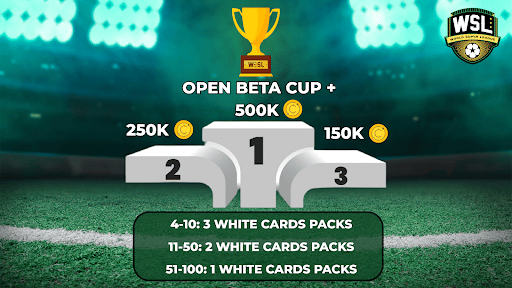 WSL competitions, like in fantasy soccer, take into account the sum of the scores obtained on the individual days, so the final ranking of the Open Beta will be composed of the fantasy coaches who have distinguished themselves on the two rounds.
As a reminder, participation is free, when creating an account you will receive 26 NFTs to start with and winning prizes in the Open Beta. It will allow you to face the next competition, World Super League, with a more competitive roster!
To deploy a full WSL lineup you will need to select:
1 coach

1 form

11 starting players

4 bench players

5 bonus cards
You can find more information in our first article or consult the WSL guide directly from the official website.