Following Reddit, Instagram has also decided to use Polygon's blockchain for its NFTs, and it is perhaps also for this reason that the crypto MATIC has risen in value, reporting +13% since yesterday.
🌐 NFT Updates 🌐

You will soon be able to create, buy and sell digital collectibles directly on Instagram, starting with @0xPolygon.

Plus, new integrations with @opensea, @solana and Phantom Wallet. pic.twitter.com/waJK1WJXZB

— Instagram (@instagram) November 3, 2022
Indeed, yesterday Instagram announced that it will start selling Non-Fungible Tokens using Polygon. Specifically, there will be 100 countries where Instagram will start selling NFTs directly through its platform.
More accurately, Instagram will definitely collect fees, but it will be creators who can decide to put their NFTs for sale directly on the social network.
Stephane Kasriel the Head of Commerce and Fintech at Meta, said:
"A small group of creators will soon be able to create digital collectibles (NFTs) and sell them right on Instagram."
These include photographer DrifterShoots, artist Ilse Valfré, and Amber Vittoria.
There is still unfortunately no word on the release date of this marketplace, but since Twitter will soon be doing so as well, it is thought that it will not be long now.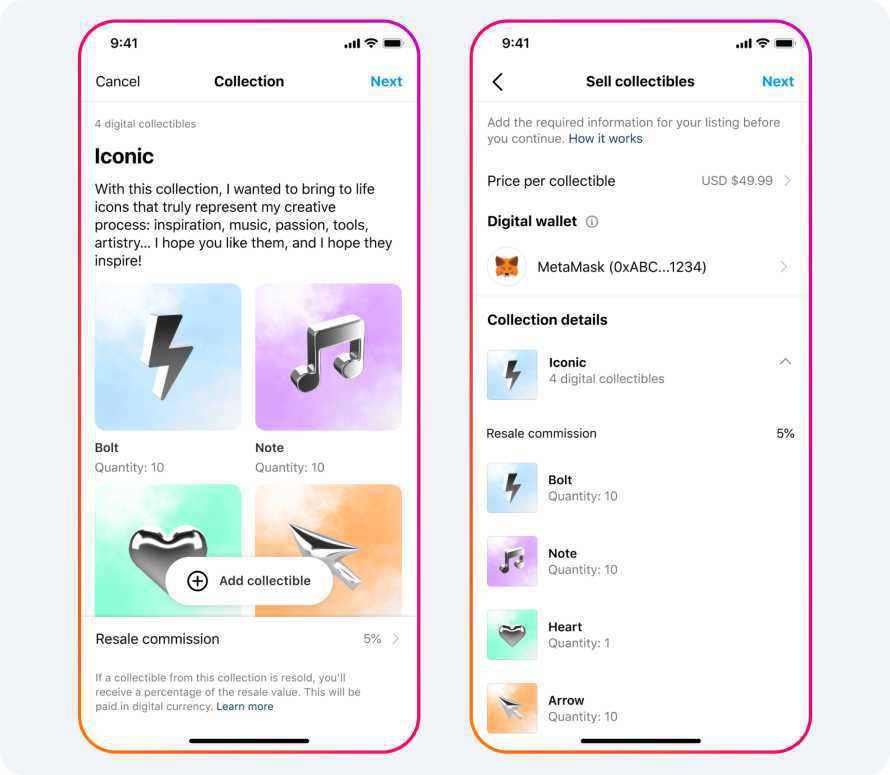 Polygon Studios CEO Ryan Wyatt revealed to Decrypt magazine:
"Creators on Instagram having the opportunity to engage with fans and monetize through Polygon-powered digital collectables is a watershed moment for both the creator economy and web3. Accessibility is still one of the biggest hurdles to onboarding new users to Web3 and making this process easier, faster, cheaper, and more approachable will have an immense impact."
The latest news about Meta and Instagram
Back in May, Meta announced that they were implementing a feature to connect the platform to a wallet and display their NFTs on their respective Instagram and Facebook profiles.
Currently, Facebook and Instagram support the display of NFTs on Ethereum, Polygon and Flow blockchains, allowing users to connect their wallets to their accounts to display NFTs. In addition, support for Solana and Phantom is rumored to be on the way.
The latest news on Polygon
Recently Nubank, the fintech bank located in Brazil, announced the creation of Nucoin tokens on the Polygon blockchain. Nubank says the tokens will be available by the first half of 2023 and will pave the way for a rewards-rich program for its seventy million customers throughout Latin America.
In addition, a few days ago the US investment bank JP Morgan executed its first crypto transaction in DeFi in real time, on a public blockchain, using tokenized deposits, powered by Aave, and verifiable credentials through Polygon. 
The crypto MATIC rises 
As mentioned, it is perhaps also for these reasons that the crypto MATIC has risen in value, recording +13% in the last 24 hours.
The cryptocurrency is certainly also benefiting from the small rally taking place in the crypto sector, where many cryptocurrencies are regaining ground from last month's sharp declines.
This is an ERC-20 token that runs on the Ethereum blockchain. The tokens are used for payment services on Polygon and as a governance currency among users operating within the Polygon ecosystem. Transaction fees on Polygon sidechains are also paid in MATIC tokens.