The Noku platform is about to host the first Bitcoin Tournament through their first play-to-earn: Crypto Heroes.
Starting on 8 November there will be 14 different matches, two per week, in which all participants will try to predict the market trend to get as many points as possible.
The total prize pool for this big tournament will be over 1 BTC, the player who manages to score the highest will get 0.5 of the most popular cryptocurrency.
How to participate?
To play Crypto Heroes simply create an account here.
Once registered you will receive 20 initial NFTs to play the first matches and get familiar with the game dynamics.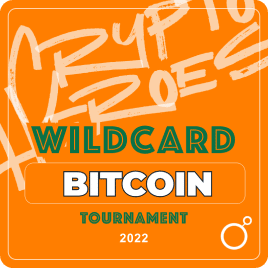 To register for the Bitcoin Tournament you need to possess the Wildcard, an NFT from Nokuchain that will grant access to the tournament. 
You can obtain it through various raffles organized by the platform or through the purchase of certain packages.
How to play Crypto Heroes?
Crypto Heroes is the first play-to-earn play built on Noku's blockchain: it is a trading card game related to the world of cryptocurrencies.
Thanks to the 20 NFTs received, it will be possible to participate in certain matches such as leagues and blitzes. For leagues, it is necessary to field 12 cards, including two of type A (Antagonist) while for blitzes only crypto-related cards are allowed, except for "short", a very useful wild card in times when the market goes down.
Crypto Heroes NFTs are tied to one or more crypto assets with related multipliers; the setup of cards to be deployed must be chosen carefully since the scores depend on the real-time performance of the cryptocurrencies to which they are linked.