How are the crypto assets Calvaria (RIA), SafeMoon (SFM) and Algorand (ALGO) doing within the market? A look at the latest news and price prediction.
Crypto performance of Calvaria, SafeMoon and ALGO
To recap, Calvaria is a play-to-earn crypto game that consists of collecting cards as NFTs and challenging opponents with them. SafeMoon, on the other hand, is to date considered a next-generation cryptographic ecosystem related to decentralized finance and having its own token called SFM.
Lastly, Algorand (ALGO) is a decentralized open-source network that uses a unique Proof-of-Stake mechanism to facilitate a two-tier architecture and enable a functional coexistence between decentralization, scalability and security.
Calvaria: will the RIA token increase in 2023? How will the trend compare with crypto assets SafeMoon and ALGO?
Calvaria, one of the best P2E projects launched last year, has started its token generation event. Not only that, Calvaria is also a Play-to-Earn project that created an ecosystem to attract non-crypto players.
It did this to increase the relevance of crypto games. The project's presale began last year and closed early when it raised more than $4.79 million before the deadline.
With the start of the token generation event, Calvaria also revealed the first exchanges to list RIA tokens. As such, unlike similar games such as Gods Unchained and Splinterlands, Calvaria created two modes for users.
In fact, it has introduced a Free-to-Play mode for players, so it can be accessed via anything from desktops and laptops to cards and mobile devices. It features the same game mechanics as the P2E mode, but there are no earning mechanisms and no multiplayer mode.
The second mode is the play-to-earn mode, which, as the name implies, allows players to interact with the P2E mechanics underlying the ecosystem.
This mode will allow players to have legal ownership of the cards they have purchased and to interact with other blockchain mechanisms of the ecosystem, be it staking, DAO, in-game marketplace, and scholarship system.
With the presale concluded, Calvaria is now available on LBank, BKEX, and Uniswap. And the token has behaved similarly to other presale cryptocurrencies: a huge pump followed by a small correction.
Indeed, the price of the RIA token was propelled to $0.064, which enabled phase 1 investors to make six times more gains. After the recent news, many major exchanges have already lined up to list the RIA token.
As the token is listed on more exchanges, more traders will be interested, which would increase the push to maintain liquidity. The direct result of this would be increased gains for RIA tokens this year.
SafeMoon crypto price prediction: what is SFM hacking?
The price of Safemoon (SFM/USD) remained in a consolidation phase even though it made headlines on Wednesday. On Thursday,the SFM token was trading at $0.00020, a few points above this week's low of $0.00019.
The price is about 16% below this week's high point. Not coincidentally, one of the blockchain industry's biggest news stories this week was the Safemoon hack that drained about $9 million in tokens on Wednesday.
Data on the blockchain show that many tokens were moved in a single transaction, which saw the hacker steal tokens worth nearly $9 million. These funds were moved from a Safemoon liquidity pool, which facilitates transactions in a DeFi ecosystem.
In a statement, John Karony, CEO of Safemoon, said the network was secure and only one pool was affected. He said:
"We have located the suspected exploit, patched the vulnerability, and are engaging a chain forensics consultant to determine the exact nature and scope of the exploit."
Safemoon is one of the top cryptocurrencies that has become popular in the meme frenzy of 2022. Specifically, it was popularized by celebrities such as Jake Paul, who promoted its high returns.
However, over the years, the cryptocurrency has not lived up to its hype, with Safemoon's price about 92% below its highest level ever. In fact, its market capitalization has fallen to about $114 million.
ALGO up 11.51% after partnership in India
Algorand (ALGO), the blockchain-based cryptocurrency protocol using proof-of-stake technology, rose more than 11% in 24-hour trading after headlines of its partnership in India.
Specifically, the partnership agreement will help India's growing economy as it transitions from Web2 to Web3. According to reports, the three main areas AlgoBharat will focus on in India are growing the Web3 developer community, support and investment in the Web3 startup environment.
It will also aim to form strategic alliances with established companies. Which are like government agencies, non-profit organizations, and academic institutions. To create Web3 apps using the protocol, the Algorand Foundation has also released a suite of developer tools called AlgoKit.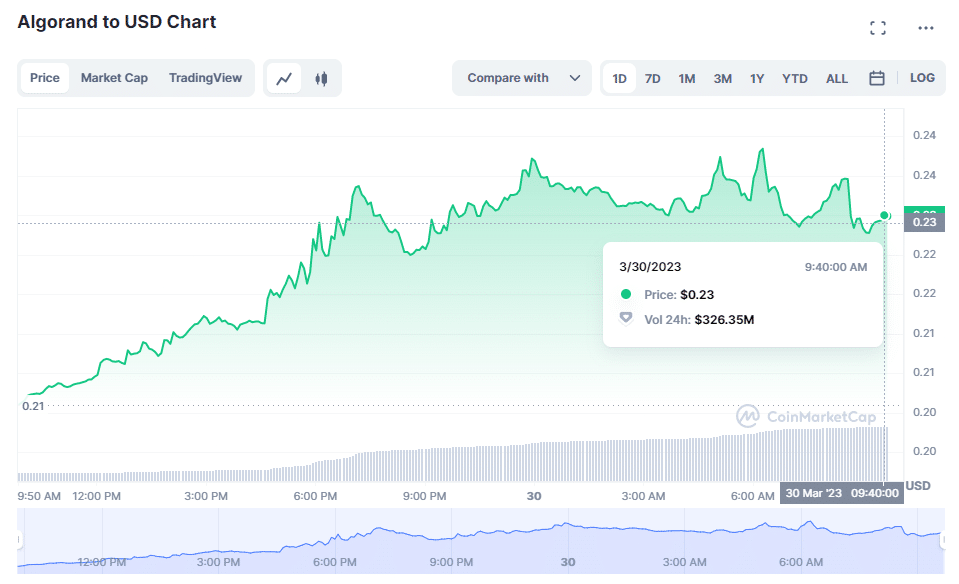 Algorand also recently revealed partnerships with the state of Maharashtra, with which it wants to develop 100 million non-fungible tokens (NFTs) to store personal health data.
In addition, other partnerships are with the Self Employed Women's Association (SEWA) to support women-led businesses in developing blockchain solutions. And with Jawaharlal Nehru Technological University and the Indian School of Business to launch faculty development programs.
Finally, Algorand has partnered with T-Hub, the leading innovation hub in India with more than 600 corporate partners, including Microsoft, Intel, AWS, Boeing, and Meta.