Some time ago, the beta version of Trust Army, a Web3 search platform that helps detect crypto scams, was launched.
The platform was created by Hacken.AI and has already investigated 560 blockchain projects in just 98 days, during which time it received 5,296 user reports.
It is a project specifically created to improve the trustworthiness of the Web3 sector, and consists of a research platform that collects reliable information on different blockchain projects to highlight the best tokenomics, which backers are trustworthy and which allocations are transparent.
It also offers people interested in the crypto sector the opportunity to contribute to its transparency by earning rewards for their efforts.
The Trust Army's work is based on research missions that produce reports, and consists of finding information about the quality of the crypto projects examined by each mission.
The first 100 results
At the end of April, an infographic of the first 100 projects examined was published.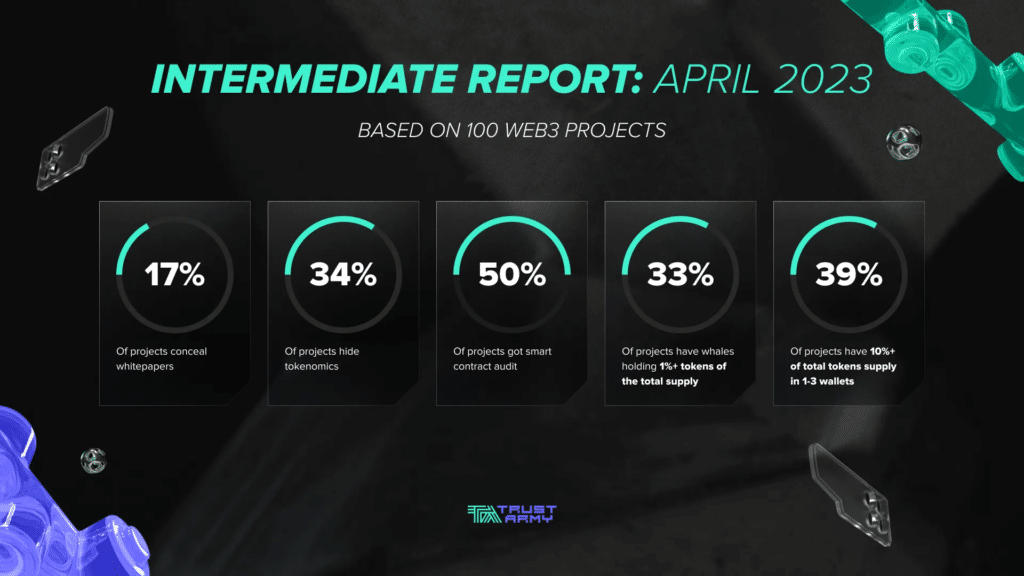 The infographic shows that 17% of the examined projects hide their white papers and even 34% hide their tokenomic.
Furthermore, only half of the projects examined had their smart contract audited.
These are not particularly good figures, but they are not terribly bad either. In fact, although there are 50% of crypto projects whose smart contracts are questionable, the other half have had them audited, even if there are no statistics on the quality of the auditors. 
Other data that is not particularly good, but certainly not very bad, is that concerning the centralisation of tokens.
About a third of the projects examined have more than 1% of the total token supply concentrated in their addresses, and 39% have more than 10% of the total token supply concentrated in fewer than three addresses. Again, on the whole, these numbers are not too bad, though certainly not very good.
Conclusions on crypto fraud
In light of this data, the Hacken.AI team argues that blockchain projects do not always prioritise transparency and security, with a high percentage of the token supply in the hands of just a few holders. 
This has unpredictable implications for the sustainability and future of these projects.
Furthermore, these results demonstrate the fundamental importance of analysing and monitoring Web3 projects, as the percentage of dubious projects is by no means insignificant.
Basically, it can be said that there are too many projects of a dubious nature, even if they are not necessarily the majority, but there remains a significant number of projects that appear somewhat more transparent and secure, especially in absolute terms.
In other words, it is not difficult to find real crypto scams because there are many crypto projects and a significant percentage of them are of a dubious nature.
On the other hand, there seem to be many projects that at least appear to be transparent and secure, which means that the sector is more vibrant than ever.
The HAI token
The hacking project also has its own token, called HAI.
It is an Ethereum token that was launched a few months before the start of the last major bull run. 
Its current price of $0.026 is 94% lower than its all-time high of $0.470 in November 2021, but it is still significantly higher than the $0.011 it was at just before the bull run began.
It is therefore a token that was significantly impacted by the 2021 bubble, but excluding the bubble, has been able to maintain and increase its value over time.
For example, the low point of the 2022 bear market was in June, when it fell to $0.012, which was above the level just before the bull run began. It has also risen since then, to some extent following the ETH price trend.
The year 2023 started at $0.015, +25% from the 2022 low, and since then it has already gained a further 73%. It should be noted that in February of this year, the price had also risen to $0.048, which is still far from the highs, but definitely above the lows.
Crypto fraud
Unfortunately, fraud in the crypto world is common, as many scammers know how to exploit the weaknesses of the common man to extort money. 
The best defence in this case is information, and platforms that help gather and distribute good information about it are particularly useful.
The problem is that the average person often has no desire to analyse, research and study, and so ends up with a superficial approach that makes them easy prey for fraudsters.
Add to this the greed that often obscures vision, and it is easy to see why easy prey for fraudsters is so common.
Moreover, in many cases, crypto fraud is so obvious that all it takes is a little more objectivity, rationality and insight to spot it, along with the right information, of course.