In this article, we take a look at the best analytics tools to search for the next crypto airdrop and check the eligibility of your address.
You may not always be able to keep up with the many projects that release tokens as gifts to your community every day, but using these platforms will make the game a lot easier.
Full details below.
Find the next crypto airdrop: the best platforms for doing on-chain analysis
The world of airdrops is so vast that it is impossible to cover specific strategies for every crypto project that is intent on releasing tokens to the community.
However, through these analytics tools you will be able to stay on the ball at all times.
Before introducing these platforms, it is worth mentioning that most of the airdrop strategies you will find within them refer to cases where the potential profits are low, but at the same time getting them is a piece of cake.
As for the most important airdrops, with assumptions of profits above $1000 per wallet, you can stay connected with this column and follow all the steps that will be listed on the specific projects, like what was done previously for Starknet, LayerZero and zkSync.
Here are 3 analytics platforms to make sure you don't miss a single airdrop, and turn this crypto niche into a full-fledged professional income earner.
DappRadar: on this on-chain analytics platform, where you can also keep track of your cryptocurrency trades and assets, there is a section dedicated to airdrops.
To earn a share of the prize put up for grabs by each project, simply follow DappRadar's directions and hope to be selected.
The only downside: the process is not fully decentralized and you will need an email connection
Ico Marks: similar to DappRadar's airdrop section, on Ico Marks there is a long list of projects that have announced rewards to the relevant communities, with a step-by-step guide to try to get them.
In most cases it is sufficient to have a non-custodial wallet, a Twitter profile and a discord profile, while at other times it is necessary to have a presence on multiple social media or web3 applications.
Either way, the criteria are clearly explained on the platform with indications of airdrop expiration dates and expected reward.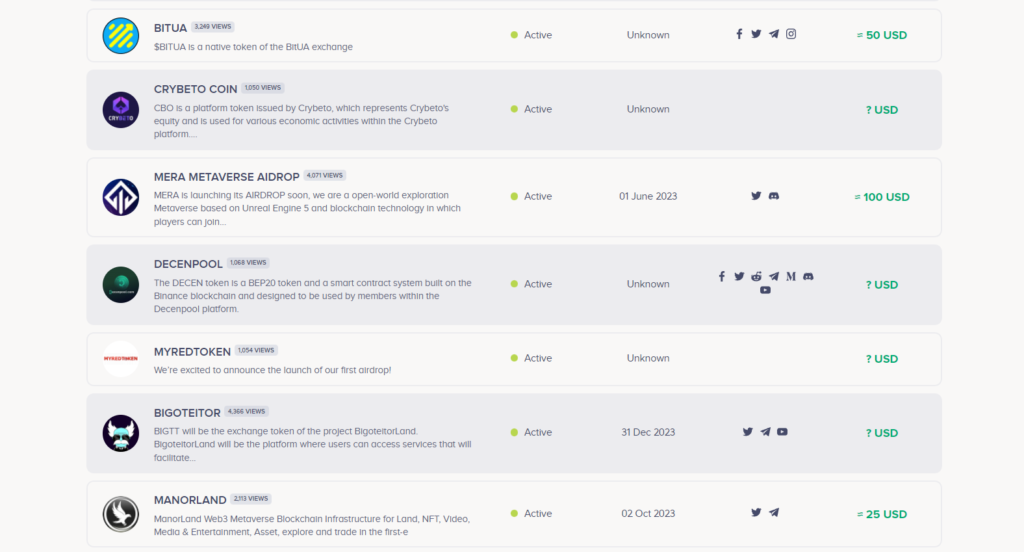 Airdrop Alert: On this website there is a section dedicated exclusively to the airdrop sector, with insights on projects that reward early adopters in the DeFi and NFT niches.
Similarly to the other two platforms, we can find all the info on airdrops that are scheduled, with data on the steps to take to get them.
Airdrop Alert seems more professional than Dapp Radar and Ico Marks, with a special focus on testnets and GameFi.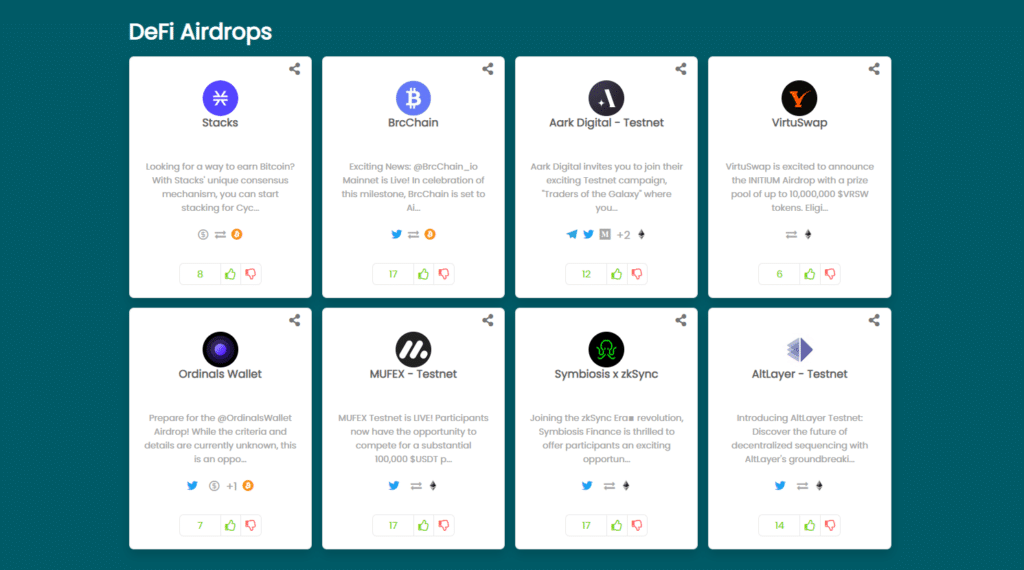 How to verify the eligibility of one's address for a crypto airdrop
In addition to using analytics platforms to do airdrop research, a good "hunter" must necessarily be able to monitor the eligibility of one's addresses in order to redeem long-awaited earnings.
Many users work hard to research promising projects and airdrops and then forget or fail to notice that they have been selected as "winners."
This unfortunately happens when multiple airdrop strategies are followed simultaneously without being able to keep track of everything.
In this regard, there are two platforms that you can consult whenever you want to check whether you have received an airdrop, namely "Earndrop.io" and "Earni.fi"
Both work the same way: there is a search box where you have to enter your own address(es) and check if there is any airdrop pending.
According to Earni.fi, on average the platform helps each user track down airdrops amounting to $796.
In any case, both tools are valid and it makes no difference to use one rather than the other.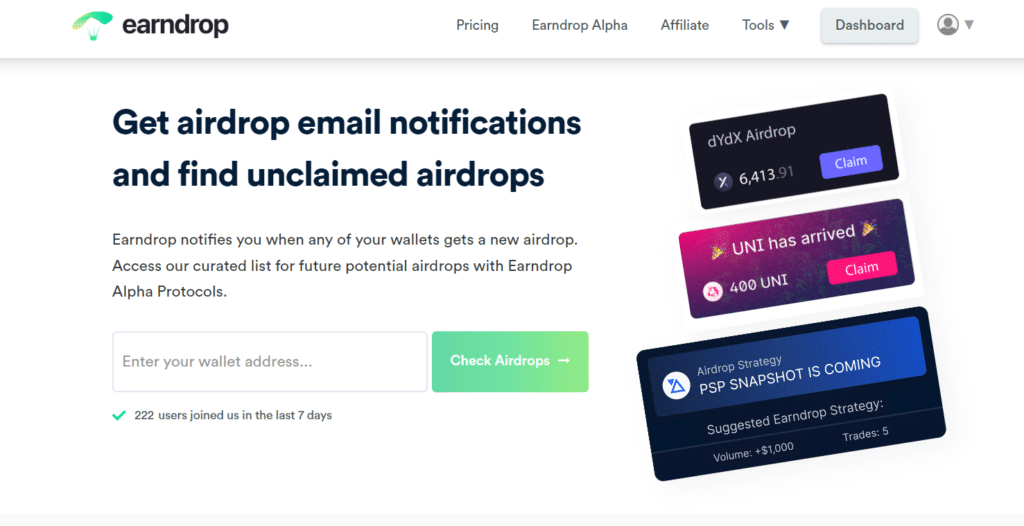 If your address turns out to be eligible for one or more airdrops, the platform will notify you immediately. 
You can even receive email notifications by associating your wallet, without having to be manually checking each time.
There are also paid pro versions of these two platforms that allow you to follow strategies proposed directly by Earni.fi and Earndrop.io and receive notification emails for multiple accounts at once.
In addition, the paid versions alert you precisely about the name of the protocols on which you may have been selected for airdrop.
The free plans only allow you to see that there is a protocol (without telling you the name) that is paying you.
In any case, if you are an active airdrop user, you should have no problem recognizing the project in question, hence paid plans are only recommended for those who do this for work every day.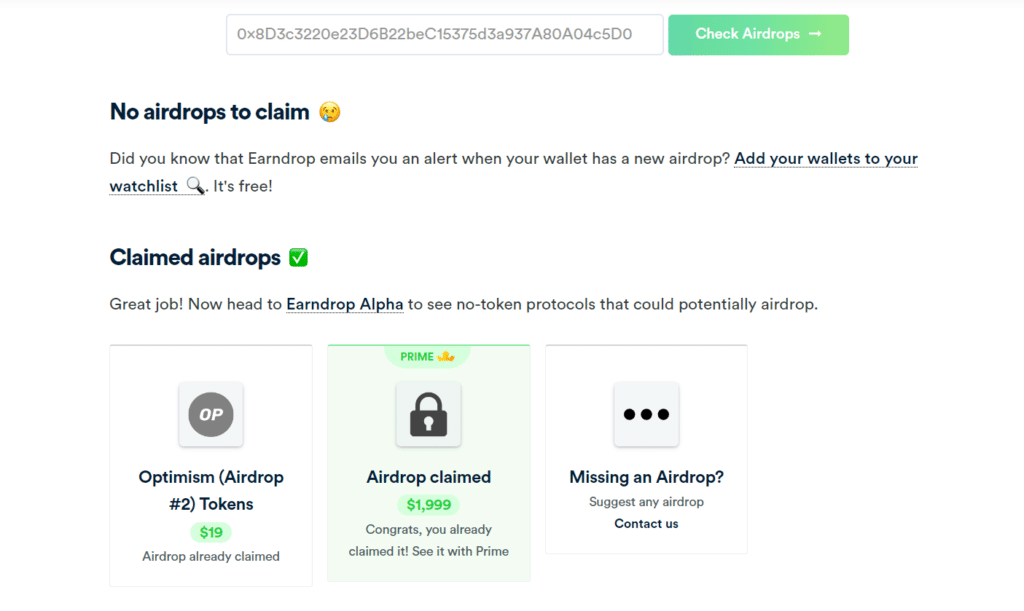 Analysis of the most promising crypto airdrops of the moment
In the last instance, let's do an analysis of all the most promising airdrops of the moment, making a review of the projects that are most likely to earn tokens for their community.
In first place we find ZkSync, a layer 2 scaling solution for the Ethereum blockchain that can offer fast transactions and low gas fees.
The project has raised $458 million in funding from companies such as a16z, Coinbase Ventures, the Ethereum Foundation, Blockchain capital, Dragonfly, etc.
Most likely the Layer 2 based roll-up technology will reward its early adopters who will carry out operations on the chain with a +1000 airdrop
Second is LayerZero, an on-chain interoperability protocol that aims to solve the problem of security and chain incompatibility among different bridges in the Web3 landscape.
This project has reached a valuation of $3 billion, having been funded by Sequoia Capital, Tiger Global, Dapper Labs, a16z, Coinbase Ventures, Uniswap Labs, etc.
Participating in an airdrop is very simple and all one has to do is interact with some bridges, such as the one at Stargate and create volumes in on-chain transfers where LayerZero's technology is present. 
Here as well, expectations are for an airdrop of the counter value of more than $1,000, at the very least!
 Finally, we find Starknet, Ethereum's Layer 2 that uses off-chain STARK (Scalable, Transparent Argument of Knowledge) cryptographic computation proofs to enable large file processing.
Starknet has raised about $282 million in funding and an overall (crazy) valuation of $8 billion.
The approach to achieving airdrop is similar to that mentioned in previous projects: essentially perform mainnet operations, transfer assets from Ethereum to Starknet, and participate in Stargate protocol governance votes.
Additional projects that could make their users happy with the announcement of an upcoming airdrop are: Scroll, Base, Debank, MetaMask, Fuel and Mantle.
Stay tuned to this weekly column for all the updates and operational strategies you need to undertake to succeed in the wonderful world of airdrops.
Stay on top of it!