This article will introduce the topic of crypto airdrops. This will be the first of a long and detailed column, so stay tuned!
The crypto sector often features these mouthwatering opportunities to obtain "free money."
Let's try to take stock of the situation and explain in detail what airdrops consist of and how to get them
What are crypto airdrop and what do you have to do to get them?
Airdrops are marketing strategies that new crypto projects adopt to promote their business and get an initial flow of users.
Every year new ecosystems are born in the crypto landscape trying to gain visibility to increase traffic to their platforms.
However, it is very difficult to reach the attention of the crypto-friendly public if precise strategies are not adopted to incentivize users to use the products of these infrastructures.
The classic methods of enticing user traffic is through promotions on fees, incentives to provide LP tokens (pool farming) or by promising high returns on staking (see the case of Olympus and Wonderland). 
However, these practices often end up creating high inflation on new tokens or are unsustainable over time.
The airdrop technique is certainly one of the most interesting and most rewarding practices in terms of engagement for these projects.
These are strategies in which it is decided to GIVE AWAY tokens/coins belonging to new ecosystems to early adopters in the crypto world who independently decide to test these innovative products.
Usually the release of an airdrop is either announced directly by the team of the newborn crypto projects or the users themselves glimpse the possibility of future rewards based on the initially published roadmaps.
Airdrops do NOT always represent opportunities to get "free money": often to qualify for an airdrop it is necessary to perform some on-chain actions such as making swaps, being a liquidity provider, buying NFTs and using various smart contracts. 
Consequently an upfront cost is assumed (generally about $100 is enough) that varies from time to time.
At other times obtaining an airdrop may be easier and in some cases it only takes "a few clicks"
Usually, however, the most profitable airdrops are those where you have to be an active user within the ecosystem or platform in question and hence you need to spend time, with the hope of obtaining "gift" tokens worth a few thousand dollars.
If done consistently and with some research, the pursuit of airdrops can be extremely profitable as well as one of the best ways to accumulate cryptocurrencies if you do not have a good initial capital.
The most profitable crypto airdrop in history
Let's look together at the most profitable airdrops in cryptocurrency history.
In some cases obtaining these airdrops can prove to be a "game changer" opportunity to dramatically increase the countervalue of one's wallet.
First, it is worth noting that the airdrops that will be mentioned below involved the use of a decentralized non-custodial wallet, such as the Ledger, Metamask, and TrustWallet.
Forget about getting 4-digit airdrops if you operate with the classic wallets of centralized platforms such as Binance or Coinbase, in fact it is really rare to get them through exchanges.
That said here are the airdrops that have historically made the most money for early adopters:
UNISWAP
On 17 September 2020, the UNI token was airdropped to all users who interacted with the well-known protocol when it was still in its infancy.
Uniswap today is known as the main DEX of DeFi, along with Sushiswap and 1Inch.
There were 300,000 addresses found to be eligible for airdrop, yet only 73% made the claim of UNI tokens. In total, about $351 million was given away.
On average each address received about $1,170, although many addresses cashed in a significantly higher amount, especially if they decided to hold the token for a few months.
About 250 addresses have received a whopping 250,000 UNI, which to date is equivalent to $1.58 million. Quite a sum for doing a few protocol swaps.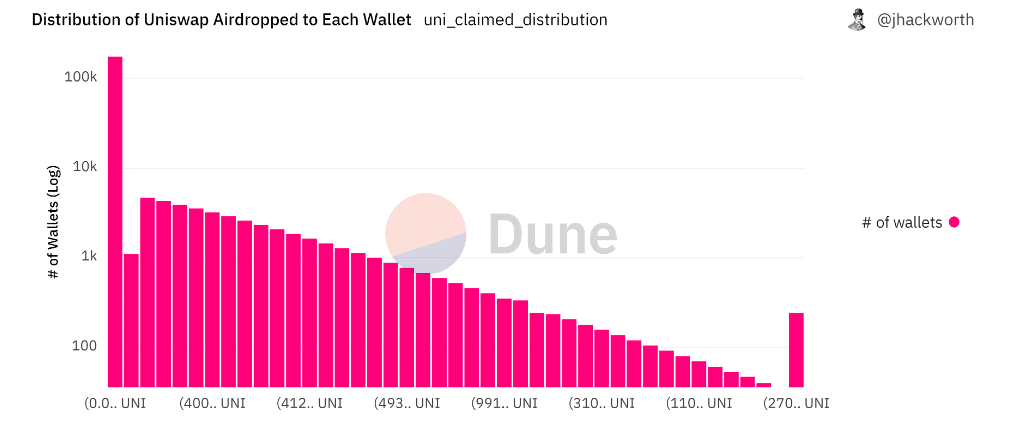 DYDX
A total of 64,306 users have experimented with the decentralized trading platform and obtained the DYDX token airdrop as of September 2021.
Of these, only 38,845 actually redeemed the token, which in total was worth as much as $834 million.
On average, each user earned about $13,000, a truly staggering figure.
Addresses that created volumes in excess of $1 million received 9,529 tokens respectively, which is equivalent to $265,500 if we consider the maximum price DYDX reached during that period.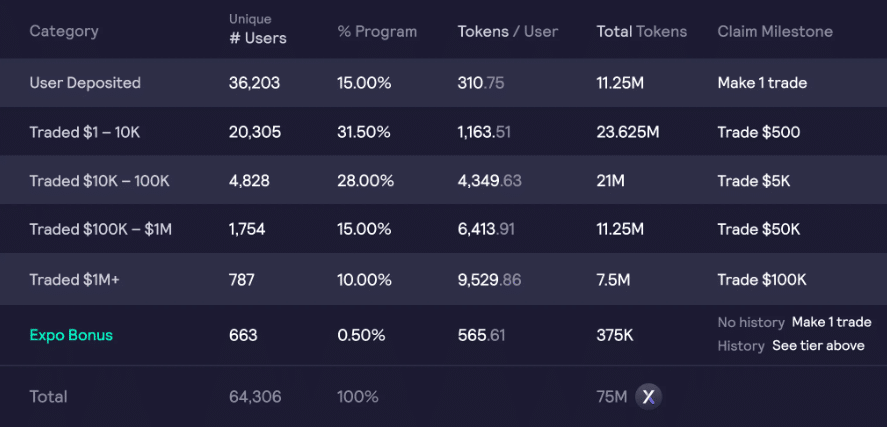 The most profitable crypto airdrop of 2022-2023
Among the most recent airdrops that have provided excellent returns for early adopters in the crypto world have been the airdrops of Layer 2s Optimism and Arbitrum.
These projects, now known to all industry enthusiasts, have managed to achieve remarkable success in terms of TVL and the number of active addresses on the chains, precisely because of the airdrop strategy
OPTIMISM
248,699 addresses had the opportunity to redeem airdrop worth a total of $300 million, but only 152,504 users made the claim.
On average, each address cashed in about $1,200.
The eligibility criteria in this case were slightly more complicated than in the Uniswap and dYdX projects. On-chain actions considered necessary to achieve layer 2 airdrop include using the blockchain on multiple occasions, voting on Dao, using multi-signature wallets such as Gnosis Safe, and donations to Gitcoin Grants.
ARBITRUM
One of the most discussed airdrops as well as the most recent one has been carried out by the Arbitrum ecosystem. 
The criteria for being eligible for airdrop were similar to those imposed by Optimism.
Using the different dApps of the ecosystem on several occasions, using the bridges for Arbitrum One and Arbitrum Nova, and liquidity providing were the actions that determined the actual eligibility of users.
625,143 addresses were found to be eligible for a total current value of about $2 billion considering the current price of ARB, however, only 90% of the wallets or 567,851 made the claim.
On average each user earned about $3,200.
4,428 addresses have received a whopping 10,250 ARB tokens which is currently equivalent to about $18,140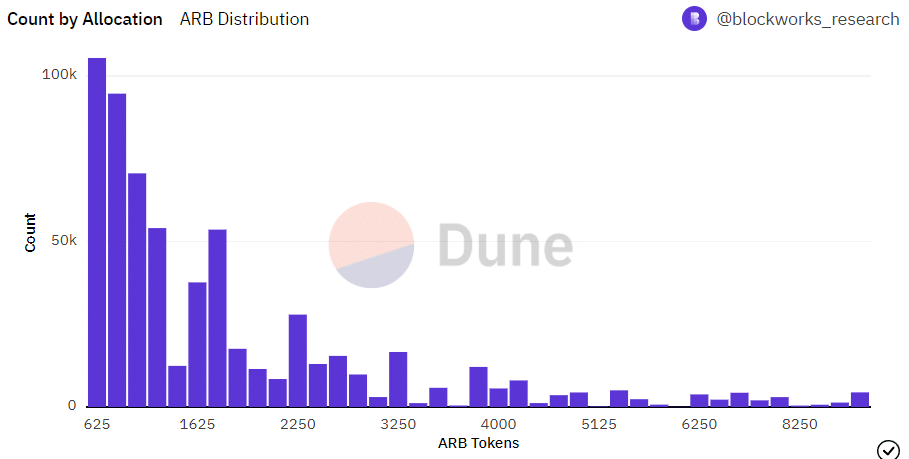 How to qualify for free crypto during airdrop
There is no one-size-fits-all method to qualify and get airdrop rewards.
The criteria that new project teams decide on changes from time to time, and it is necessary to monitor the crypto landscape in order to succeed in making substantial gains.
Sometimes it is crucial to have foresight about the future of a project and to carry out on-chain actions before the actual airdrop round is announced.
A small tip if you want to anticipate the release of airdrops and look to see if a project has decided to build a DAO.
DAOs (Decentralized Autonomous Organizations) require the existence of a governance token, and if this has not yet been rolled out it means that there is a possibility of a future airdrop.
In other cases, such as that of the Layer Zero project, if you look closely at the codes written by the project developers, you can see that a future token release is already planned.
If you don't have time to go scouting out those projects that will release future airdrops or don't have the background knowledge to understand what on-chain actions are best to perform, there is no need to worry.
From next week we will see which are the most promising projects that could give early users an airdrop and we will analyze together the most appropriate strategies to position yourself and be eligible.
Stay on track traders!