Leggi l'articolo in italiano qui
According to research carried out by the well-known American magazine, most of the token sales are just ico scams. But these numbers are not convincing, let's see why.
As stated in a research conducted by the Wall Street Journal which reviewed a total of 1,450 ICOs, 271 were found to be suspect because they included plagiarized documents, promises of guaranteed returns and missing executive team members or fakes. But some figures aren't conclusive
Initial Coin Offering (ICO) is a kind of blockchain-based crowdfunding for raising funds needed to develop a project.
This method based on the sale of virtual tokens is truly innovative also because, as Changpeng Zhao, the CEO of Binance, says, "raising money through ICOs is about 100 times easier than through traditional VCs, if not more".
With a whitepaper, a very simple website and some tokens created from scratch you can raise tens of millions of dollars.
Unfortunately, the opening of an ICO to the public is sometimes so simple that it is easy to run into scams.
Investors, excited by this ICO race capable of creating a return at least ten times higher than the initial investment, often do not even read the whitepapers and do not visit the websites that perhaps could raise some red flags.
The numbers behind ICO scams
And there are many red flags: according to the Wall Street Journal, one in five ICOs is probably a scam.
It is estimated that around $1 billion has been invested in these ICOs, and while some of these ICOs are still raising funds, $273 million has already been lost.
While according to the consulting firm Satis Group, 81% of ICOs are considered fraudulent.
In short, it is almost always about scammers who try to take users' money and run: among them, about 6% failed, 5% ended spontaneously and 8% actually came to be listed on a cryptocurrency exchange.
Of those ICOs that are listed and have a market cap of more than $50 million, 47% can be considered successful and 20% promising.
These numbers seem to reflect what Vitalik Buterin said at the ETHWaterloo hackathon in October 2017:
"It is an established fact that ninety percent of startups fail. And it should also be an established fact that 90 percent of these ERC20s on CoinMarketCap are going to go to zero."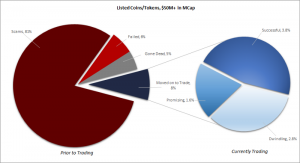 The numbers don't add up
While the WSJ says that out of the $1 billion invested in ICOs, $273 million is already in the pockets of fraudsters, a single Vietnamese company called Modern Tech was alone responsible for the disappearance of $660 million raised during the ICO of its Pincoin token.
If instead we take into consideration Bitconnect, the coin that is perhaps the emblem of ICO scams and Ponzi schemes, then only with this example we reach 2.6 billion dollars for a value higher than 400 dollars per coin.
But the list doesn't end there: the ICO scam of Centra, advertised by the famous boxer Floyd Mayweather, raised $32 million, while PlexCorps raised $15 million, promising a return of 1.354% in a month.
In January, Arise Bank, which was supposed to be the first decentralized bank to use its own cryptocurrency for payments for products and services, raised nearly $600 million but was closed down by the Security and Exchange Commission (SEC) on charges of fraud.
Paragon Coin is another ICO that raised $70 million and then ended up with a lawsuit; Denaro raised $8.3 million before it turned out to be a scam; LoopX disappeared having raised $4.5 million.
And then there are the scams that have already finished their ICO, but continue to flourish in their Ponzi schemes.
An example of such coin could be OneCoin, which has raised billions of dollars and against which warnings have been issued in various European countries, but which still continues to operate today.
Is Petro a scam?
What could prove to be one of the greatest scams of all is the first cryptocurrency issued by a government, the Petro.
ICO rating sites such as ICOindex and ICObench did not waste time and immediately labeled it as a possible scam, while Vitalik Buterin wrote on Twitter:
"This is why the crypto community needs to move away from "yay, blockchain" and zoom in specifically on what is the trust model of each project. This one is definitely quite centralized, and dependent in multiple ways on a central party (venez gov) that seems not very trustworthy."
The picture is horrific and it is worrying that despite the fact that so many of these scams are being uncovered, people are still falling into for them.
ICOs do not stop
According to the Satis Group, 2017 was the year that saw the rise of ICOs that, with their unregulated nature, helped startups raise $5.68 billion. December alone raised 1.4 billion.
And it doesn't matter that the trend of the cryptocurrency market reversed at the end of December because ICOs continued to collect, raising more than 3 billion dollars in the first quarter of 2018.
Interest in ICOs seems to be growing even more, to the detriment of the venture capital industry.
In the last quarter of 2017, venture capital raised only $200 million, which is only a small fraction of the $3.23 billion invested in ICOs.
The trend towards tokenization is evident and also finds supporters, such as Changpeng Zhao or John McAfee, among the best known.
The warnings on ICOs repeated and echoed by the various governments are of no use and there is no need for an impending threat from the SEC which says it wants to categorize almost all the tokens and cryptocurrencies as securities.
The amount of people willing to put money wherever they can, increases and often, these people are aware that a project is suspicious, but the promise of a return is more appealing.
Red Flags
Detecting a scam project is not always easy. There are, however, red flags that, at first glance, are an indication of an almost certain scam.
Having false photos among team members is perhaps the easiest way to find one.
A "bank without bankers" project called Miroskii used the photo of American actor Ryan Gosling as that of their graphic designer and all the other photos of the team were picked from the Internet.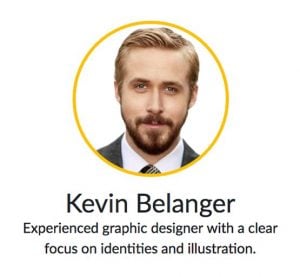 Of cases like these, there have been so many and checking the LinkedIn profiles of each person involved in the project would seem the best practice to protect from nasty surprises.
The lack of a page listing these people is a clear signal for abandoning the idea of a potential investment.
Another warning signal is the GitHub repository, empty for open-source projects.
One of the main features of blockchain projects is their open-source nature which means that the code must be put on GitHub to be reviewed by everyone.
For investors who are not developers and do not have the relevant knowledge, visiting the project's GitHub may be enough to check the development progress.
A repository that is empty or has little activity is worrying.
Until now, the most successful scams were those constructed as Ponzi schemes.
The promise of guaranteed returns, secure monthly rates and the construction of a pyramid to recruit as many people as possible and have returns on them makes these projects attractive and difficult to destroy.
The story of Bitconnect, which has recruited thousands of people and achieved a market capitalization of $2.6 billion, is proof of this.
A detailed and clear whitepaper is one of the things that should be reviewed with caution.
Although many investors do not have sufficient knowledge to understand blockchain projects, using terms that are too technical without attempting to explain them may alert users.
The whitepaper copied by others would be a clear indication not to invest in that project.
Social channels are usually a good method that even a novice can explore and get an idea about the validity of an ICO.
When visiting those channels you should consider whether the team members are open to dialogue, whether they are evasive with their answers and whether the answers are specific or generalized and especially how the group reacts to the questions.
The usefulness of the token is essential and a careful assessment of its application might be sufficient to have a clear picture of the situation.
It must be said that an ICO whose token is not useful does not necessarily have to be a scam but it is highly likely that once the ICO ends, the token loses its value.
The distribution of tokens and the total supply are aspects to be checked with caution because too large a slice of tokens reserved for the team can indicate a personal profit rather than developing the project.
Awareness is growing
Warnings from government and financial institutions as well as increased media coverage of cryptocurrencies around the world have contributed to the awareness of the danger of investing in ICOs.
Social media can function as a double-edged sword because Ponzi schemes find them very useful to spread but discussion groups are often useful for keeping track of the latest scams by using the "wisdom of the crowd" to identify them.
While some years ago knowledge of blockchain technology was limited to a few people, today, the level of understanding of the subject is certainly higher, contributing to the evangelization of novices.
The appearance of websites where it is possible to report scams, such as ICOwatchdog, or websites like TokenTops that list ICO scams, has facilitated the identification of projects.
The ICO scenario is certainly not reassuring and more regulation is needed, but the question that arises spontaneously is perhaps whether regulations must necessarily come from governments or whether the cryptocurrency sector is capable of self-regulating.