HTC, Taiwan's mobile phone giant, announces it has reached an agreement to have Charlie Lee among its consultants developing the new HTC Exodus phone, the first to support blockchain technology.
The agreement was reached after a meeting between Charlie Lee and the smartphone development team, during which Litecoin's guru was reassured about the inclusion of his cryptocurrency in the project with support from the Lighting Network.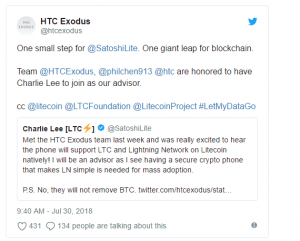 The HTC Exodus phone has been described as the first smartphone to implement blockchain technology with the aim of keeping data confidential, either by allowing the user to have it on their phone or in the cloud.
In addition, the phone will be able to act as cold storage for several cryptocurrencies including bitcoin, ETH and now also litecoin. Market launch is expected in the third quarter of 2018.
The phone can also support DApps, decentralized applications on the blockchain. A partnership with Cryptokitties has been formed and will include the game among the standard features of the smartphone.
Initially, HTC's projects had foreseen an integration of the game, and therefore of the DApp, with the U12+ model, which had been promoted as a hub for the distribution of the "decentralized kitties", but then HTC preferred to offer a more complete tool.
HTC is not the only smartphone manufacturer engaged in the development of a blockchain phone: Sirin Labs, also from Taiwan, has chosen Foxconn, one of Apple's leading suppliers, as its partner for the development of its Finney smartphone that supports blockchain.
The phone is expected to be released next October.