August is the month of the summer holidays, but not for ICOs which are quite numerous even during this period. These are the best ICOs according to an ICObench report.
Although if we make a comparison, we notice a decrease in the number and value of the offers compared to the previous months:
August saw an increase in revenues from ICOs of about a quarter compared to July and just under a ninth compared to June which, with its 1.5 billion collected, was the most profitable month of the year.
August, however, saw some initiatives of great importance in terms of volume of funding, such as that relating to the London Football Exchange, with over 72 million raised, according to this report.
If we consider not only the amount of funds raised but also the quality of the reports obtained, the most interesting project of the month was Datareum (a decentralized data market), with 5 million dollars collected.
The highest public offers of the year obviously relate to EOS, whose mainnet was recently launched, followed by TON-Telegram which, however, was open only to private investors.
Moving instead to the combination of rating and amount collected, the best was Truegame, linked to an exclusive gaming project, followed by Karatgold Coin.
As far as the origin of the projects is concerned, the prevalence is in the USA with 519 projects, but if we consider the population density, Estonia is the country with the highest number of projects per million inhabitants, equal to 149.7 per million Estonians.
Singapore also scored very well with 60 projects per million and Switzerland with 22.8.
As for the platforms used, Ethereum dominates with 80%, while the second is Waves and then Stellar.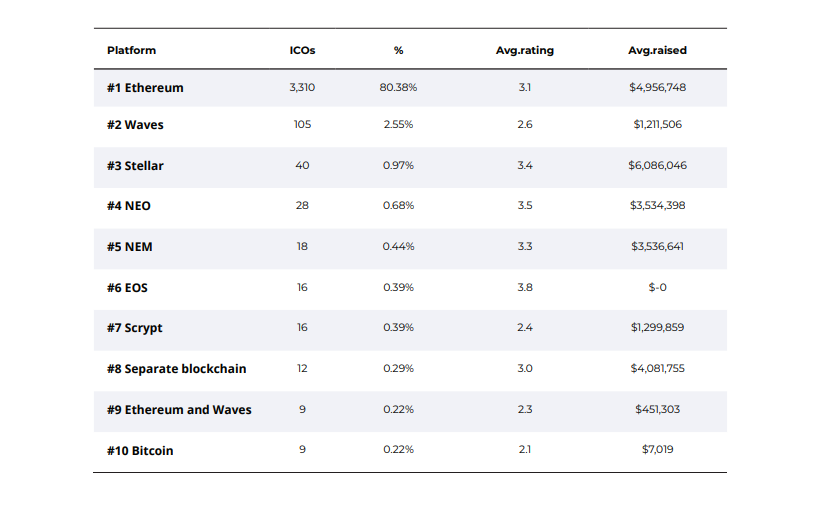 Unfortunately, in recent months there has also been a decrease in the amount of funds collected, with a lower chance of reaching the hard cap and the almost total disappearance of the soft caps, i.e. the minimum constraints. A sign that fundraising is becoming more and more complicated.
ICObench, the company that prepares these reports, has had some evaluation problems in recent months, to which it has quickly remedied, as we are reminded by Luca Cotta, one of the reference people of the company:
"ICObench is committed to regulating positions on experts and advisors. There has been a great purge, that has interested more than 100 experts and advisors, guilty of having sold or favoured some ICOs in exchange for money or privileged treatment. Among these, there are famous names like David Drake. Being considered an expert on the most popular and widely read rating website is not only an acknowledgement but also an enormous responsibility, both on a personal and community level".