The period is in the hands of the Bears who, since the beginning of the month, have once again taken up the game at the expense of an increasingly dazed Bull.
Unlike yesterday, today's day is characterized by the prevalence of red signs for more than 70% of the first 100 by capitalization.
In the Top 10, only Ethereum (ETH) stands out, managing to climb the slope for the second consecutive day. Today's climb, at +2% from yesterday afternoon's levels, adds to yesterday's double-digit rally, allowing prices to limit the damage of recent days, although, from last Friday's levels, it remains among the worst falls.
For the other cryptocurrencies, the day's drops range between -0.3% for Eos and -4.5% for Stellar Lumens (XLM). For all the others, the falls are part of a rejection after a day like yesterday.
It is early, in fact, to affirm the end of a movement that in just ten days has brought the levels to revise the dangerous lows of mid-August, if not even below (see Ethereum).
The general summary is given by the total capitalization that has returned again below 200 billion dollars, a step away from marking the low of the year touched on August 14 at $187 billion.
Bitcoin manages to keep its dominance above 56%, it is the altcoins that weigh down any attempt to react. The delicacy of the period can be seen from the numbers: today we are at 255 days of decline from the absolute highs of the beginning of the year with a drop of 85%.
And we are one step away from the record set in 2014, which lasted 266 days with a loss that reached almost 86% with similar, if not identical, characteristics compared to the current phase.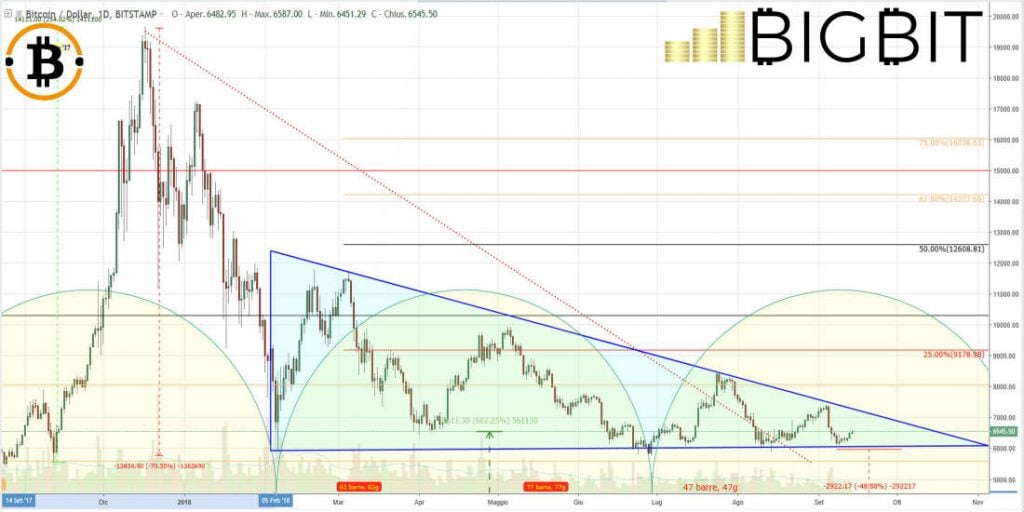 Bitcoin (BTC)
Yet another pullback, developed as soon as the prices have reached 6000 dollars. On the one hand, it comforts the bulls who see this inviolable level (precisely support area 5700), on the other, the bears may see it as a final bulwark.
The breakage of the downward triangle could be the trigger that will end this long period of laterality.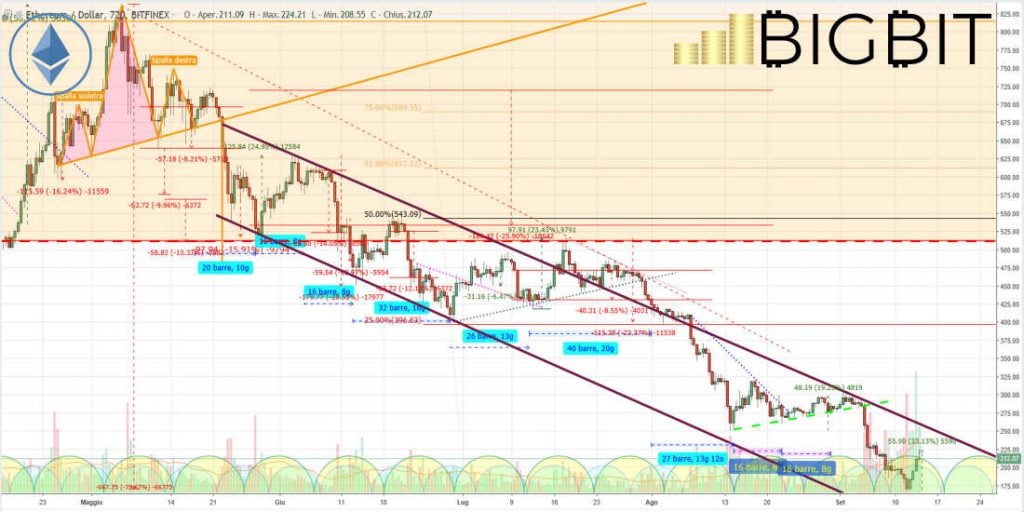 Ethereum (ETH)
A week later, prices are able to recover above $200. The fall of the last two weeks (-45%) would cripple anyone.
Having reacted with a +30% in just 48 hours is a vital signal but, to see some action, it is necessary to form a solid foundation and purchasing volume.
In the past, it has rarely happened to record daily trading volumes higher than those of bitcoin. Yesterday was one of these days. The high 24-hour trading on Ethereum ($2.01 billion) was 180 million higher than that on bitcoin ($1.82 billion).
In one day, the first two cryptocurrencies traded nearly half the value of all the other 50 major cryptocurrencies.