The first day of the week opens in line with last Friday's levels.
Few green signs among the first 50 by capitalization. Those who trade Verge (XVG), however, have been surprised this morning with a rise of 10% from yesterday's levels.
After having suffered one of the deepest declines from the relative highs of the beginning of May (-85%), from the beginning of September, Verge is demonstrating the desire to consolidate above the threshold of 50 cents of a dollar.
Among the best also Nem and Icon (ICX) are performing well, with rises of 2.4% and over 1% respectively from yesterday morning levels.
Even if Ripple (XRP) is the worst of the day, with a drop of 9%, the rises of the last few days are able to keep the prices above $0.50, a psychological level of support rather than technical and an important base for a consolidation to review the September highs just below the threshold of 80 cents of a dollar.    
September closes with a red sign: this is the second consecutive month of declines, highlighting a very difficult quarter and conflicting moods. After having scored a very positive July, levels of early summer are being reviewed, a condition that does not sweep away the bearish sentiment, increasing fears for a bear that remains cautious and ready strike again.
The air of uncertainty is also characterized by the volumes exchanged. With the complicity of yesterday's public holiday, total trades recorded one of the worst days and for bitcoin, it was the day with the lowest trading volume since the beginning of the year.
Total capitalisation managed to stay around 220 billion dollars with bitcoin returning to dominate just over 51%, showing how operators are timidly returning to the altcoins.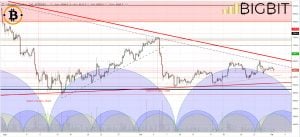 Throughout the month of September, bitcoin prices have fluctuated in a narrow range of 10%, falling below 7% since mid-September.
If we consider that since the beginning of the year the daily volatility, for bitcoin alone, is just over 3%, it is easy to see how the period is definitely devoid of any emotion.
Last Friday, after testing the $6800 for a few minutes, prices slipped back below $6500. In such a context it is very difficult to identify turning points and predict a directional view, especially with the descending triangle finally coming to an end.
Ethereum (ETH)
The short-term resistance in the 230 dollars area does not allow to reach again the most important medium-term resistance at 250 dollars.
The short-term trend remains positive even if in the next few days it will be necessary to confirm above 220 dollars. If this is not the case, it will be necessary to go back to hold the 200 dollars in order to obtain the first timid and correct indications for a possible medium-term trend change (1-3 months).