Listen this article
download
Coinbase announced the listing of ZRX.
Coinbase Pro started supporting this token on October 11th. A noteworthy detail is that this is the first ERC20 token supported by Coinbase.
Still, the support doesn't include all the users from the start. On its blog, Coinbase pointed out that ZRX trading "will not initially be available for residents of the United Kingdom or the state of New York."
Such procedures are to be expected since the new listing process of the exchange adds new assets jurisdiction-by-jurisdiction. This approach helps the exchange list assets more quickly without running into legal trouble.
The price of the token seems to have reacted with substantial growth to the listing on the exchange with Coinmarketcap indicating around 27% gains at press time.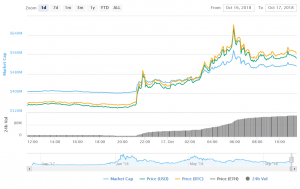 An interesting choice
ZRX is the token of 0x, which according to blocknomi is "designed to offer a decentralized exchange as part of the Ethereum blockchain." The system employs ETH smart contracts to offer the trustless exchange of assets on the blockchain in an attempt to solve the inefficiencies of decentralized exchanges.
Recently Coinbase acquired the decentralized exchange Paradex, which at first glance could seemingly explain the decision to list the ZRX token.
Still, as pointed out by DIAR, things are not as easily explicable:
"0x has become the favourite front-running protocol amongst development teams building decentralized financial applications. But the token itself, ZRX, which was added to Coinbase last week, doesn't currently fulfil any need. Most evident and even contradictory to the listing is the fact that Coinbase's own purchase of 0x decentralized exchange Paradex opted against the use of the token for fee collection, one of the possible use cases. And the primary use case as a governance token also falls short as the framework has yet to be established by the team."