According to an announcement of a few hours ago, Binance, one of the world's most famous crypto exchanges, introduces a new market to support multiple trading pairs with different stable coins.
This platform will be used to trade between tokens, cryptocurrencies and stable coins, allowing to use this asset class instead of the traditional fiat currencies.
USDⓈ is the symbol chosen for this new crypto market on Binance which will be dedicated to stable coins. At the moment, however, we find only Tether (USDT) on this trading platform.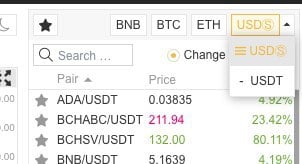 The Binance team said they will soon announce which pairs will be moved or added to this new stable coin market.
Also during this month, in addition to USDT, Binance has also introduced trading pairs with USDC, the stable coin of Circle: USDC/BNB and USDC/BTC.
Together with security tokens, in 2018 stable coins are increasingly taking their place in the crypto revolution. In fact, it is no coincidence that the first exchange ranked on coinmarketcap.com has given stable coins a lot of space within its business.