The prices of the main cryptocurrencies return to drop. Unlike yesterday morning, when there were some green signs, today, scrolling the list of the top 30 coins for capitalization, only Nem (XEM) is preceded by a green sign, climbing over 2%.
XEM is certainly in countertrend with respect to the quotations of the other main cryptocurrencies, continuing the rise after having touched the annual low last Sunday morning.
Today, on Coinmarketcap's list, Bitcoin Cash SV (BSV) enters the scene, debuting in 7th position in the ranking with just under $2 billion, surpassing Litecoin (LTC) by over $200 million.
Among the worst is Ethereum Classic (ETC) to take first place on the podium with a double-digit drop. Performing similarly are Ethereum (ETH) together with the small group of Tron (TRX), Cardano (ADA), Monero (XMR), Neo and Zcash (ZEC). All at a loss between 7 and 8% from yesterday morning levels.
Capitalization drops reaching again $120 billion, the lowest level in the last 12 months updated on Sunday morning.
Bitcoin dominance loses one point and falls to 53%. The market share of Ripple is just above 11%, and Ethereum falls just below 9%.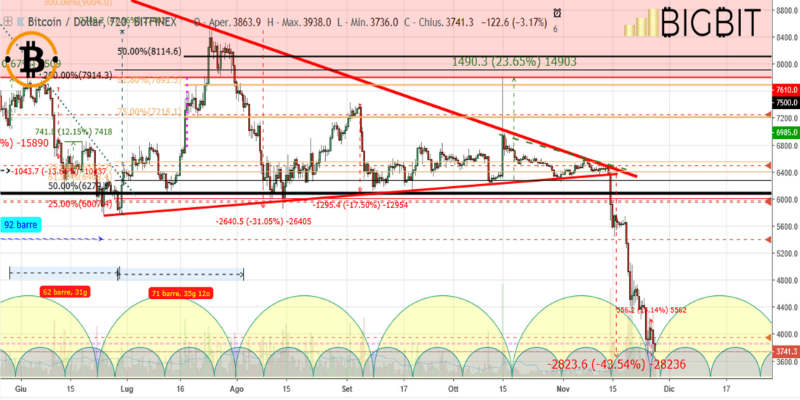 Bitcoin (BTC)
The rebound that began on Sunday morning and yesterday saw a 15% rise in the values of prices on the bitcoin was not enough.
This morning the bitcoin price returns again below 3800 dollars, a step away from updating the lows of the year just below 3700 dollars.
The general situation continues to remain precarious. The volumes continue to remain interesting despite the prevailing technical signals of expectation.
A break of $3700 dollars would project prices first in the $3500 area and then $3200. Only above 4200 dollars the situation would be less worrying.
Ethereum (ETH)
ETH seems to replicate what happened at the beginning of the month with prices above 200 dollars: missing the support of 110 dollars, the prices are now based on the support between 100 and 105 dollars.
Failure to hold this level would open further bearish spaces up to area 85, the next medium-term support. Some bullish action in the short term is possible only above 120 dollars.