The news is spreading and according to some rumors, Bitmain is preparing to implement a redundancy plan.
Yesterday, in fact, a tweet was published showing a screenshot of a Chinese LinkedIn profile in which it is said that next week Bitmain will start a redundancy plan that, according to another source, could lead to a 50% reduction in staff.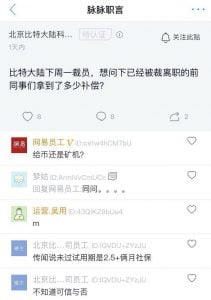 This website seems to be considered authoritative because it's the same employees of the companies to write the posts.
The tweet was published by Dovey Wan, an Asian cryptocurrency industry entrepreneur who understands Chinese. However, it should be noted that she did not state the source of the news regarding the reduction of the workforce.
Bitmain currently has more than 2,000 employees, so this corporate decision could have a strong impact on the entire industry.
On the other hand, the company has already closed its blockchain development centre in Israel, firing 23 employees.
Former head of the development centre Gadi Glikberg said:
"The crypto market has undergone a shake-up in the past few months, which has forced Bitmain to examine its various activities around the globe and to refocus its business in accordance with the current situation".
Perhaps what happened in Israel is just the first step in a reorganisation of the activities of the mining giant, made necessary by the persistence of the bearish market.
It is said that the financial situation of the company is anything but rosy and certainly the current prices are not helping.
Other companies in the sector, forced to lay off employees due to unsustainable financial situations, are also affected by this fate. For example, Status plans to cut 25% of its workforce, Steemit says it wants to lay off almost 70% of the team, while ConsenSys says it has already laid off 13% of its employees.
There are also companies in the sector that had to close down entirely, so it is clear that this is not a good time for many companies in the sector. And Bitmain seems to be no exception.