The crypto that records the best price increase is Holo, rising by 180%.
The price of Holo is therefore highlighted as the best of the day, rising by 25% from yesterday afternoon levels and confirming the trend and the bullish ride that has been present for over a month, allowing the Holochain crypto to deservedly conquer the 29th position among the most capitalised cryptocurrencies, with over 172 million dollars.
Following closely behind there's Tron which, after yesterday's slight setback, returns to rise just above parity, scoring the best performance among the top 10 with a rise of more than 30%.
This rise allows Tron to win the eighth position in the ranking at the expense of Stellar Lumens which, on the contrary, isn't having such a great time, falling by more than 30% from the settlement of January 1st.
This decline of Stellar is comparable only to that of Bitcoin Cash and Bitcoin SV: all three are among the worst performing cryptocurrencies worthy of note, with the same  30% price decline.
What is emerging this week is a decrease in trading volumes, a movement that has accompanied the price drops of recent days. Everything is well highlighted by the volumes of the last 24 hours that fall about 20% from yesterday's trading volumes.
The total market cap touches 113 billion dollars again, with bitcoin that remains over 53% of dominance and XRP that stabilises more and more in second place, creating a distance from Ethereum of over 1.5 billion dollars. Ripple regains 11% of the market while Ethereum tries to recover the 10%.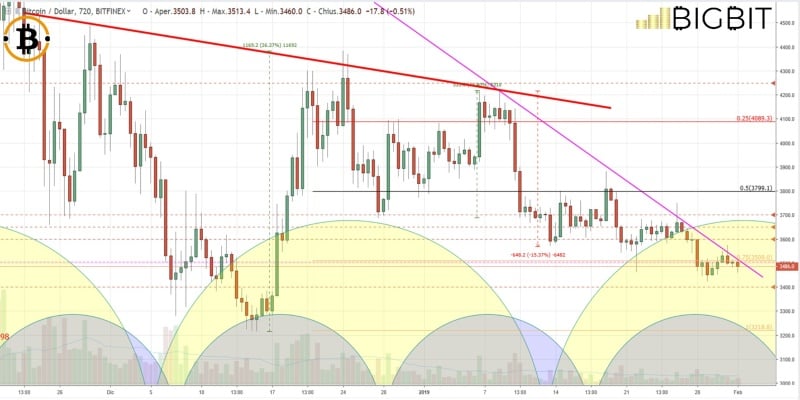 Bitcoin (BTC)
Bitcoin, after having touched below $3,500 during the night, resumes its movement by going to test the bearish trend from mid-December, which is now in the $3,530-3,550 area.
The upward violation of this level may give the first signs of a reversal of the short-term trend while, for the signals of reversal of the medium term, we will have to wait for the $3750. This level is about 8% away from the current values. For BTC, it is important that it is able to stay above $3,500 over the weekend.
A break of $3,500 if it continued to be accompanied by low volumes, would begin to attract the low of mid-December 2018, at $3,200.
Ethereum (ETH)
For Ethereum, the situation remains unchanged. The oscillations remain just above the threshold of 105 dollars, but Ethereum marks a bearish trend since the beginning of January, after the highs recorded in the first days of 2019. It is, therefore, necessary to reach as soon as possible the price of 120 dollars.
A possible break-down below 100 dollars would increase the chances of revising the lows in the 83 dollars area.