The bullish pace is driven by the prices of Ethereum and EOS which mark a double-digit climb, amongst the top 100 in the ranking topping a 14% rise.
Read this article in the English version here.
Ethereum and EOS thus pull the other crypto and the day has seen over 95% of green signs among the prices of all cryptocurrencies listed on Coinmarketcap.
Litecoin closely follows with a rise of over 7% that leads to consolidate its 5th position.
With today's rise, Ethereum increasingly distanced itself from Ripple, that despite a recovery of over 31 cents manages to rise "only" by 5% from the value of yesterday.
The total capitalisation returns to touch the 130 billion dollars but what more positively stands out are the high volumes of trading that bring the indicator upwards by over 35% in the last 48 hours.
To find the first red sign, we need to skip to the stablecoins, down to the 57th position now occupied by Ark (ARK) that goes down by over 6%.
Ethereum and EOS, the winners of the day, record an average trading volume of over 50% in the last 24 hours daily.
Holochain, who together with PundiX see volumes explode by more than 200% daily, following the double-digit increases above.
Bitcoin (BTC)
The bitcoin returns to $3900 after more than a month. After the break-up of the bearish trend seen yesterday afternoon, that spotted the weak trend at the end of November in the $3,700 area, Bitcoin purchases have started. In less than 24 hours these have raised bitcoin prices by more than $300.
Now the prices are testing a resilience, technical and psychological at 3,900 dollars. A potential break upward would project to the price to $4,200 in the coming days.  On the contrary, a return below 3,750-3,650 dollars would frustrate the excellent work done in these last hours.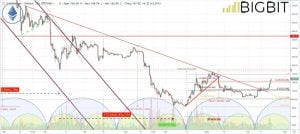 Ethereum (ETH)
The upward trend arrived on schedule with the start of the new monthly cycle, which started with the minimum of early February within the $103 area.
The prices of Ethereum in the last hours, supported by the volumes, are projected towards the maximums seen at the beginning of the year, touching the $150, a trend that above all could bring the price of Ethereum to await the next hard fork with a great sentiment.
For a possible return of the weakness, there is ample space for mobility. A drop below 115 dollars, more than 20% away from the current levels, would bring back the fear of the bears.
Price of EOS (EOS)
The price of Eos returns to revisit the levels of mid-November, moving beyond $3.30, rising 12% from the values of this morning. Today's EOS price thus cancels out all the adverse scenario that had accumulated since mid-December, returning to a trend that can be described as being technically bullish.