On March 24, the DragonEx exchange wallet was hacked with a consequent loss of funds.
The volume of stolen funds would exceed $5 million, although some assets have already been recovered through cooperation with the administrative and judicial authorities of Estonia, Thailand, Singapore and Hong Kong.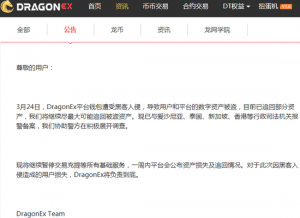 The exchange officially announced it this morning. On their own Telegram channel they wrote:
"On March 24th, DragonEx encountered attacks from hackers, our users crypto assets and platform crypto assets were transferred and stolen. Part of the assets were retrieved back, and we will do our best to retrieve back the rest of the stolen assets. Several Judicial administrations were informed about this cybercrime case including Estonia, Thailand, Singapore, HongKong, etc. and we are assisting police officers in doing an investigation. All platform services will be closed, and the accurate assets loss recovery situation will be announced in a week. For the loss caused to our users, DragonEx will take responsibility no matter what".
DragonEx is a Singapore cryptocurrency exchange platform, the world's thirty-first in terms of daily trading volumes.
As early as August last year, the Blockchain BSRC research centre warned that DragonEx was suffering from a number of security vulnerabilities that could be used by attackers to obtain user information.
DragonEx then denied that there were any security loopholes, but the theft of these days would seem to confirm the suspicions.
The hacking, however, does not seem to have frightened the markets, seeing that the price of cryptocurrencies has fallen after the announcement, but only slightly.
The stolen cryptocurrencies would be: 135 BTC, 2,737 ETHs, 1.4 million USDT, 205,392 EOS and more than 6 million ABBC.