eBay could soon announce some important news regarding bitcoin and cryptocurrency payments.
From today, in fact, in New York began Consensus 2019, the main event in the world related to cryptocurrency and blockchain, and this year visitors are greeted by the following advert.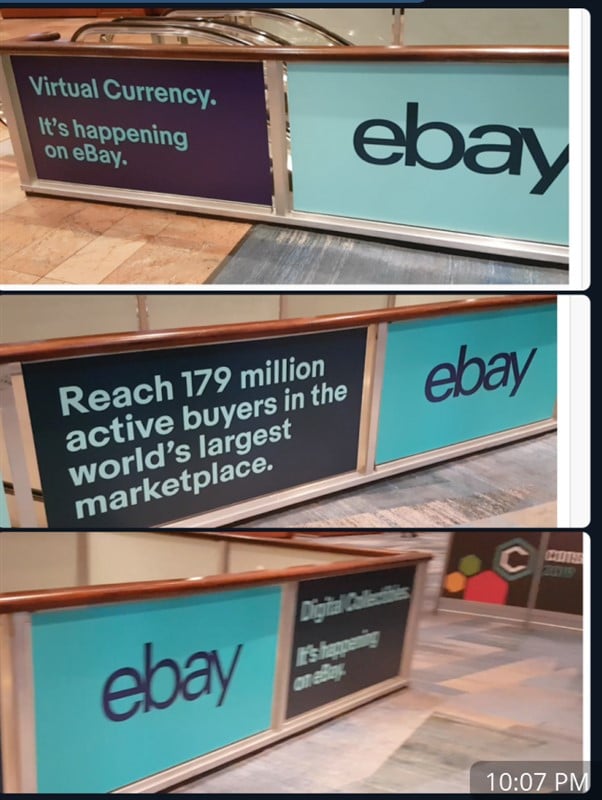 This photograph was published on the Telegram Patrons of the Moon channel, with the following commentary:
"Leaked from Consensus, eBay possibly announcing the support of cryptocurrencies on their website".
eBay's publicity is not very clear, but probably that's what it was all about. However, it shows a clear and unequivocal interest of the company in virtual coins and digital collectables.
In particular, the phrase "it's happening on eBay", referring to virtual currencies, seems to suggest something imminent. It should not be forgotten that eBay is one of the sponsors of Consensus.
On the other hand, for some time now eBay has been a marketplace where bitcoin trades take place between users, so it would not be surprising if the company were to decide to host, for example, an OTC exchange to increase the volume of these trades, and therefore also that of its commissions.
The eBay marketplace is very popular all over the world, and a cryptocurrency market hosted, for example, natively within the platform would make it much easier for millions of people to buy and sell them.
According to some hypotheses posted on Twitter the marketplace, instead, could announce the support to Binance Coin (BNB) as an alternative means of payment to fiat currencies, or could announce a partnership with the platform of crypto payments UTRUST.
However, these are only pure speculations to date, coming from hypotheses contained in Twitter comments of users not necessarily authoritative.
However, eBay has been seriously considering accepting bitcoin payments since December 2017, as eBay Americas Senior Vice President Scott Cutler told Yahoo Finance at the time. So this could also simply be the novelty coming soon: bitcoins, or other widely used crypto currencies, accepted as a means of payment.
However, it should be remembered that eBay already has a category called "Virtual Currencies", and we refer to that section of the site dedicated to the sale of cryptocurrencies, which could, for example, be transformed into an exchange.
Therefore, this could be the most probable hypothesis, although each hypothesis at present should be considered only an assumption with no concrete foundations.