As the Reddit user Fallenkeith2018 pointed out, the website of the famous New Zealand exchange Cryptopia has been down for over eight hours for maintenance.
"Cryptopia has been down for 8 hours, did it get hacked again? I woke up this morning to check Cryptopia to see if there was any updates on the website about new trading pairs. When I went to Cryptopia mainsite, it says: Don't Panic! We are currently in maintenance. Thank you for your patience and we apologise for the inconvenience."
Cryptopia website down: the landing page
The exchange's landing page cites simple maintenance as the main reason for suspending trading activities.
User testimonials
However, according to other Twitter testimonials, the website has been inactive for almost 48 hours.
The main concern stems from the lack of communications provided on the platform's social channels. In fact, both on Twitter and on Discord, there is no communication regarding the current situation.
On the official Twitter page of Cryptopia, the last communication dates back to April 26th. The tweet communicated a maintenance downtime of only one hour, promising future updates on the situation.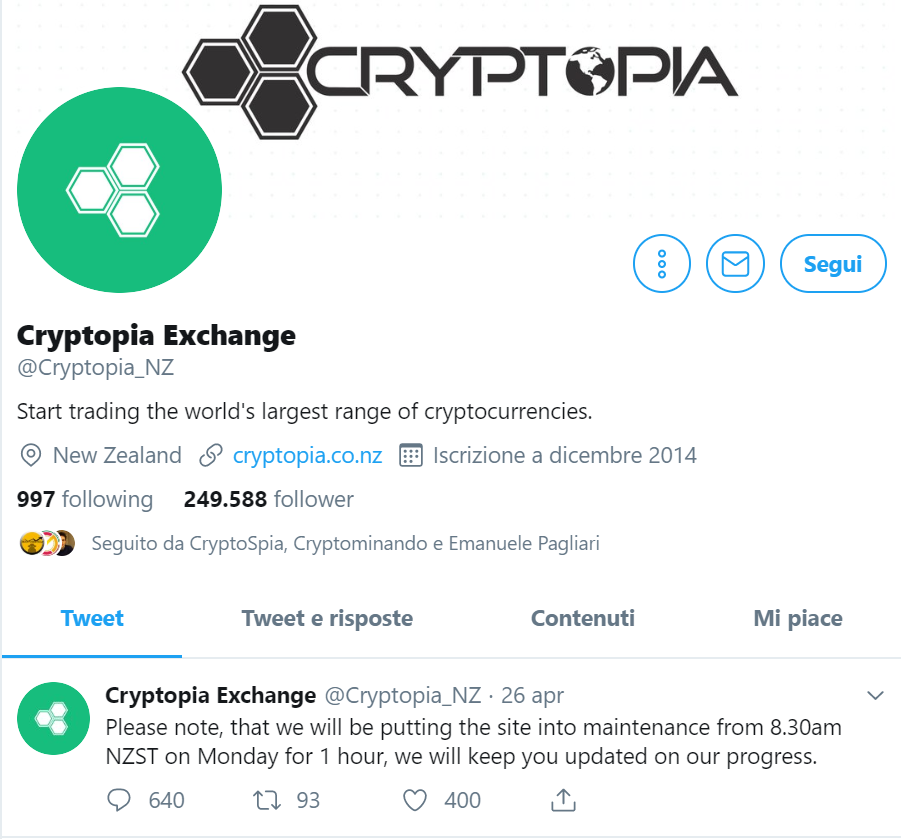 This has led some users to assume that the exchange has been compromised again as can be read in some tweets.
It wouldn't be the first hack
At the beginning of this year Cryptopia had already suffered a major attack in which, according to the reports, cybercriminals had managed to steal about 16 million dollars.
After the attack, the exchange had been offline under maintenance for a long time. On that occasion, however, after a short time, social channels were used to share communications from the company updating on the situation as well as on the future reopening.