May seems to have started in the best possible way, with this article we will shed some light on why bitcoin is rising. The price of bitcoin (BTC) rose by 48% in a month, its dominance reached the levels of December 2017 reaching 60%, making analysts extremely positive with regard to the cryptocurrency market.
There are at least 10 possible explanations for this bullish trend that could explain why bitcoin (BTC) is rising so fast. Despite the increase in recent weeks, the world's number one cryptocurrency for market capitalisation does not seem to want to stop.
Altcoins are losing ground in favour of bitcoin (BTC) and the SEC (Security and Exchange Commission) announcements make themselves heard. The problems with Bitfinex, the Binance hack, the fear of small investors, nothing is preventing the rise of bitcoin (BTC).
10 explanations why bitcoin (BTC) is rising
Fidelity Investments: a $2.4 trillion asset ready for bitcoin (BTC) trading
A few days ago, there was news showing how Fidelity Investments, a Boston-based financial services company, would be ready to offer a platform for OTC (over-the-counter) trading of bitcoin (BTC).
We are not talking about small investors, but about institutional ones aiming to introduce into the crypto sector figures capable of stimulating the price of bitcoin (BTC) and other cryptocurrencies.
Currently, only bitcoin (BTC) has been mentioned and not ethereum (ETH), Ripple (XRP), or other cryptocurrencies. However, it should not be underestimated that more cryptocurrencies may be added to the trading platform in the future. This is one of the most concrete reasons why bitcoin (BTC) is rising so much.
Bitcoin Halving (BTC), focus on seasonality
It is important not to forget about halving, the process by which the amount of bitcoin (BTC) "created" and earned by the miners as a reward will be halved. Initially, when bitcoin (BTC) was born in 2009, the miners obtained 50 BTCs as compensation for the confirmation of a block.
"Bitcoin is the only real hard asset or commodity which goes through this cycle of halving. This will make Bitcoin soon even scarce than gold", said Sudhir Khatwani, Editor-in-chief of The Money Mongers
In 2012 this quantity was halved for the first time, bringing the reward to 25 BTC and then, in 2016, another halving caused the 25 BTC to become 12.5.
A bitcoin (BTC) trend graph shows its value month by month in relation to previous halvings. The right side shows the scale that defines a colour depending on how many months are left until the next halving.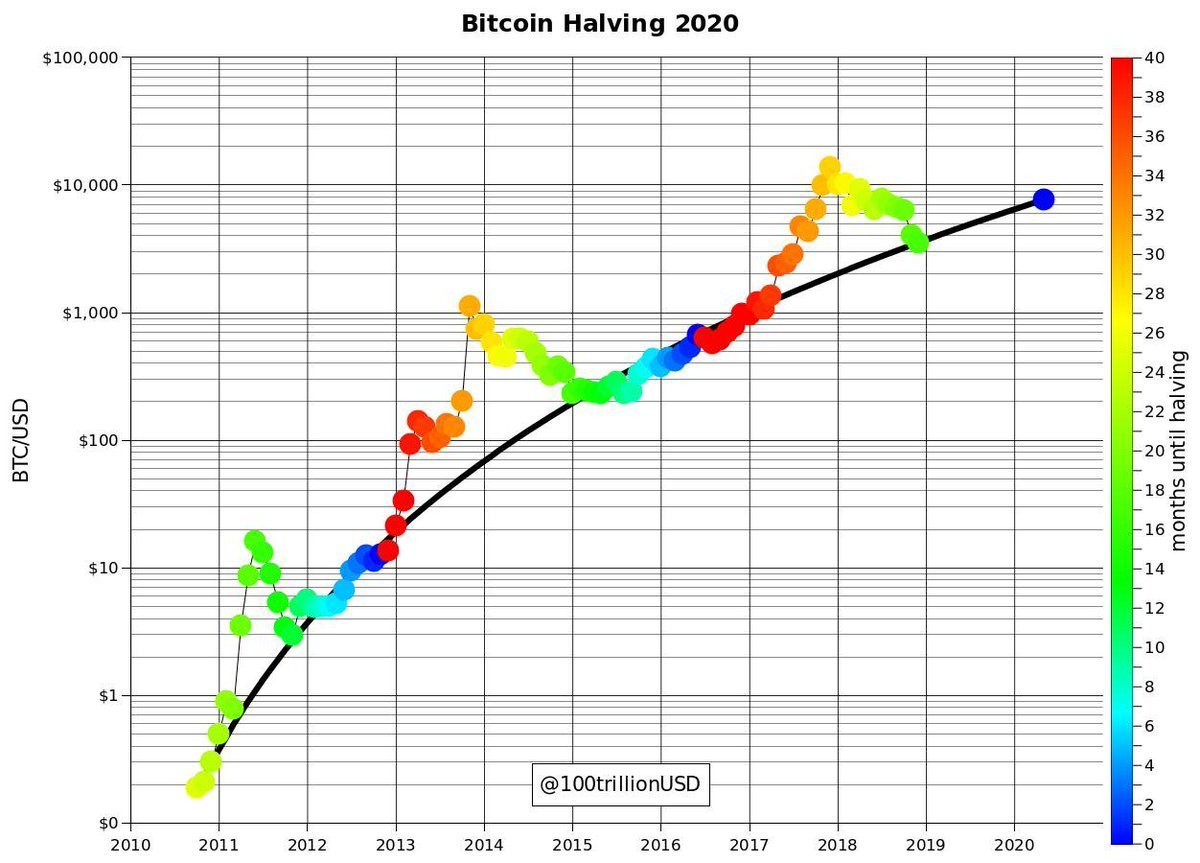 It is not difficult to understand that, in the past, the months preceding this phenomenon have always been indicative of an upward trend that has led to bitcoin (BTC) growing remarkably.
The FOMO is here, which is why it is necessary to pay attention
The term "FOMO" (Fear-of-missing-out) is the fear of having missed the opportunity. With the sudden growth of bitcoin (BTC) in May, many will have wondered if the opportunities to "get on the train" have been missed.
However, many investors are opening up important positions, as evidenced by the volume increases recorded in the last period, which have almost tripled compared to a few weeks ago:


When prices in a market rise or fall suddenly, as in the case of cryptocurrencies, investors try to take action under any circumstances. In the case of bitcoin (BTC), the last few weeks have shown rapid growth that has undoubtedly triggered a lot of fear among observers, speculators and traders.
Bitcoin (BTC) has once again surpassed $8000 today and is testing that level several times; many analysts are convinced that the climb will continue. This mechanism will trigger even more FOMO amongst people, who will wonder if it is worthwhile or not to buy bitcoin (BTC) at the current price.
Those who managed to enter the market a few weeks ago recorded clearly positive gains, but those who have not yet done so must be able to assess whether or not it is really worth it. Cryptocurrencies have a very fluctuating trend, which is a well-established feature, however, the gains can be as easy and immediate as the losses.
Technical analysis of the cryptocurrency market shows positive signs
Regardless of whether one believes in the science of technical and financial analysis or not, there are several aspects that need to be taken into account. Thomas Lee, one of the leading bitcoin (BTC) advocates and chief analyst at Fundstrat Global Advisors, once again expressed his opinion stating that BTC will see significant growth in 2020.
He added that there are several indicators that can show how a new ATH (All-Time-High) can be a plausible scenario. To justify his claims, Lee explained that technical analysis is working much more accurately this time around.
He also pointed out that his company, Fundstrat, has collected 11 signals that may explain this uptrend. It is perhaps an indication that the bearish market of 2018 has come to an end.
The FUD is not affecting the crypto market
FUD stands for "Fear-Uncertainty-Doubt". In this sector, it indicates the moment when someone tries to convince other people to sell cryptocurrencies by motivating these choices in an unfounded way.
Although the main discussions in recent weeks concerning bitcoin (BTC) and other cryptocurrencies have, for the most part, been related to market prices, there have also been some important events that should be considered.
Several governments are addressing the topic of "bitcoin (BTC) and cryptocurrencies" while others have (for the time being) introduced a total ban on them. Several regulators have not yet taken decisions and everyone is waiting to see how the SEC (Security and Exchange Commission) will behave in the future.
Bakkt is not yet operational, although the latest news from yesterday is quite promising. Bitcoin (BTC) isn't going down despite sudden attempts to cloud its utility and underlying technology. Some people say that it is a good sign and that the market is now "mature", while others think that the worst is completely over.
What happened to the Altcoins? Bitcoin dominance (BTC) reaches December 2017 levels
A research conducted by BitMex and published yesterday, May 13th, 2019, indicates that the market for ICOs (Initial-Coin-Offering) has fallen by more than 97% in a single year recording a very poor ROI (Return-On-Investment).
The increase in the price of bitcoin (BTC) in recent weeks has triggered very heated discussions about the future of altcoins. A post on Reddit confirms it:
"The ICO experiment is over. Nobody has delivered a compelling product. Even ethereum, as much as I like it as a science experiment, hasn't delivered, and is now entering a risky transition into an unproven, experimental consensus algorithm. People are waking up to the realization that Bitcoin is a much larger idea than any of the blockchain phantasmagorias people have been trying to push for the last couple of years".
After that the proposal for the reorg of Bitcoin blocks, which was made in recent days, was rejected, the positive feeling among the community has grown even more.
Despite the dominance of bitcoin (BTC) currently being greater than 60%, we cannot say that the altcoins are dead, nor that they have all failed. One only has to recall the results achieved by Binance thanks to the BNB token in less than 10 months:


Mainstream incoming?
Fidelity Investments will soon start dealing with over-the-counter (OTC) bitcoin (BTC) trading. TD Ameritrade introduced bitcoin futures (BTC) in December. eTrade is preparing to enable bitcoin trading (BTC) on its platform.
There are rumours that eBay may accept cryptocurrencies as a payment method. Bakkt will test bitcoin futures (BTC) in July.
These are just some of the interesting news that could answer the question of why is bitcoin rising, but in reality, there have been many more. In any case, crypto communities are becoming increasingly active and there are more and more services that every day decide to rely on crypto, an indication that the mainstream may not be as far away as many people think.
Bitcoin (BTC) and the Bitfinex case: new funds have arrived
Some argue that the increase in the price of bitcoin (BTC) in recent weeks may be caused by Bitfinex indirectly. New York's Attorney General, Letitia James, recently accused Bitfinex of using 700 million dollars from Tether's reserve to cover an $850 million gap.
Here are some of the most popular comments on the web:
"I think Bitcoin is going up because [of] the whole Bitfinex thing going on… I think they are having a lot of issues [fulfilling] withdrawal requests", wrote sanderson22.

"I think a lot of people are buying Bitcoin [and] getting out of Tether, I think a crash will come if Bitfinex's house of cards collapse[s] and they wound up losing a lot of people's money".
Other users have expressed similar opinions, but there are always many conflicting opinions of those who do not support Bitcoin and just try to find a way to discredit it.
In any case, thinking that many people have switched from Tether to bitcoin (BTC) is legitimate. Bitfinex, however, remains a solid reality and this is demonstrated by the fact that they managed to raise $1 billion with their IEO in 10 days.
Binance hacked but bitcoin (BTC) does not collapse
On May 8th, 2019, Binance was hacked. The exchange estimated losses of about 7000 bitcoins (40 million dollars at that time).
Bitcoin (BTC) lost 3.2% in about half an hour and the whole market certainly suffered a hard blow, especially the BNB token. Despite this news, it appears that the bullish trend has prevailed:


Many users have taken advantage of this to get back into the game by taking advantage of the momentary loss of about 5 billion dollars in the overall market. Binance has blocked withdrawals and deposits (which will be available again today) yet even this negative news has not been able to distort the prices of cryptocurrencies.
Consensus, SEC decisions and the latest bitcoin (BTC) news
Consensus is currently being held in New York, a worldwide event that brings together the world's leading experts in the field of blockchain and cryptocurrencies. It can host important announcements and the latest news that can bring even more positivity to the market.
The eyes are currently on the SEC, which, after repeatedly delaying its position on ETFs on bitcoin (BTC), will soon have to take up a decision that will, to all intents and purposes, be a source of heated debate.
Bakkt announced the testing of futures on bitcoin (BTC) in July and an image appears at the Consensus indicating a likely involvement of the giant e-commerce eBay with the crypto market.
In short, novelties are not missing and no one seems to be able to stop bitcoin (BTC) and its rise across digital assets, at least for the moment.