Today's crypto market analysis shows a slowdown for many cryptocurrencies. Scrolling through the prices it is possible to observe an alternation of red and green signs.  
Although more than 60% of cryptocurrencies are in green, some are beginning to experience slowdowns, which however are not worrying as they are due to profit taking.
Maximine Coin (MXM) marks one of the biggest increases of the day, rising by 14%.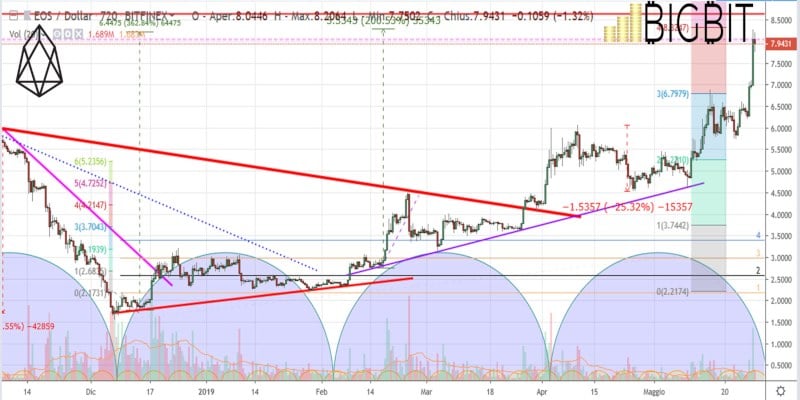 Among the big names, EOS breaks through the threshold of 8 dollars and tries to stabilise itself around this area. EOS's daily rise amounts to 12%. Similar rise for ZCash (+15). Confirmations arrive for BitTorrent, which rises 10% to $0.0017.
The red signs are caused by profit taking, to the extent that the markdowns are recorded with retracements that do not exceed 1%. Among the crypto involved, there is Binance Coin (BNB) that despite being able to remain on the highest historical absolute loses around 1%. The same is true for Cosmos (ATOM), which drops by 1%. Even NEO in 20th position tracks by 0.3%. Bitcoin Cash falls below the $433 threshold. A negative sign also for bitcoin, which fluctuates around parity (-0.4%) but remains within the highs of 2019, levels of May 2018 with a capitalisation of 150 billion dollars, thresholds abandoned since last year.
Careful analysis shows that May wiped out all doubts in the cryptocurrency market, and the gun that seemed to fire with water in April, turned into a bazooka. From last month's lows, bitcoin has risen by 120%, with all the sector that in recent days has returned to the levels it had abandoned for a year, leaving behind the crypto winter and 2018, the second negative year since the birth of bitcoin (2009).
The last 24 hours have seen a decidedly upward trend in global trade, with an increase of around 10% and volumes of around 85 billion dollars a day.
Total capitalisation remains above $280 billion, levels not seen since August 2018. The dominance of bitcoin fluctuates around 57%. Ethereum and Ripple, despite behaving very well, suffer from the dominance of bitcoin. Ethereum tries to stabilise around 10.5% of the market share, while Ripple over 6.6%.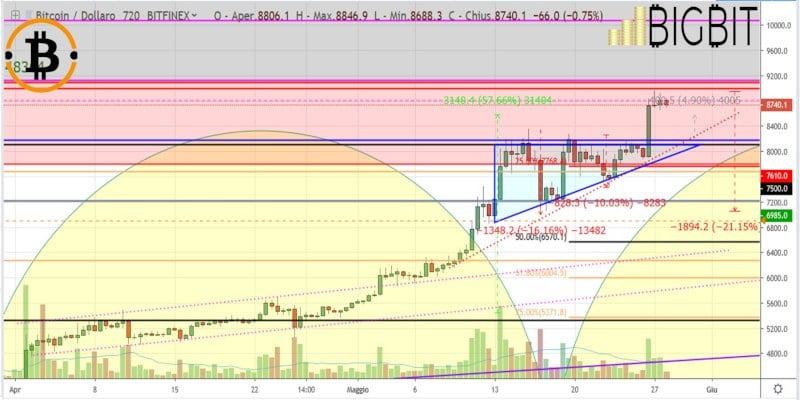 Crypto market analysis: bitcoin (BTC)
After the further upward trend that pushed prices two steps away from $9,000 on Monday night, bitcoin is looking for consolidation in the $8,700 area, higher than last week's $8,500 level.
Bitcoin continues its ascending phase giving new bullish signals that attract the possibility of new liquidity, supported also by the triggered stop losses on the speculative short positions.
Bitcoin's support threshold remains at $7,500-7,800, the level where prices fluctuated last week, forming the technical figure of the bullish triangle that saw prices explode upwards during the late evening of Sunday with the breaking of $8,200.
Crypto market analysis: Ethereum (ETH)
Yesterday Ethereum updated for a few minutes the new highs of 2019 pushing just over 280 dollars, but the support of purchases has not been able to push up the prices that have returned to test the threshold of 280 dollars.
Structurally, the technical analysis on Ethereum indicates that the first support is highlighted in the $255 area while the dynamic one is in the $235 area. These two levels, if confirmed and consolidated in the next hours, will give a further bullish cue necessary to test the psychological threshold of $300. If these support levels are not maintained, there will be room for sinking, which could result in serious losses and could attract prices below $220.
For Ethereum the structure remains bullish with rises that in less than 15 days mark +50%.