Today the official launch of BitTorrent Speed took place, the new program that integrates the BTT token support with the purpose to speed up downloads and to earn from file sharing.
In this morning's AMA (Ask Me Anything) session with TRON's CEO, Justin Sun, and VP Product, Justin Knoll, the new BitTorrent Speed program was unveiled, revealing all its relevant details.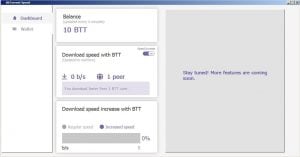 The program can be found here and only the Windows version is available at the moment, although a Mac and mobile version are also expected to be released in the future.
Within the BitTorrent Speed program, which complements the uTorrent program, there is a dashboard for controlling the speed using the BTT available balance.
From the wallet, it is possible to manage the BTT tokens. At the first startup just select a login password and then everything will be generated automatically. As stated in the AMA session, everyone will receive 10 BTT tokens.
In addition, it has been stated that for the moment the wallet only manages the BTT token, but in the future, it will be possible to interact with other tokens and other blockchains.
Regarding the earnings of the BTT tokens through file seeding, it has been explained that this will be determined by several factors such as the request of the file, in that if a file is very requested there will be a greater gain. It will also depend on how many seeds a given file has since the gain will be inversely proportional to the number of seeds: the fewer the seeds, the greater the gain.
As Knoll points out, at the beginning there will be an increase in the speed of use of the program at a general level, since the mode to increase the speed is selected by default, which uses the BTT received at the beginning (the 10 BTT). Later on, as the BitTorrent Speed community grows, there will be more gains to be made.
The CEO has revealed that this program will lead many users to interact with the crypto world, as everyone will initially have 10 BTT tokens and will experience a real improvement in bandwidth. The new program has already been downloaded over 4000 times.
The purpose of the BTT token is to improve downloads and seeds rather than being a system for earning BTT by trying to achieve decentralised file sharing for everyone.