This mini-guide includes the comparison of the fees on the main cryptocurrency exchanges, taking into account the following four parameters:
Deposit fee,

Withdrawal fee,

Maker order fee,

Taker order fee.
Upon choosing the exchange that best fits your needs, you'll want to create a trading strategy that helps you take advantage of the crypto exchange market. There are plenty of moving parts when trading cryptocurrency, and staying on top of the stock market's volatility can become a full-time job. Using a cryptocurrency trading bot can help you navigate the market reliably and efficiently 24/7.
When an order is placed and traded immediately, in part or in full, it is called a taker. When an order is placed that goes in the order book partially or completely (e.g. limit order) that order will be of the maker type. Usually, a maker order has lower fees than a taker order.
Obviously choosing an exchange is not only a matter of higher or lower fees since there are many other aspects to consider, especially security.
Coinbase Pro Exchange
Coinbase Pro is one of the world's most popular and widely used cryptocurrency trading platforms, especially for newcomers.
The maximum limit for orders has recently been updated and these are the fees: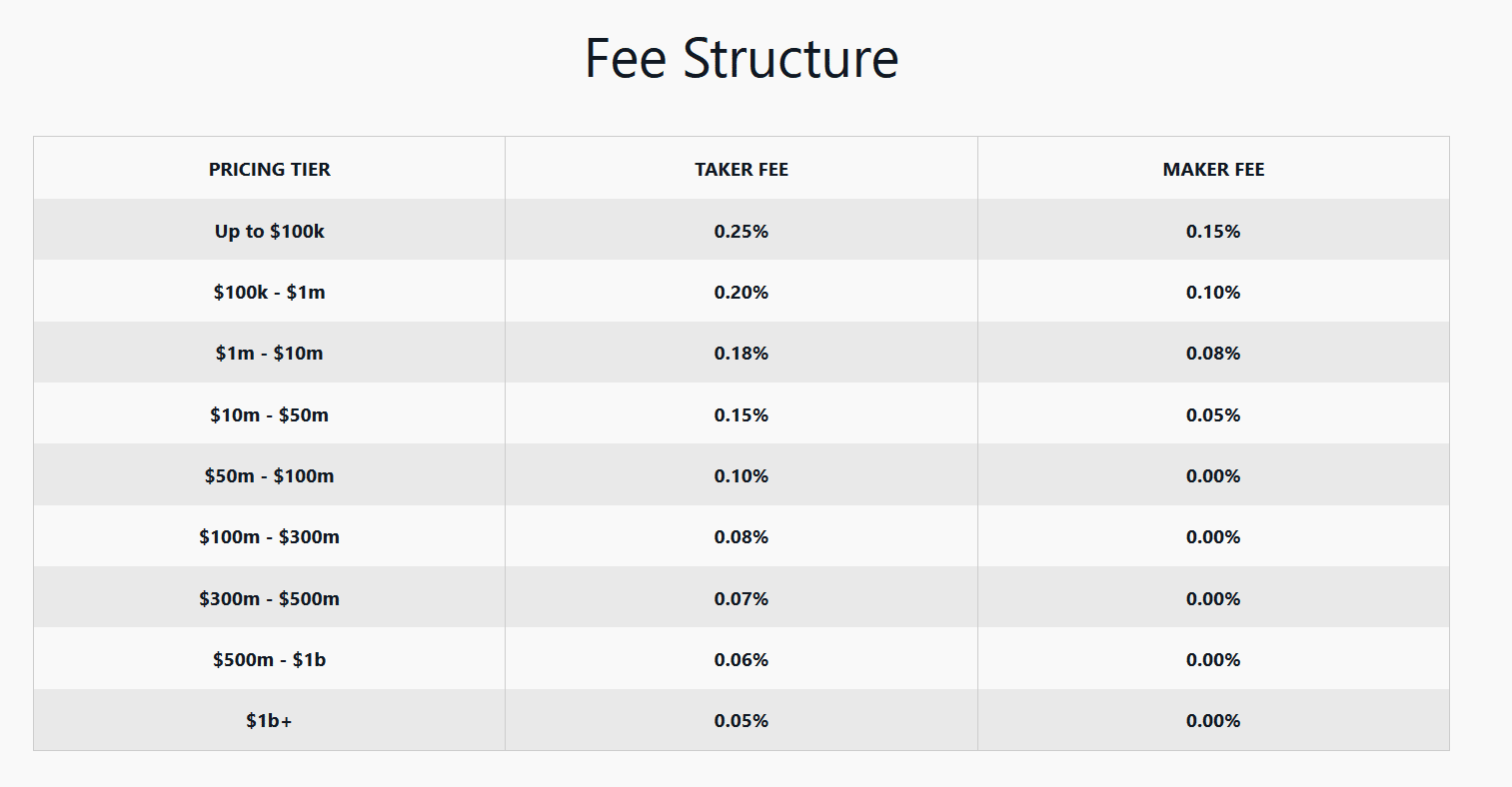 Depositing and withdrawing cryptocurrencies is free of charge, while a SEPA transfer costs only €0.15.
Binance
If an account has BNB (the Binance token), the trading fees will be automatically deducted from the BNB balance; this is done by default. The payment of trading fees in BNB results in a 25% discount.
The discount applied is 25% regardless of the date of registration on the exchange. In one year it will be 12.5% and in two years it will be 6.75%, here is the chart:
The fees to be paid for executing an order do depend on the VIP level reached. The level rises as the volumes traded in BTC and BNB increase. Deposits and withdrawals are completely free.
Binance Jersey exchange
Binance has recently launched a new fiat-to-crypto exchange based in Jersey.
With this new exchange, which is aimed at European and UK traders, it is possible to trade cryptocurrencies for pounds and euros. Initially, only four pairs were available, now there are ten:
BTC/EUR and BTC/GBP

LTC/EUR and LTC/GBP

BCH/EUR and BCH/GBP

ETH/EUR and ETH/GBP

BNB/EUR and BNB/GBP
These are the fees on Jersey:
Similar to Binance, deposits and withdrawals are completely free on Jersey.
Bitfinex
Bitfinex is an exchange for experienced traders. Until recently, an initial deposit of $10,000 or more (USD) was required to register, but now this limit has been removed.
These are the fees for executing an order:
However, there are discounts for LEO token holders:
If less than $1000 is deposited in cryptocurrencies, a small variable deposit fee will be applied depending on the crypto deposited. In addition, Bitfinex also charges a fee for withdrawing cryptocurrencies. All costs can be consulted here.
Kraken
These are the fees to be paid to execute an order on Kraken:
As for the deposit, most of the cryptocurrencies can be deposited free of charge. Some, however, such as Ethereum, require a small fee to be paid. The complete list can be found here.
Kraken also charges a small fee for withdrawing, e.g. to transfer Bitcoin outside the exchange it is necessary to pay 0.0005 BTC. The table with all the costs can be seen here.
Poloniex
These are the fees to be paid to execute an order on Poloniex:
There is a small fee to be paid for the withdrawal of an asset that is visible in the Deposits & Withdrawals section of the account.
Bitstamp
These are the fees to be paid to execute an order on Bitstamp:
Fees vary according to the volumes traded on a monthly basis. The deposit of cryptocurrencies is free as well as the withdrawal.
Coineal
This is an exchange launched in 2018 that is proving very successful, the volumes traded are indeed very high. It is permanently in the top positions on CoinMarketCap for adjusted volume.
Fees are set at 0.15% for both taker and maker orders regardless of volume or trading pair. There are no costs for deposits or withdrawal of funds.
The Rock Trading
The Rock Trading is a historical exchange well known to those who have been navigating the crypto world since the earliest years.
On TRT it is necessary to pay a registration fee of 100€ unless an invitation code is entered. Fees vary according to the volumes exchanged during the month. These are the fees:
Deposits are free, withdrawals are not.
KuCoin
The fees on KuCoin have been updated recently and are described in this article. Similar to Binance with the BNB token, if the user holds KCS tokens (KuCoin tokens), the exchange offers discounts. The fees vary according to the amount of KCS tokens held and the volume traded:
Cryptocurrency deposits are free of charge, while withdrawals involve costs. KuCoin offers dozens of cryptocurrencies, the costs for withdrawal vary according to the cryptocurrency selected.
Bittrex
The fees on Bittrex can be easily summarised: 0.25% for each type of order. Deposits and withdrawals are free of charge.
Huobi exchange
Huobi fees, for both taker and maker orders, are set at 0.2%. Large investors can benefit from discounts (only with the approval of the Huobi team).
This is the fee structure for VIP clients:
Deposits on Huobi are free while withdrawals are not: