Today the red sign prevails, with the big crypto coins trying to consolidate the support levels. 
After the strong rises during the weekend, which brought the prices of the entire cryptocurrency sector to the levels not seen since last summer, this is the second consecutive day of profit-taking that is driving down most of the cryptocurrencies, in search of a stable support level to consolidate and then restart.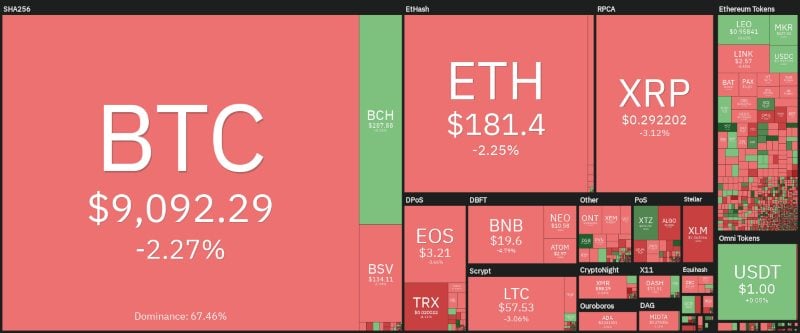 The worst sinking is that of OmiseGO (OMG), which, after the rise of the last three days, loses 10%.
Among the best, Bitcoin Cash rose by 1.5%, maintaining the positive trend that has been characterising it these days and proving to be in counter trend with respect to the rest of the sector. In the afternoon, even BCH reversed the trend, ending up under parity.
Volumes remained below $100 billion in the last 24 hours, down from the weekend levels. The market cap fell by a few billion, reaching $244 billion. 
Bitcoin consolidates its position around 67% dominance. The same is true for Ethereum, which maintains a market share of over 8%.
Bitcoin (BTC) 
After failing to exceed 9,500 dollars, Bitcoin continues to retreat today, losing 2% as it tries to stabilise in the 9,100 area. The most important level from the technical and psychological point of view remains $9,000. 
Unless there are any sudden explosions that could change the scenario, the highs reached last Saturday night around 10,400 dollars, are not expected to be easily revisited in the next few hours. As such, BTC will have to consolidate above the $8,800-9,000 level in the coming days.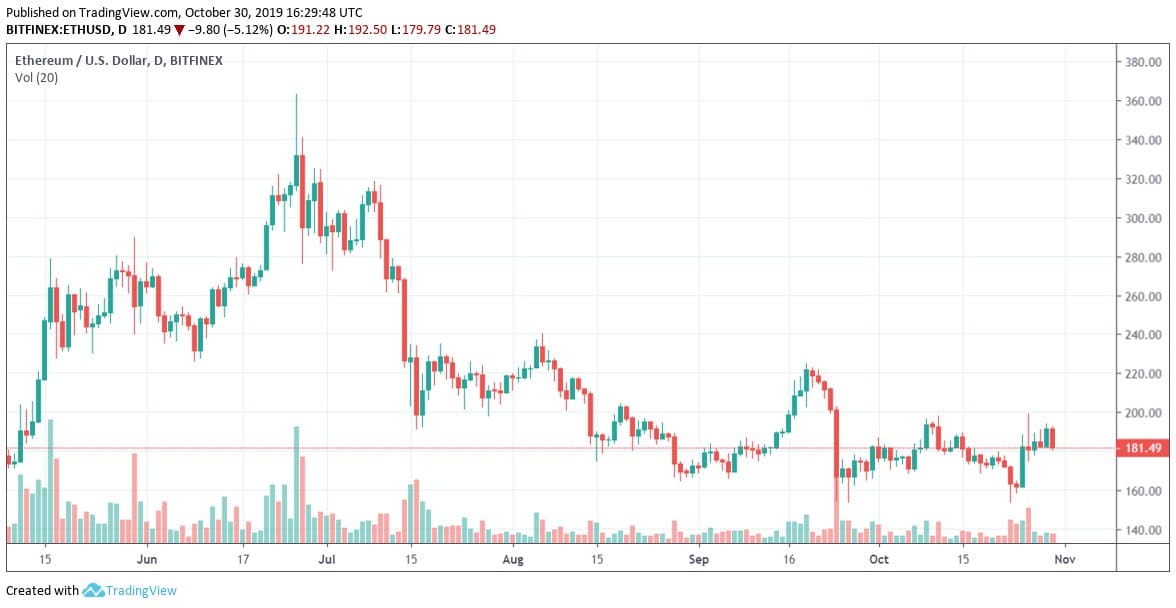 Ethereum (ETH)
The same goes for Ethereum who, after having encountered again the defence of the 200 dollars, tries to look for a support level higher than that which had characterised last week in the $180 area. This is the level to be maintained and confirmed in the coming days.
Ripple (XRP)
The resistance of the 30 cents proves to be a very difficult area for XRP in a medium to long term perspective. The exceeding in unison with the movement of the sector has not found the necessary confirmations above this level. 
For XRP it is necessary not to return below 27 cents in the next few days.