After having previously seen the ranking of the top 10 bitcoin addresses (BTC) and those related to ethereum (ETH), we will now see the top 10 addresses holding TRON (TRX).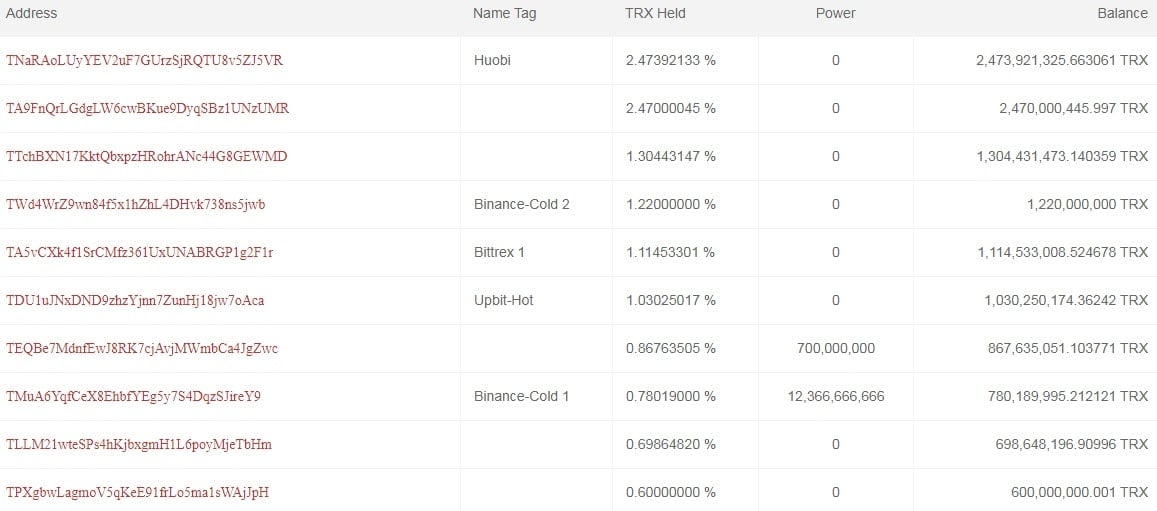 Thanks to the fact that the Tron blockchain is a public blockchain, it is easily possible to see the total number of accounts created – currently just over 4 million – and the list of addresses that hold the most TRX.
With the TRON blockchain it is necessary to deal with 9 zeros because, as we know, the total supply is just under 100 billion TRX, of which 32.5 billion is reserved for the foundation, and 67 billion is the circulating supply.
It goes without saying that a TRON account can contain not only TRX but also other tokens based on this blockchain, such as BTT and USDT.
In any case, at the first position in the top 10 of the richest addresses, we find the Huobi exchange, which has about 2.5 billion TRX, corresponding to about 2.5% of the entire supply.
In the second place, there is an address with just under 2.5 billion TRX tokens, but no one knows who it belongs to. We know, however, that in May of this year it moved just under $2 million in BTT from its account to that of the Upbit exchange. Upbit is ranked sixth with an address that holds 1 billion TRX.
In third place, in this top 10, we find an account that currently has 1.3 billion TRX, or just over $24 million, which only 3 months ago has made a transaction of 2.2 billion TRX. 
In the fourth position, just below the podium, is one of the addresses of the Binance exchange which has 1.2 billion TRX, while the other is at position 8 with just under 800 million TRX, but of which 12 are blocked because the exchange is a Super Representative of the TRON blockchain.
In the fifth position, there's another exchange, Bittrex, with 1.1 billion TRX.
In positions 7 and 10 there are more unidentified accounts: one with 867 million TRX and the other with 600 million TRX. The latter made transactions with the account that is in the third position.
Finally, in the 9th position, there is the address of Zion, whose GitHub page can be found here.