In a recent AMA (Ask Me Anything) held yesterday, TRON (TRX) founder Justin Sun, along with other members of BitTorrent, Cong Li and Justin Knoll, outlined the progress of the project.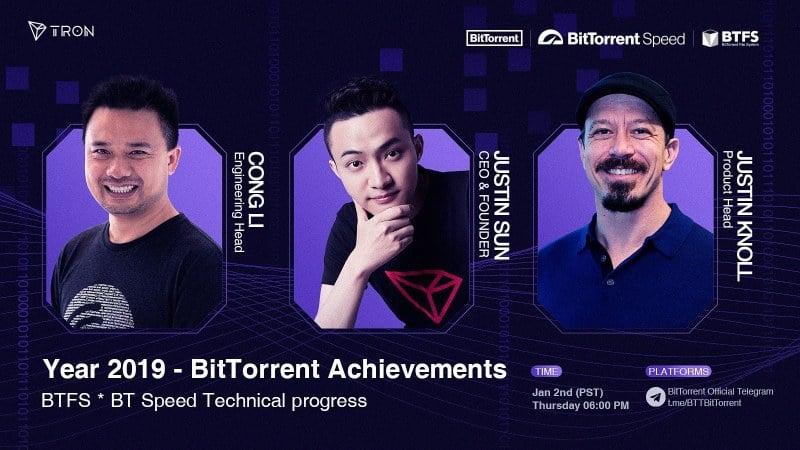 The session opened with a discussion on the progress of the recent implementation of the BTFS (BitTorrent File System) protocol: Sun explained that the protocol has been integrated into the basic version of BitTorrent, BT Classic, and this has brought over 68,000 new users and over 3,500 active nodes.
Moreover, Cong expressed his opinion on the costs of use for companies, since BitTorrent allows to host and manage a considerable amount of data. What he revealed was that it is less expensive than current centralised solutions, whereas as far as the profit gained from BTT tokens is concerned, there are still no numbers to actually understand whether it will be convenient for a user to manage and keep a node running compared to the ratio between the price of the BTT token and energy cost.
An interesting matter related to the privacy of files uploaded on the protocol: each host will have only a fraction of the file concerned, called shard, and this allows for more privacy since it is not possible to view the complete file and at the same time limits the risk of potentially harmful files, such as viruses.
The discussion then moved on to BitTorrent Speed, the program dedicated to the support of the BTT token. Sun pointed out that since its launch last summer there have been many requests from users to integrate and enhance various features and concluded that in the future it will be integrated into all BitTorrent products.
Knoll then went on to explain how BitTorrent is free and there will be no paid plans in the future; he also clarified that its use is at the discretion of the user since it's not something that is activated automatically, although it was noted that the same is mainly used to enhance and accelerate the download speed, given that by using the BTT token it is possible to request more bandwidth for downloads.