LocalBitcoins, an app that links supply and demand for selling and buying bitcoin (BTC), has been one of the platforms in the crypto world which for many years was the reference point until exchanges proliferated.
First, in order to use the platform, it is necessary to register, even on behalf of a company. The next step involves providing some personal data (so not a real KYC) and the volume of transactions in euros that are expected to be carried out throughout the year.
As is known, for some time now the platform has made the KYC (Know Your Customer) procedure mandatory but only for over 1000 euros per year.
In order to make a purchase, it is necessary to click on the "Buy bitcoins" page and scroll down the various offers of sale that there are, or enter the amount of bitcoin to be purchased, the country of the seller and the method of purchase, and it is also possible to choose PayPal and PostePay.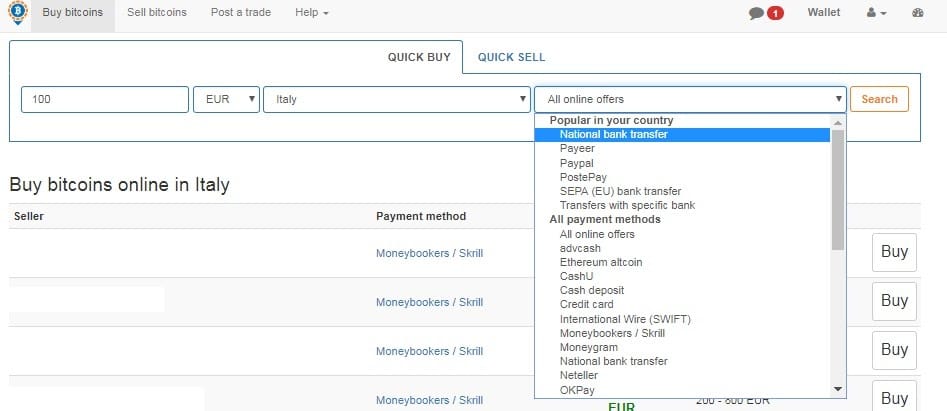 According to the payment method, the price per single bitcoin required and the limit may change.
Before proceeding with the purchase from a seller it is recommended to: 
check their reliability by reading the reviews and whether they actually live in the country where the BTC is being sold; 

check that the contact information is correct by sending a message;

check credentials such as email address, phone number and ID.
As far as the sale of bitcoin through the platform is concerned, the same purchase procedure applies, thus it is necessary to choose the amount, the country and the preferred payment method, in search of a buyer who meets the requirements.
There is a different approach when placing a buying or selling order. In this case, it is necessary to complete the KYC procedure. Only then will it be possible to proceed with setting the various parameters for the trade 
Overall, the platform retains 1% commission on trades, while when buying from a third party the procedure is completely free of charge.