The OMG Network (OMG) rally makes headlines today: the price of the crypto rises by more than 100% in less than 24 hours with a capitalization of more than one billion dollars, gaining the 23rd position in the ranking of the most capitalized.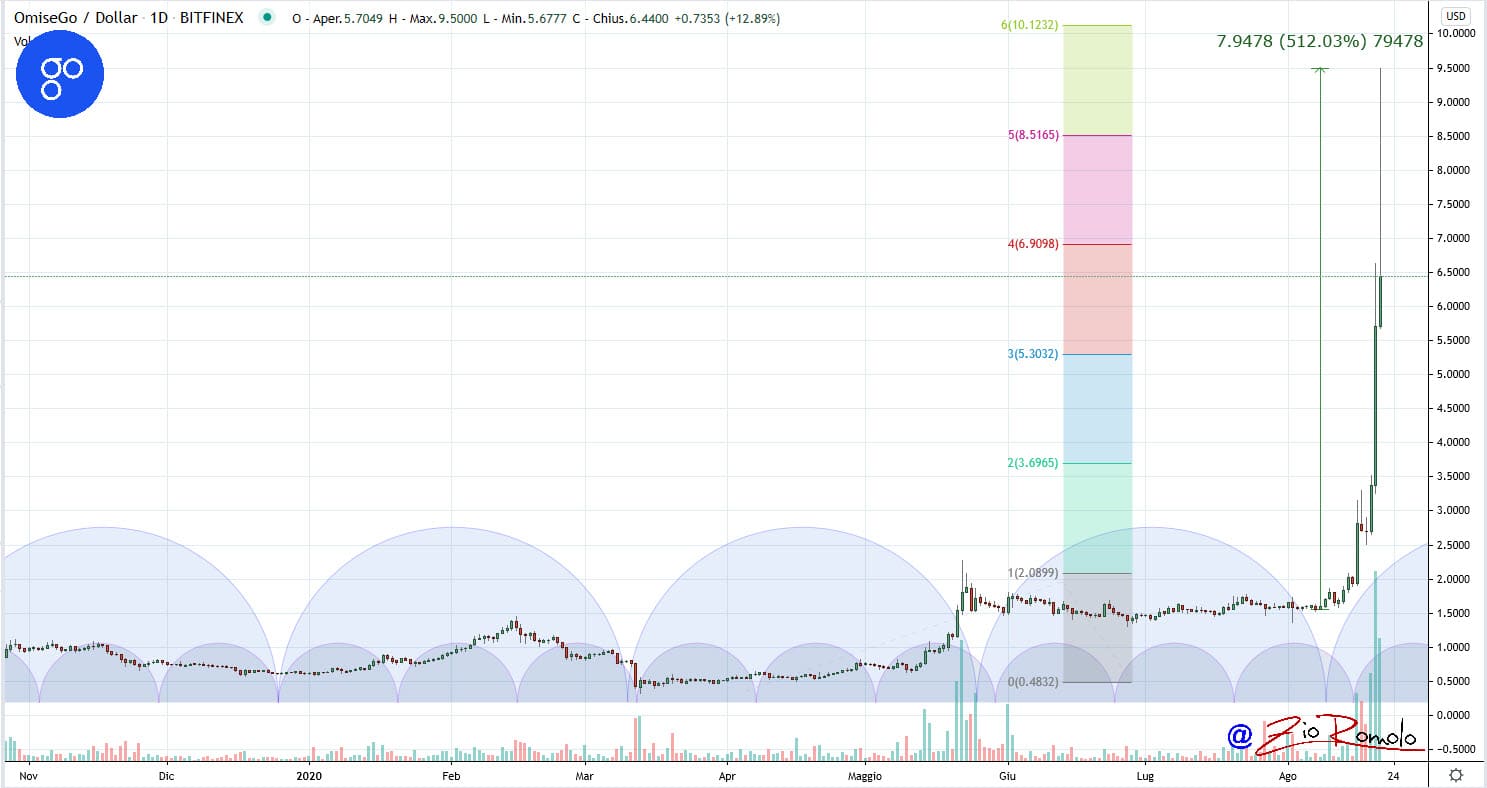 The market thus rewards the announcement of Tether choosing to use the OMG blockchain as another option for trading the leading stablecoin. 
From the lows of August 10th, OmiseGo (OMG) has flown by more than 500%, the best weekly performance together with that of Yearn.finance (YFI), +200% from the levels of Friday, August 14th, which in these hours exceeds $15,000 per token.
Overall, after opening the week with strong increases that pushed prices up to the highs of recent months, the week has been slowly cooling with shrinking volumes. 
In the last few hours, trade has fallen below $140 billion, after exceeding $200 billion last week. The trading volumes of Bitcoin fell below $2 billion after three consecutive days stable above $3 billion. In contrast, those on Ethereum remain vibrant above $1 billion for the eighth consecutive day.
There is only one red sign in the top 20, that of Chainlink (LINK) which, after the historical highs above $20, is not able to absorb the profit-taking, causing prices to fall below $15 in the last few hours. 
Despite the fall of more than 30 percentage points, the mid-term trend remains upward. Only a return below $10 would give rise to fears for the continuation of the next few weeks.  
Total capitalization is back above $372 billion despite Bitcoin being below $218 billion and dominance slipping below 59% again, the lowest level since June 2019. The market share of Ethereum (12.5%) is stable, as is that of XRP (3.5%).
Bitcoin price (BTC)
The support of the $11,500, re-tested yesterday, is holding up.
BTC lacks the necessary buying volume to return to $12,000. 
Over the weekend it is important to have confirmation of the 11,200 dollars, otherwise, it is crucial not to see prices below $10,500, the technical support that in recent days has increased protection in Put options by professional operators.
Ethereum (ETH)
The $400 test and the subsequent upward reaction confirms the importance of this level. This weekend it will be crucial to keep the support up to see a return above the recent highs in the coming days. Otherwise, speculation could drive the decline to the $355 area where the first defensive buying walls are located.