The sentiment of Bitcoin on social media has become decidedly euphoric. This is what Santiment claims. 
1) After #Bitcoin surged from $10.5k to $13.1k over the past three weeks, the social sentiment of #crypto #Twitter has done one of the biggest 180 turns in its decade-long history. The ratio of positive vs. negative commentary (combined with total volume of social posts) was at pic.twitter.com/fJi0Abldf1

— Santiment (@santimentfeed) October 26, 2020
What the platform points out is that the price increase from $10,500 to the current $13,000 has definitely sparked enthusiasm on social media. The comments have turned 180° from negative to positive in the wake of the price increase. 
In short, the sentiment on social media, but also that of investors, seems rather bullish.
Bitcoin outside social media
Bitcoin has experienced a strong rise, stimulated in particular by the news that PayPal will include the buying and selling of cryptocurrencies and the possibility to make purchases using crypto on its platform. 
PayPal has 346 million active users worldwide, and 26 million merchant accounts. With these numbers, it is clear that it will be able to make a huge contribution to the mainstream adoption of cryptocurrencies, although for the moment the crypto service will only be available in the United States.
Confirmation of the euphoric sentiment about the price of Bitcoin also comes from the Fear and Greed Index which today marks 75, yesterday it was as high as 76.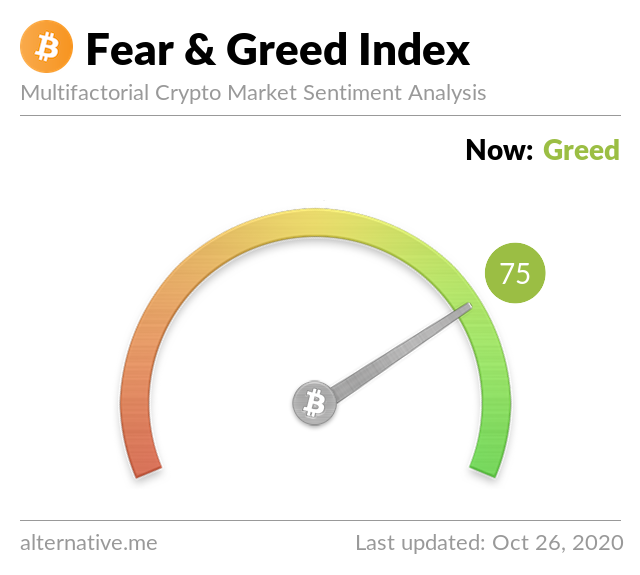 Last week the fear and greed index was 55 and last month it was 45. This data indicates how much sentiment about Bitcoin has changed in such a short time. 
And it couldn't be any other way, given the recognition that institutional investors are giving to Bitcoin. In recent days, investor Paul Tudor Jones has told CNBC that he has never been so attracted to Bitcoin and that he considers it the best cover against inflation.
Following this, Grayscale announced an additional $300 million in its cryptocurrency trusts, with nearly 90% of the funds in Bitcoin, for a total of $7.3 billion. 
The latest blessing came from JP Morgan Bank, which in a recent report stated that Bitcoin is increasingly positioning itself as an alternative currency in direct competition with gold, which could lead to a doubling or triple increase in its price. 
In short, expectations are good, even if today Bitcoin seems to be slowing down. Following a rise of 14% from last Monday's levels, the BTC price over the 24-hour period gains just under 1%, remaining stable at $13,100.