The dominance of Bitcoin is not rising alongside its value and currently stands at 64%, having reached 67% a few days ago, on November 23rd, and 69% in May.
So the price of Bitcoin is rising, but not its dominance, probably because the other cryptocurrencies are also rising in value, with Ethereum approaching $500.
And so an analyst has published on Tradingview a table showing the relationship between the dominance of Bitcoin, its price and that of altcoins.
Bitcoin dominance: is the altcoin season close?
Obviously, as in all charts, these are trends and generalizations that must be taken with a grain of salt as they only refer to what happened in the past and not necessarily will happen in the future since the crypto market is always quite unpredictable and volatile.
However, if this time the charts were to be correct, with Bitcoin's dominance falling, the so-called Altcoin Season would take place, which in fact seems to be occurring given that most cryptocurrencies are now rising by one or two digits.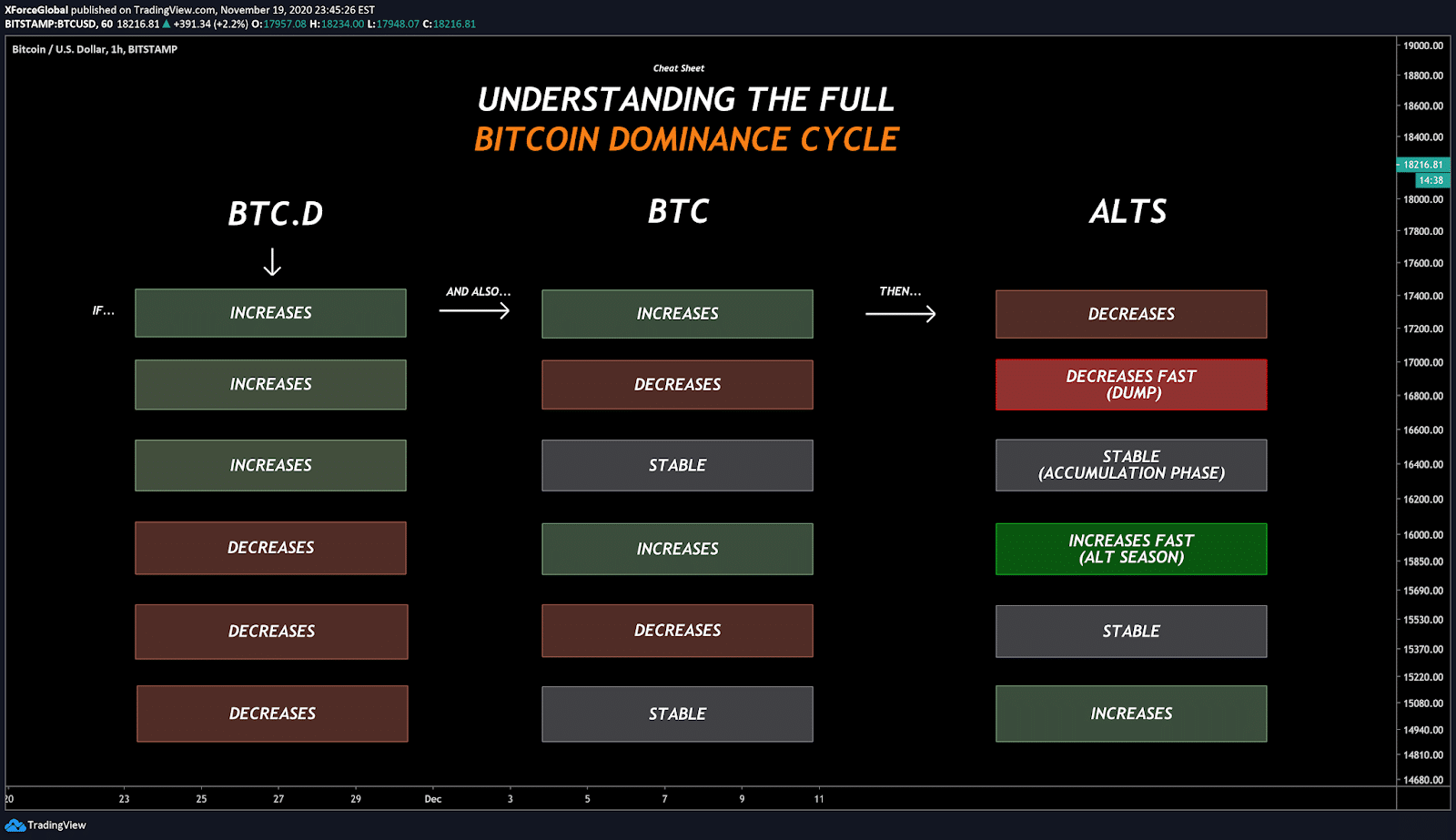 "In the above diagram, I am showing the complete relationship between BTC Dominance (BTC .D), Bitcoin's price, and Altcoin's price. You can refer to the chart above and use it to your advantage on positioning, timing, and risk management without the whole FOMO ordeal".
Bitcoin: traders are nervous about the $18,500 resistance
In the meantime, as we were saying, the price of Bitcoin is rising and is testing the $18,500 resistance, which is why traders are nervous as BTC continues to revolve around this value and doesn't seem to be able to get much higher yet.
Another trader explained:
"Bitcoin update: 17,600 was tested earlier today as it appears short term participants are beginning to get nervous? As price continues to gyrate around the 18,500 key inflexion point, bearish reversal patterns are still likely to develop here".