After Ethereum's absolute all-time highs, today sees a clear prevalence of red signs. 
There is confirmation of further profit-taking accompanying the prices downwards. 
A drop that is not worrying at the moment but which is starting to give signals, especially for Bitcoin, where traders have taken advantage of the climb above $40,000 to take profit. 
The descent comes less than 24 hours after new all-time highs for Ethereum, which yesterday updated its absolute all-time high to $1,439 (Bitfinex data), albeit by a few dollars. It is an all-time high that sees the third highest volume peak in Ethereum's history with over $11 billion traded.  
In contrast, for Bitcoin, as well as most other altcoins, yesterday was not a particularly busy day with Bitcoin trading just over $8 billion. This is a signal that generally indicates a time for reflection. 
Today sees over 90% of cryptocurrencies in negative territory. Among the top 25, there is only one green sign, that of Vechain (VET), which is up 7%, the only counter-trend of today. 
Hedera Hashgraph (HBAR) jumped up 39%, followed by Enjin Coin (ENJ), which rose 19%. Third place on the podium for Ren, which gained just under 10%.
Despite the weakness of the last few hours the market cap remains above $1 trillion with Bitcoin confirming its 65% dominance, while Ethereum maintains 14%.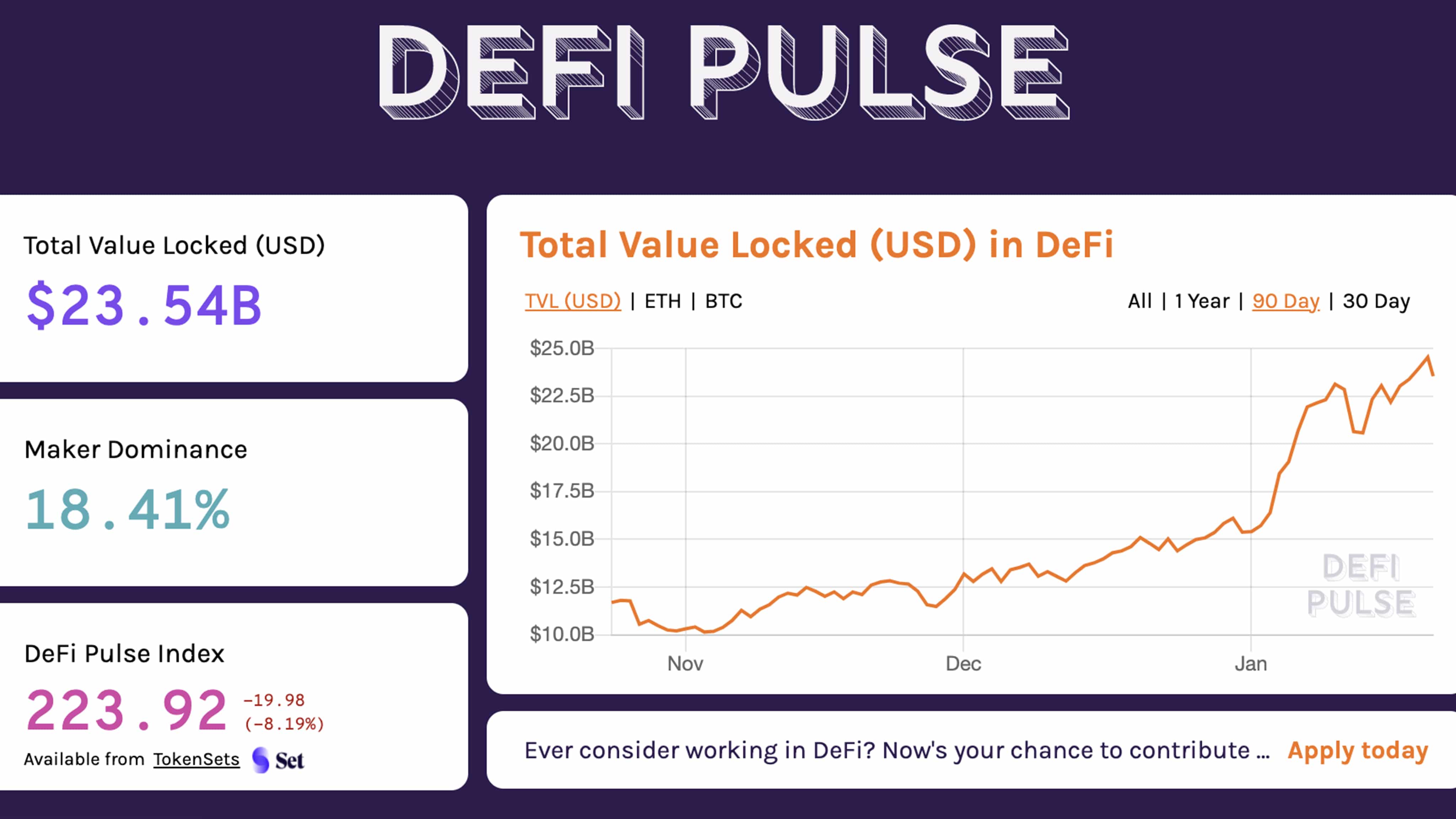 DeFi's TVL retreats as the market steps back. Total Value Locked declines to just under $25 billion. Maker continues to confirm its leadership. Aave and Compound follow. 
Bitcoin (BTC) 
Bitcoin breaks the triangle that was formed in recent days on the downside, with prices that in these hours go to test the most important trendline, trendline that connects the rising lows from mid-December and that passes to the minimum levels of today, dynamic support levels. 
This is a technical signal to be followed carefully throughout the day. A further extension below $34,000 would begin to give the first sign of short-term weakness after 5 weeks of strong rises. 
This is a technical signal that is only valid in the short term, while in the medium term there is room for a fearless descent to the $29,000 area. In the current situation, a bullish signal would only be given with prices below $40,000. 
Ethereum (ETH), falling after record highs
Ethereum, after the new historical records, is seeing the prevailing profit-taking that makes the prices fall back to the area of 1,300 dollars. 
At the moment, there are no danger signals even from a short-term perspective. They would only develop with quotations below 1,100 dollars.