Margex is a Seychelles-based derivatives trading platform founded in 2020.  It gives traders the ability to trade in rising or falling markets by placing long or short orders.
Margex offers trading with up to 100x adjustable leverage on all its 6 assets BTC, ETH, XRP, EOS, LTC and exclusively YFI, namely the trading pairs of BTCUSD, ETHUSD, XRPUSD, EOSUSD, LTCUSD, YFIUSD.
Liquidity
Margex draws liquidity from 12+ liquidity providers, resulting in a deep and lively orderbook, which can absorb even the biggest trading orders without slippages.
Speed & Stability
Margex is built around a scale-on-demand server infrastructure, allowing it to scale up and down instantly, depending on the user's demand. The trading platform can achieve the remarkable 100,000 transactions per second without experiencing any freezes or order submission errors.
Maintenances?
Margex's server infrastructure allows it to deploy updates and fixes in real time. This allows traders on the platform to remain uninterrupted by downtimes.
MP Shield
Margex comes with an innovative AI-based feature called MP Shield. One of the main advantages of the shield is that it keeps track of the price feed submitted by all the liquidity aggregators and corrects irregularities, protecting users from market manipulators and unfair liquidations.
This feature, combined with the deep liquidity result in a always-on-point market prices that hardly ever deviate from the global average of the traded assets.
Security
Margex matches all the industry-standard security practices and has custom made security protocols. 100% of the funds are held in multi-sig cold wallets, team segregation. When it comes to client protection, Margex has End to End data encryption, 2FA Authentication, email alerts and confirmations.
Trading Fees
The trading fees on Margex are lower than the global average at 0.019% for Market Makers and 0.06% for Market Takers on all trading pairs. There are also funding fees, split in even intervals of 8 hours.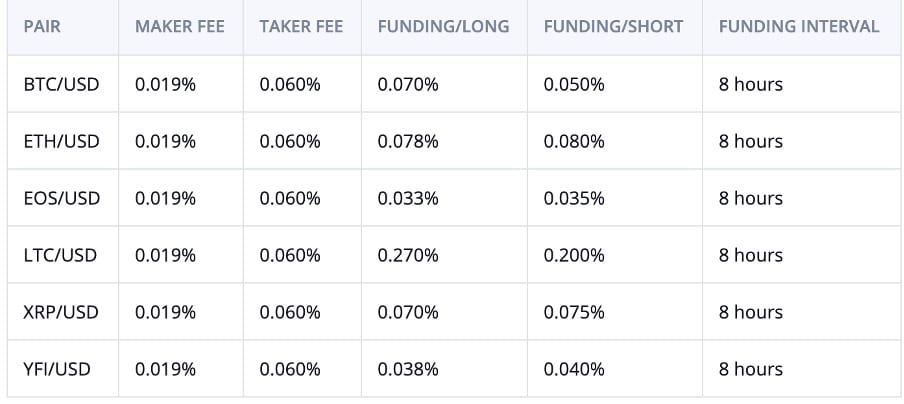 High-class User Interface
Margex's pride in user experience does not stem just from the fast order executions or deep liquidity. It also features a high-class user interface, which is familiar, by default, to most of the traders. The trading platform comes with TradingView charting software and is the first platform to fully put on display the entire order information along with commissions paid visible in the orders tab.
Registration
The registration process takes under 1 minute, after which the user is instantly ready to deposit and trade on the platform. There's no KYC required for registration and the platform doesn't impose any restrictions such as withdrawal and deposit limits.
Deposit Options
The exchange accepts deposits in Bitcoin natively and Credit Card, through a third-party integration by Changelly. The withdrawals are done only in Bitcoin and are processed manually by a segregated treasury department for security reasons.
How does Leverage on Margex work?
Similarly to Bitmex and Bybit, input your order size and then select the leverage amount by either using the slider or inputting your own preferred leverage. The margin cost reflects the funds which are used in the trade.
As an example, if we were to open a $100 LONG position on BTCUSD with 10x leverage, our actual margin cost would be $10 and our trade power will be $100. The platform uses isolated margin and the final margin impact of an order is displayed below the order submission buttons.
Trading
Opening a trade on Margex is really simple.
Select a trading pair using the menu positioned above the chart
Select an order type – Limit, Market or Stop-Limit order
Input Order Quantity (and Limit price, if using a limit order)
Select preferred leverage
Press Buy/Long or Sell/Short to open either a long or a short position.
For better risk-management we also suggest to set a stop-loss and take-profit to your active market orders to avoid liquidations. This can be done by navigating to "Open Positions" positioned below the chart and clicking on the TP/SL underscores.
Support
A 24/7 live chat and email support is ready to reply and resolve all of the issues the users may face on the platforms. The reply time is under 5 minutes.
Referral Program
Margex's referral program offers better rates than competitors at 40% flat in commissions made by the referrer.
Conclusions
The cryptocurrency market is growing at a rapid pace, leading to a clear need for high-quality exchanges. Margex's lightning fast trading engine and scale-on-demand server infrastructure provides traders with a way to trade uninterruptedly in the expanding industry without compromising on user experience even during peak hours.