On the day when a new record was set for the crypto market cap, there was also a slight slowdown in the early part of the day. 
The red, or rather "pink" sign prevailed, caused by a faded decline that cut some of yesterday's gains. Despite this, the month of March is set to end with record numbers. With only a few hours to go before the end of the month, March will be the sixth month in a row with an upward trend. Statistically, there have never been six consecutive upward months, in other words, there has never been a six-month period without a negative month in Bitcoin's history.
The prize for the best rise today is a head-to-head match between the BitTorrent token (BTT) and Filecoin (FIL), both up over 20%. Both tokens enter the top 10 of March's rises, with gains of over 300% for both. Among the better-known altcoins, Chiliz (CHZ) had the best rise of the month, nearly 900%.
Crypto market cap, records for Bitcoin too
Despite the slowdown in the last few hours, the total crypto market cap has reached an all-time high, exceeding $1.9 trillion for the first time. In just two months, the capitalization of the entire sector has doubled. Despite Bitcoin's descent below 57% dominance, its lowest point since the end of September, the capitalization is at an all-time high of $1.09 trillion. It is also a glorious moment for altcoins, with total capitalization approaching $750 billion.
The movements of the last two days do not move the volumes which remain at the low end of the average of the last month. 
In the last 7 days, trades on the main Bitcoin exchanges have only once exceeded $10 billion. Ethereum confirms that the month of March has been unmoving, with volumes well below the February average.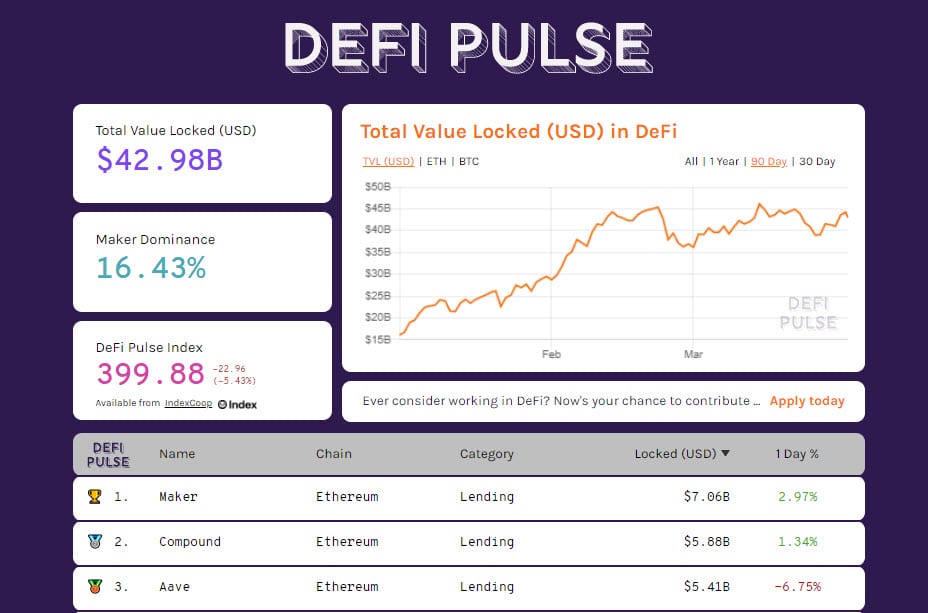 DeFi sees total value locked fall below $43 billion. The main reason for this is the number of tokenized bitcoin that continue to be withdrawn from decentralized finance projects.
Bitcoin (BTC)
Prior to the bearish movement of the last few hours, the price of Bitcoin returned to close to $60,000, its highest value since March 15th. Bitcoin is set to end the month beating the statistic that has seen March as the worst month of the year for Bitcoin for the past 7 years.
Ethereum (ETH)
In the last 24 hours, the rise in prices above $1,750 confirms the bullish trend that has been accompanying Ethereum for over three months. At the moment, low volumes do not allow us to have the necessary confirmation of the maintenance of technical supports. 
In fact, the return of purchasing volumes is necessary to return above 1,900 dollars, the highest level since the beginning of the month. For Ethereum, bearish signals would only arrive with a return below 1,550 dollars.