The prevalence of bitcoin ATMs in cities is a good measure of the popularity of BTC around the world.
moveBuddha has released a thorough research on which are the most crypto-friendly cities in the world, based on the prevalence of Bitcoin ATMs.
Although cities in the United States often stand out in the rankings, the research shows surprising results in other parts of the world.
Bitcoin ATM prevalence in US cities
The report starts with a ranking that takes into account the absolute number of Bitcoin ATMs in the United States. In this case, Los Angeles stands out with 1,065 Bitcoin ATMs:
Los Angeles is followed by Chicago and then Houston, which have roughly half the number of Bitcoin ATMs of the top-ranking city.
If we look at the ratio of the absolute number of Bitcoin ATMs to the number of inhabitants, the leader is Harrisburg, the capital of Pennsylvania where there are only 80 Bitcoin ATMs for a population of 49,000. That's 16.24 ATMs per 10,000 people.
This is followed by Orlando (Florida) which has 374 ATMs and 330 in Newark (New Jersey).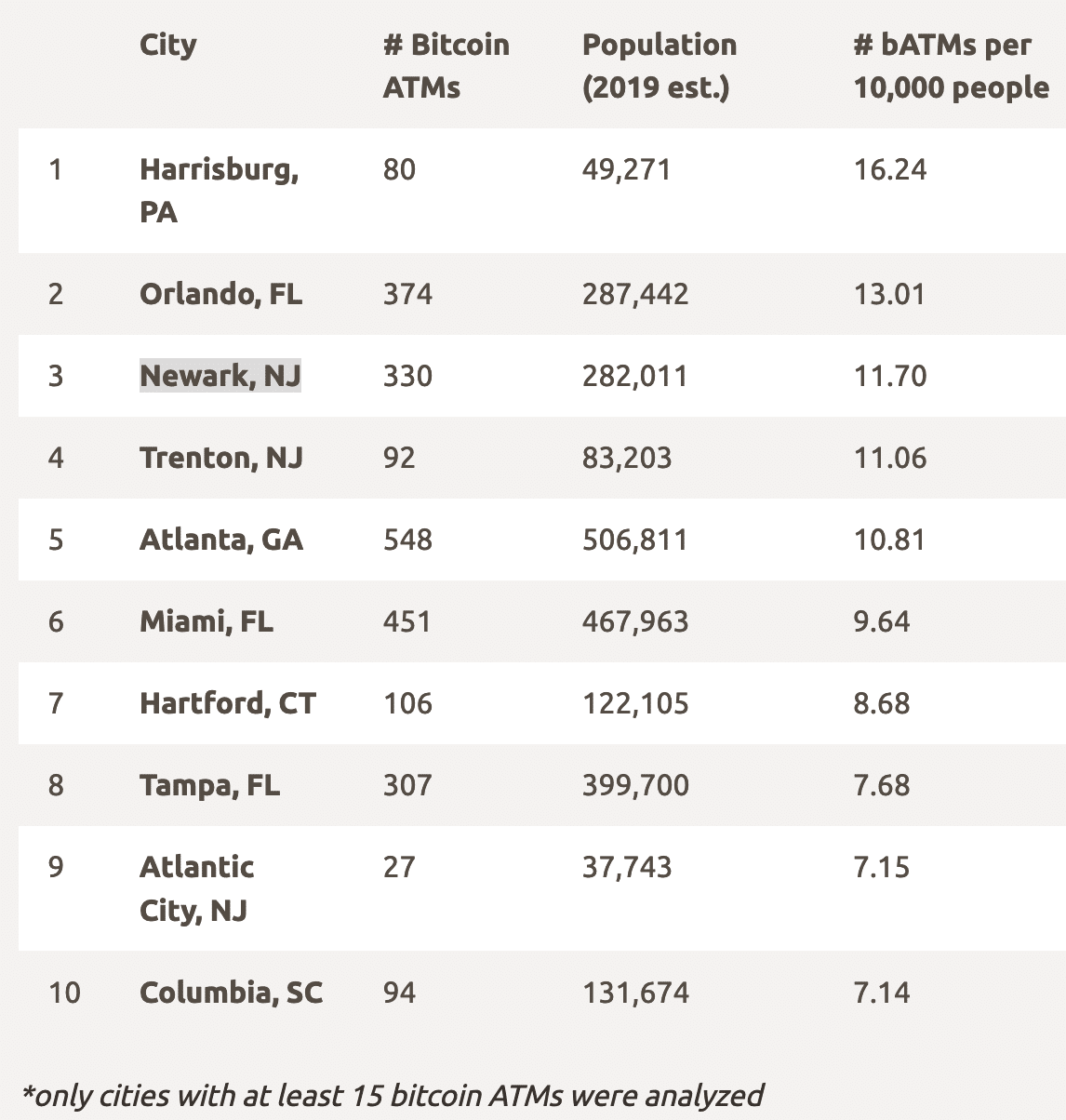 The research also notes that the ratio of the number of Bitcoin ATMs to gross domestic product creates another ranking, with Raleigh (North Carolina) coming out on top while Orlando takes second place again.
Bitcoin ATMs worldwide
Looking around the world, the US is the country with the most Bitcoin ATMs based on population. This is followed by Canada, but in third place is Austria, the top European country with 8.79 ATMs per 10,000 inhabitants. Hong Kong, Switzerland, and the Eastern European countries of Slovakia, Slovenia and the Czech Republic are also in the top ten.
Surprising, however, is the result of the ratio of the number of bitcoin present to the gross domestic product of the countries analyzed. For in this case, the city of Tbilisi in Georgia beats all:
The analysis notes that this Georgia boom should not come as a surprise: it is here that one of the most important Bitcoin mining farms is located. Palma de Mallorca also stands out: the Spanish island is known as a popular tourist destination. It is likely that the administration wanted to give its tourists the opportunity to use bitcoin and thus feel like citizens of the world.
Finally, the research goes on to assess in which cities bitcoin fans live. To do this, Twitter profiles that used the words bitcoin or crypto were analyzed.
London is in the lead, followed by New York and Los Angeles. In the sixth position is Lagos, Nigeria, which demonstrates the strong link between bitcoin and the African country.
The research ultimately confirms that bitcoin and cryptocurrencies are now widespread across the world and that bitcoin ATMs can play a key role in the mass adoption of cryptocurrencies.