Bitcoin analysis
Bitcoin cracked a 4 day slide of daily closes in red figures on Wednesday and closed the daily candle +4.05%.
The below chart from OptimoomFX shows how strong support at $36k bitcoin is and shows the likelihood for a re-test of the top of the range around $42k if bulls can push the price back over $40k.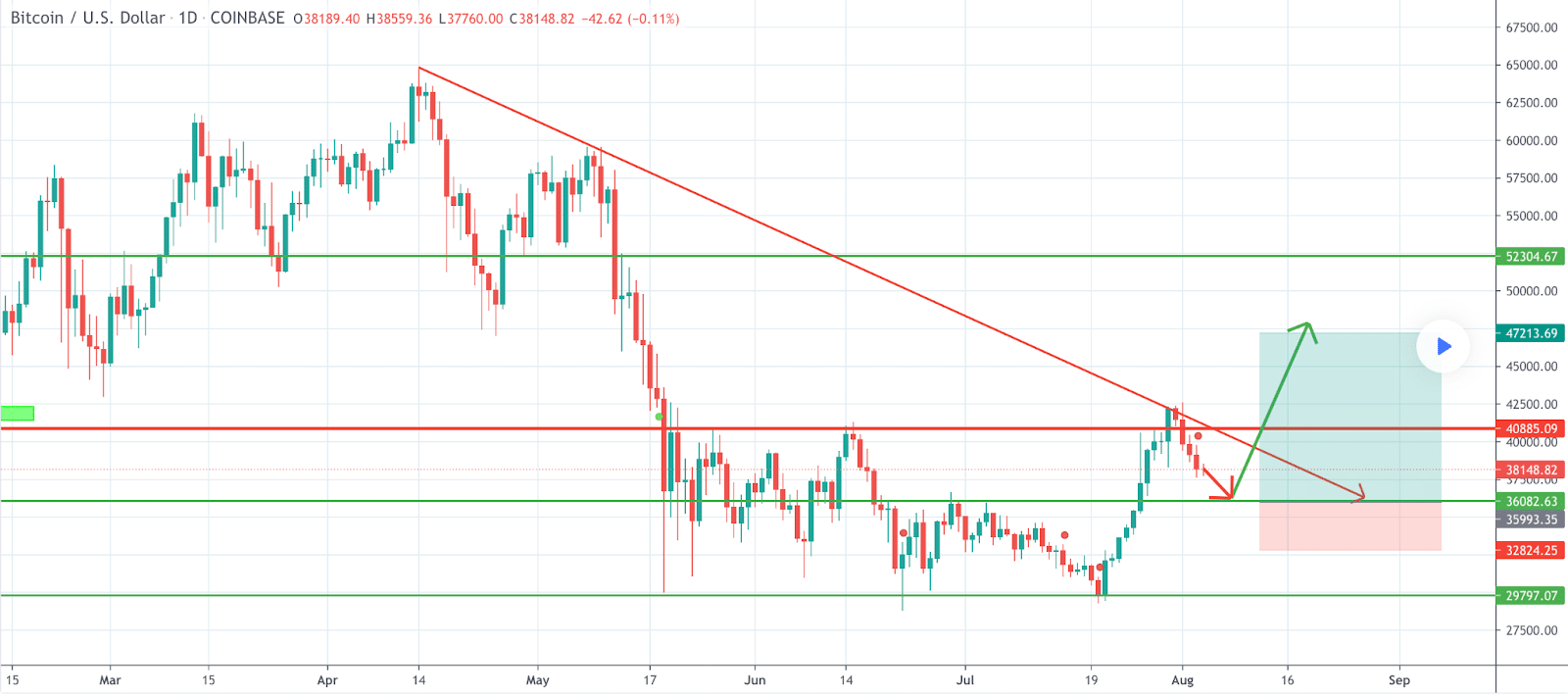 It almost looks like desperation time for bears on the 1D chart to once again get the price below $35k and get a significant close on an important timescale. Otherwise, bulls could soon be sending the price to the high $40k's.
One of bitcoin's most popular metrics for sentiment across the market shows BTC with a current reading of 50 and +8 from yesterday's reading.
Sentiment across the market seems to be picking up again as the total market capitalization is back over $1.67 trillion and bitcoin dominance makes up 44.1% of the aggregate market cap.
BTC's 24 hour range is $37,519-$39,965 and the 7 day range is $37,519-$42,628. Bitcoin's 30 day average price is $35,197.
Bitcoin closed Wednesday's daily candle worth $39,754.
Ethereum
Ether's back to ripping upward and finished Wednesday's daily candle +8.65%.
EIP-1559 is finally upon us and scheduled to ship to ETH mainnet on Thursday when miners generate block number 12,965,000. The improvement proposal is designed  to decrease short-term volatility in demand for transaction space within a block because that problem creates volatility in transaction fees. With the new proposal some of the volatility instead translates into volatility in block size.
We'll know soon whether EIP-1559 is priced in and whether or not it impacts the Ethereum network for better or worse.
The below chart from T_V_TreeTrader shows a strong breakout from Ether with overhead resistance at $2,800.
Bullish traders have support resistance at $2,400 and that will be an important level to defend against bears if the market tests it again.
Beneath $2,400 bulls have support at $2k and strong support at the $1,700 level.
ETH's 24 hour range is $2,459-$2,768 and the 7 day range is $2,284-$2,768. Ether's 30 day average price is $2,195.
Ether closed Wednesday's daily candle worth $2,725 and has finished in positive figures for 13 out of the last 15 days.